Litchi production to hit record high
Farmers expect Tk 500cr business this season
Litchi cultivation is on the rise in Pabna, where the seasonal fruit now plays a vital role in agro-economics as farmers in the district are likely to get record production due to the favourable weather conditions in early summer.
As such, local litchi farmers are expecting to do business worth about Tk 500 crore this year, according to various sources.
As per data from the regional Department of Agricultural Extension (DAE), a total of 4,731 hectares of land in Pabna has been brought under litchi cultivation for an expected yield of 42,579 tonnes of the fruit, which is the most ever produced anywhere in the country.
However, the actual amount produced may even reach 50,000 tonnes as evinced by the current progress in harvesting.
"A minimum of 12,000 to 15,000 litchis are produced by each middle-sized tree while big trees can produce even more amid this suitable weather," said Md Mizanur Rahman, deputy director of the Pabna DAE.
"If the targeted litchi is harvested, farmers will get at least Tk 500 core business in the next one month," he added.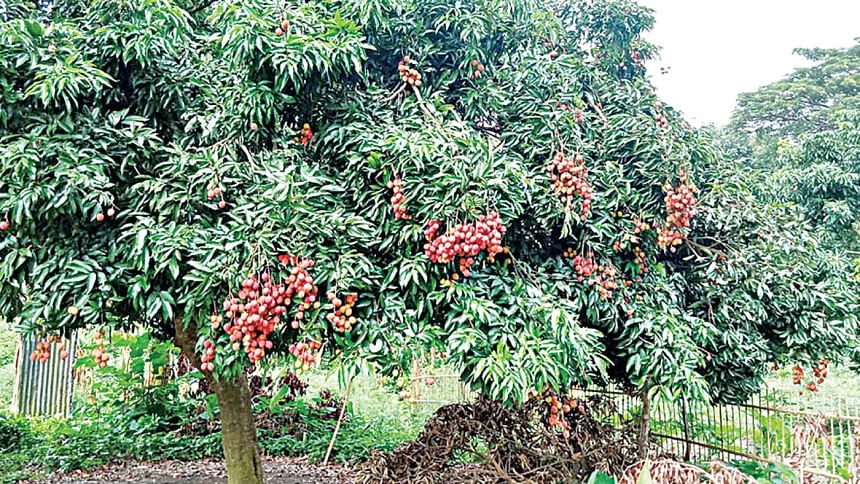 But despite the bumper production, local farmers claim they are yet to get their expected prices.
Sonju Pramanik, a litchi farmer of Silimpur village in Ishwardi upazila who runs an inherited orchard, bought five more orchards to expand litchi cultivation this year in hopes of getting bumper profit.
"Each thousand litchi [local variety] is being sold for Tk 1,200 to Tk 1,500 this year even though I sold the same amount for Tk 2,200 to Tk 2,300 last year at the beginning of harvesting," he said.
Pramanik went on to say that he got 7,000 to 8,000 litchis from each tree last year but this year, he is getting a minimum of 15,000 litchis from each tree, which is the highest on record in the last few years.
"As there were no storms in early summer that could have damaged the litchi trees, the orchards are seeing bumper output this year," he said.
"And although a long drought did destroy a few of the fruits, we will continue to get bumper production for the next few days barring any massive natural disaster," Pramanik added.
Although Dinajpur is considered the most popular district for litchi production due to the region's fertile soil and suitable weather, cultivation is now increasing in Pabna, local DAE officials said.
Farmers in Pabna have been growing the local variety of litchi, called the Ati litchi, for many years now. With profits rolling in every year, more farmers in the region were inspired to cultivate hybrid varieties of the fruit that offer better returns, especially the China-3 and Bombay litchi varieties.
"But everything was made possible by the suitable soil and weather," said Pabna DAE Deputy Director Rahman.
Harvesting of the local variety of the fruit began in early May but the peak harvesting period starts from the middle of the month, he added.
Seasonal job opportunities other than producing litchi
Bumper litchi production not only brings happiness to the farmers, but also there are many new job and business opportunities created in Pabna centring the seasonal fruit.
Md Mirajul Islam, a vegetable trader of Shahpur village, did not have enough land to cultivate the fruit until he bought two litchi orchards in hopes of earning extra profit through the seasonal business.
"Every year I used to buy some trees from land owners, this year I have bought two orchards with 50 trees for Tk 2 lakh expecting to get at least 6 lakh pieces of the fruit," he said, adding that litchi output is better now than in previous years and so, farmers may exceed the DAE's production target.
Islam informed that he spends about Tk 5 lakh on fertilisers, pesticides, and workers for harvesting and processing.
"After that I sell the fruit for about Tk 8 lakh in each month of the season," he said.
Like him, fellow litchi grower Golzar Sardar of the same village bought 250 trees at a cost of Tk 5 lakh and expects to earn a minimum Tk 8-10 lakh through the seasonal fruit business. 
As the litchi harvesting season begins, many unemployed men and women find work at litchi orchards.
"At least two labourers are needed to pack each maund [37 kilogrammes] of litchi after harvesting. As the harvesting season is ongoing, I have joined a litchi orchard for harvesting and packaging work to earn Tk 500 hundred per day," said Md Alif, a resident of Tilokpur village in Ishwardi upazila.
Pabna DAE Deputy Director Rahman told The Daily Star that more than 20,000 to 25,000 unemployed people get seasonal job opportunities amid the litchi harvesting period each year.
Marketing hassle for growers
Despite the bumper production though, litchi growers of the district have been experiencing hassles in marketing due to the monopoly of wholesale traders.
"Litchi prices vary in different markets across the country but we don't have the facility to get a suitable market because there is no dedicated market for litchi growers in the country's biggest litchi producing area," said litchi grower Sardar.
"The litchi season is very short-lived and when the harvesting season hits its peak, wholesale traders cut prices but we have no scope to store the fruit and so, we are bound to depend on them," he said.
"If there were special wholesale markets for litchi growers in Pabna, where wholesale traders from different areas could come, then the hassle of marketing would be removed," Sardar added. 
According to the traders, more than 20 to 25 trucks loaded with litchis have been supplying the fruit across the country each day ahead of the peak harvesting season, after which over one hundred trucks will supply to fruit to various areas every day.
While speaking with The Daily Star, Md Mazahar Ali, director of the Organisation for Social Advancement and Cultural Activities (OSACA), a leading non-government organisation, said his organisation has taken steps to set up dedicated litchi markets.
"Concerning the hassle of marketing for farmers, we have already taken preparation to establish dedicated a litchi market at Varuimari in Ishwardi upazila, where wholesale traders from across the country will come to buy litchis directly from producers avoiding the middle men," he said.
"We are expecting to resume the litchi market this season," Ali added.
Other than setting up a dedicated market, this organisation has already working to establish a tourism spot at Awtapara and Kathalbaria villages in Pabna for attracting visitors.
"In the peak litchi harvesting season, people from different corners of the country come to Pabna every year for buying the juicy fruit. So, we have plans to decorate a few orchards at the Awtapara and Kathalbaria villages as a tourism spot," Ali said.