Inland container depots revise down charges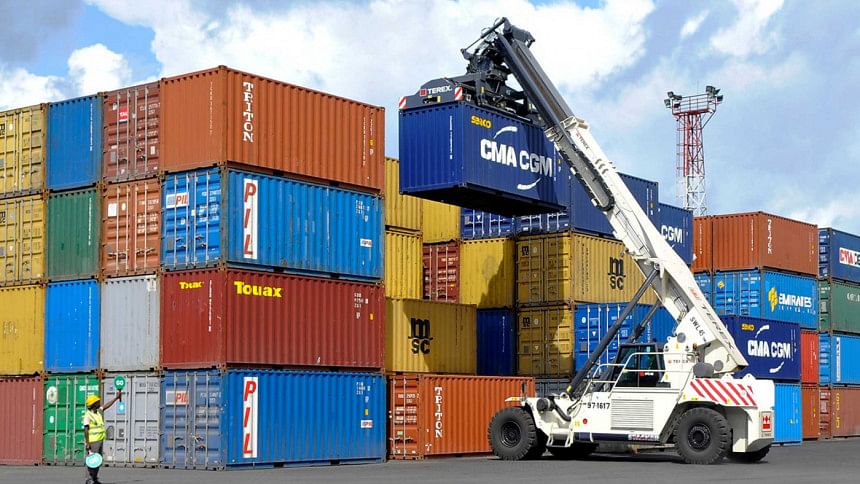 Owners of private inland container depots (ICDs) in Chattogram yesterday revised the charges for all five types of container handling services, a day after the latest government move to trim fuel prices.
Following a diesel price hike by 42.5 per cent on August 6, ICD owners gradually raised the import container handling charge by around 34 per cent, empty container handling charge by 24 per cent and export goods and container handling charges by 25 per cent over the past three weeks.
As the government on Monday announced a cut in diesel prices by Tk 5 per litre, members of the Bangladesh Inland Container Depots Association (Bicda) in a virtual meeting yesterday decreased their charges by 3.5 per cent to 5 per cent from the recently increased rates.
Bicda Secretary General Md Ruhul Amin Sikder said the charges for five diesel-run services were earlier hiked at different rates following the fuel price hike.
In yesterday's meeting, Bicda leaders decided to revise down those rates in proportion to the new price of diesel.
Bicda also issued a circular in this regard yesterday afternoon.
According to the new decision, the charge for an import container handling package would now be increased by 30 per cent against the earlier decision of raising it by 35 per cent from what was effective before August 6.
According to the Bicda circular, the import container handling package for a 20-foot container which was earlier raised from Tk 9,754 to Tk 13,080 has now been fixed at Tk 12,605.
For a 40-foot container, the package charge was earlier raised to Tk 15,107 from a previous rate of Tk 11,255 and the new rate has now been fixed at Tk 14,557, the circular stated.
Charges for handling empty containers would be raised by 20.5 per cent against a previous hike of 24 per cent and charges for handling export-laden containers would now be raised by 21.5 per cent against a previous decision to raise it by 25 per cent.
For handling empty containers, the ICDs impose two types of charges on shipping agents, including a haulage charge for transporting empty containers between Chattogram port and the ICDs, and a charge on the use of forklifts at the ICDs.
For handling export-laden containers, the ICDs impose two types of charges on freight forwarders, including an exports handling package charge and an export container verified gross mass (VGM) charge.
The revised rates would be applicable from today, said the Bicda official.
Contacted, Bicda President Nurul Qayuum Khan told The Daily Star that through discussions with relevant authorities, such as shipping agents and freight forwarders, they had agreed to hike the charges ranging from 24 per cent to 34 per cent.
This was in consideration of the overall current economic situation, even though the diesel price was earlier hiked by 42.5 per cent, he said.
"But since we made a commitment to the users that any reduction in diesel price will also be re-adjusted accordingly, we sat today spontaneously and revised down the rates," Khan said.
Bangladesh Freight Forwarders Association Vice President Khairul Alam Sujan thanked the Bicda leaders for promptly revising down the charges as per decisions taken during their meeting.
Such a move is helpful for maintaining a congenial environment in the country's foreign trade, he opined.