Import of cement raw materials goes up despite dollar shortage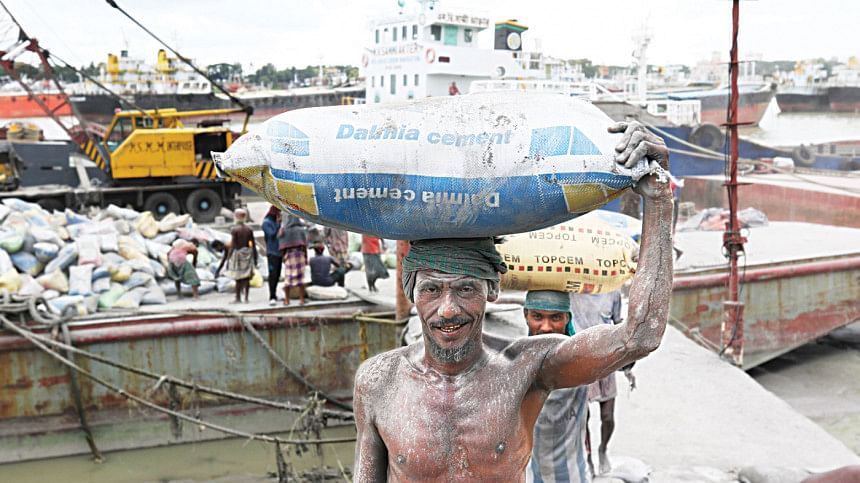 The import of raw materials used in manufacturing cement rose 17 per cent year-on-year in the July-October period of the current financial year of 2022-23 despite the US dollar crunch. 
It came although cement manufacturers claim that they are facing problems in opening letters of credit to import raw materials for the shortage of the American greenback in the country.
Data from the National Board of Revenue showed that 11.24 million tonnes of cement raw materials were imported between July and October. About 9.61 million tonnes of raw materials worth Tk 1,472 crore were imported during the identical four-month period of 2021.
Bangladesh purchases raw materials such as clinker, granulated slag, limestone flux, gypsum and fly ash from Thailand, Vietnam and China.
"We will face raw material shortage due to the complexity in the opening of LCs for imports," said Golam Kibria, general manager of Premier Cement.
According to him, the prices of all types of cement raw materials fell by 15 to 25 per cent in the last two months.
The import cost of clinker has dropped to $53 per tonne from $68 while that of limestone flux declined to $28 from $40.
"So, there is an opportunity for us to increase the import of raw materials. But we are not being able to do so for the complexity in opening LCs because of the ongoing dollars crisis," said Kibria.
The government has tightened imports to discourage the purchase of non-essential and luxury items from the international markets in a bid to stop the depletion of the foreign currency reserves.
Amid escalated imports, the reserves fell to around $34.5 billion on November 7, down more than 23 per cent from a year earlier.
About 40 per cent of cement produced in Bangladesh is used in government projects. But the demand for the key construction material has declined for the slowdown in development activities, said industry people.
Private consumption has also slowed amid higher inflation.
In Bangladesh, there are 34 cement producers, which together produce 25-30 million tonnes of the material worth Tk 30,000 crore annually, according to the Bangladesh Cement Manufactures Association.
Before the latest deceleration in cement consumption, the import of raw materials had, in fact, grown sharply to meet the accelerated demand of the fast-expanding economy.
Chattogram Customs House data showed 36.1 million tonnes of raw materials worth Tk 13,790 crore were brought in 2021-22. It was 29.12 million tonnes a year earlier when it cost Tk 10,707 crore.
About 16.8 million tonnes of raw materials involving Tk 6,452 crore were imported in 2017-18.