Huge export market awaits pharma industry
Vast manufacturing capacity to offer edge, say industry people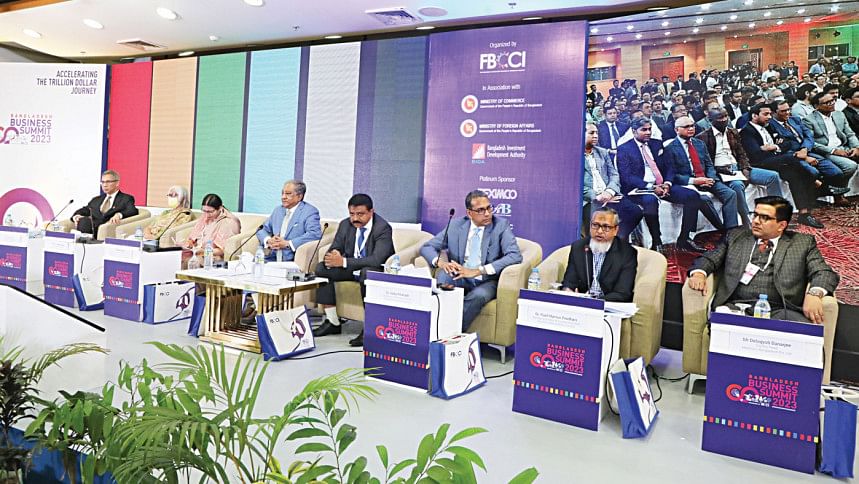 Bangladesh is increasingly becoming a global hub for manufacturing quality and low-cost generic medicines since many countries don't have the facilities needed to produce drugs, industry people said yesterday.
Only two countries, China and India, along with the developed world have pharmaceutical manufacturing capabilities, highlighting the opportunity for Bangladesh to emerge as a hub for drugs for the global market.
"None other than China and India and the western world is as good as Bangladesh in pharmaceuticals. So, Bangladesh has tremendous opportunity," said Abdul Muktadir, chairman and managing director of Incepta Pharmaceuticals Ltd.
"In fact, Bangladesh is becoming a major global hub for high quality, low-cost generic medicines."
He made the comments while presenting a paper on "Pharmaceutical and healthcare in Bangladesh: Investing for growth, global integration and post Least Developed Country (LDC) market opportunities" at the Bangladesh Business Summit.
The Federation of Bangladesh Chambers of Commerce and Industry organised the three-day summit at the Bangabandhu International Conference Centre to highlight the investment prospect in the country.
Also the senior vice-president of the Bangladesh Association of Pharmaceutical Industries (Bapi), Muktadir said China and India have big markets amounting to $220 billion and $40 billion, respectively, and they are growing.
"So, after meeting domestic requirements, India and China may not be enough capacity to meet such a huge global demand."
"Everyone is looking for an India Plus One, where Bangladesh has incredible opportunity," he said, at the discussion moderated by Economic Relations Division Secretary Sharifa Khatun.
Muktadir said China is mainly operating in the intermediary and chemical industries and supply from the country may face constraints in the current global geopolitical situation.
"All these geopolitical situations are creating huge opportunities for Bangladesh in the global export market," he said, adding that active pharmaceutical ingredients, pharmaceutical formulations, biosimilar, vaccine and medical device segments offer huge growth opportunities.
In Bangladesh, nine companies have already received regulatory approvals from highly regulated authorities in the US, the European Union and Australia as well as the World Health Organisation.
"The number will increase to 20 very soon," Muktadir added.
"This will make us a global supplier of medicines. There is a visible competitive advantage for Bangladesh in the global market."
In Bangladesh, 213 local companies are operational, meeting 97 per cent of the domestic requirements of medicine, clearly showing the manufacturing strength.
On the other hand, countries such as Singapore, Malaysia, the Philippines and Vietnam import between 60 per cent and 80 per cent of drugs.
Until the third quarter of 2022, the market size of pharmaceuticals in Bangladesh was $3.32 billion. The market has grown three times in the last decade and it is expected to grow to $6.68 billion by 2027.
Local companies are capable of producing all types of dosage forms such as tablets, capsules, liquid preparations, dry suspension, injections, nasal spray, and granules in sachets.
Now, drug-makers are focusing on making APIs, the raw materials of drugs, in order to enhance competitive strength.
At present, 15 companies are producing APIs and 27 more firms will set up facilities at the API Park in Munshiganj, about 40 kilometres from the capital.
The Bapi aims to produce 800 to 1,000 generic bulk drugs, Muktadir said.
Local companies export products to 157 countries in Asia, Africa, North America, South America and Europe. Export receipts grew almost three times in the past seven years.
Medicines exports rose more than 11 per cent year-on-year to $188 million in 2021-22, data from the Export Promotion Bureau showed.
"The shipment will increase to $450 million by 2025," said Muktadir, citing the research of Dublin-based Research and Markets.
The global generic market is about $400 billion and if Bangladesh can raise its share to 1 per cent, the pharma export will reach $4 billion.
"This is highly achievable as per a majority of experts," Muktadir said. "And if we can elevate it to 10 per cent, it will be $40 billion."
The sector faces challenges as well.
Since Bangladesh is set to graduate from the grouping of the least-developed countries to a developing country in 2026, the country will lose waivers on making patented drugs as per international rules.
"The prices of patented products will be expensive and some complex biologics may not be available in the country," said Muktadir.
He said there should be a waiver from patented medicines that are already in the market.
Muktadir urged the government to negotiate with the World Trade Organisation for having the TRIPS waiver extended for pharmaceutical products even if the country graduates from the LDC group.
"In the meantime, companies will develop their finished formulation manufacturing capacity. The production of the selective items that are currently patented will provide us valuable data," he said.
Muktadir said Bangladesh should focus on potential API markets such as Latin America, Indonesia, Pakistan, Egypt and Kenya.
"These items will be available from Bangladesh at competitive prices."
Bapi President Nazmul Hasan said: "Bangladesh is the cheapest source of pharmaceuticals in the world. It is proven that we can produce quality medicines."
Access to many essential medicines will be affected as prices would go up after Bangladesh becomes a developing country. But Hasan thinks there are opportunities too.
"Drugs worth $150 billion will be off-patented by 2030. It is possible for Bangladesh to gain from this," said Hasan, also the chief executive officer of Beximco Pharmaceuticals.
He called upon multinationals to establish facilities here and suggested local manufacturers maintain relations with global firms and strengthen research and development capabilities.
Rajarshi Dey Sarker, vice-president and general manager of Novo Nordisk Bangladesh, recommended local companies form partnerships.
Novo Nordisk has collaborated and partnered with Eskayef Pharmaceuticals and set up a manufacturing facility to produce Novo Nordisk's insulin cartridges used by diabetic patients.
"The partnership will ensure the supply of insulins in Bangladesh and export to other countries," Sarker said.