Dairy farmers struggle as production costs jump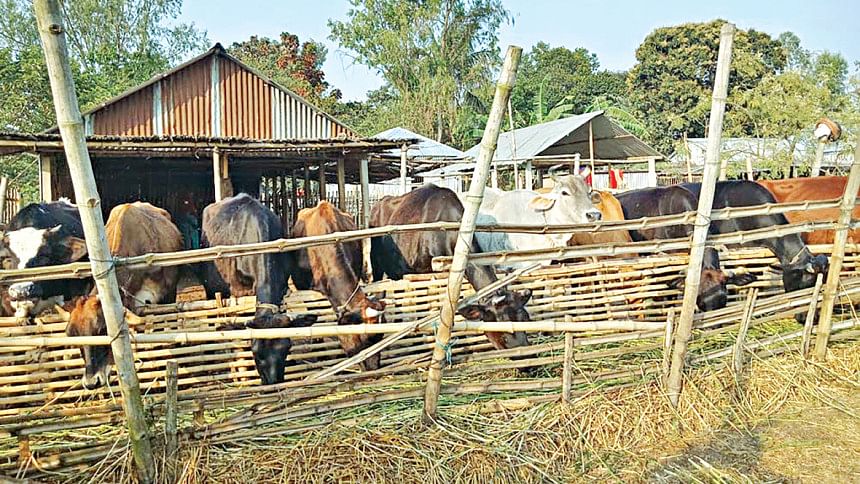 The price of dairy feed has climbed rapidly in recent months keeping pace with the price spiral of essential commodities, making farming costlier and raising milk production costs for the millions of farmers in Bangladesh.
The animal feed has become dearer after the price of maize and soybean meal -- the key ingredients for feed– went up in the global market in recent months, owing to demand recovery from the coronavirus pandemic and supply disruptions.
Besides, the price of grass, straw and bran, which are used by many farmers to feed their cattle, has surged, handing a blow to the dairy industry in Pabna and Sirajganj, one of the biggest milk-producing hubs in Bangladesh.
For example, each 50-kilogramme bag of wheat bran is retailing at Tk 1,400 to Tk 1,450, up from Tk 1,050 to Tk 1,100 three months ago.
The pulse bran is selling at Tk 1,500 to Tk 1,550, which was Tk 1,250 to Tk 1,300. The price of complete ready feed has jumped by Tk 250 to Tk 300 per 50kg bag, according to farmers and traders.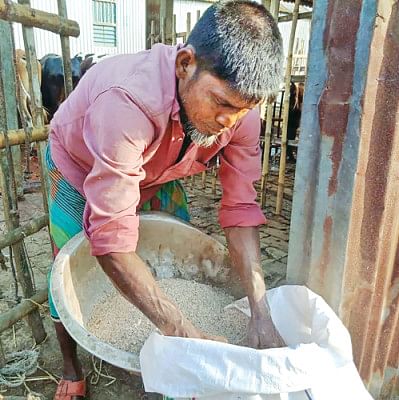 "The price of essential commodities has soared in recent times. Due to the price hike of solid materials, the price of bran used in dairy feed has also gone up," said Johurul Islam, a feed trader in Pabna Boro Bazar.
Besides, solid feed, grass and straw have also become costlier.
The price of a bundle of Napier grass has doubled from Tk 12-15 to Tk 20-25 in a span of a month, according to Manik Ratan, a grass trader in Pabna's Bera Haat.
Each maund of paddy straw is selling at Tk 500 whereas it was Tk 300 to Tk 350 a month ago, while each kg of oil cake costs Tk 50 at the retail level, up 43 per cent from Tk 35 in February.
Dairy farmers in Pabna and Sirajganj say the price of dairy feed has jumped 30 per cent to 40 per cent in the last few weeks. As a result, they are incurring losses for milk production.
The cost of producing milk has gone up to Tk 48 to Tk 50 a kg due to the soaring feed price. "But we are bound to sell it at Tk 41 to Tk 50 a kg," said Md Raju Ahmed, a dairy farmer in Ramkharua village in Sirajganj's Shahjadpur upazila.
Ahmed owns 17 cows, with nine of the cattle giving 80 to 90 litres of milk a day collectively.
But he has to spend Tk 28,000 to Tk 30,000 every week to rear the cattle. Of the expenses, the feed cost accounts for Tk 23,000 to Tk 25,000 alone.
But he gets Tk 24,000 to Tk 26,000 by selling milk, meaning Ahmed has to suffer a loss of Tk 3,000 to Tk 4,000 per week.
Rubia Khatun, a female dairy farmer in the same village, has five cows. But she is now planning to sell one of them as she can't afford to bear the excessive expenses of rearing.
"Throughout the pandemic, we have experienced huge losses. Now, farming has become tough due to the price hike. If the price hike continues, I have to sell all of the cows."
Farmers say they don't want milk prices to go up; they just want the government to rein in the runaway feed market.
"If milk price increases, it will be an extra burden for consumers. But if the feed price comes under control, we will be able to make a profit," said Raju Ahmed, president of the Ramkharua Purbopara Milk Co-operative Association.
According to the livestock offices of Pabna and Sirajganj, 28 lakh litres of milk are produced every day in the two districts, which are home to more than 16.28 lakh cattle.
"The feed price has gone up. But we have no market monitoring authority," said Gouranga Kumar, district livestock officer of Sirajganj.
Md Al Mamun Hossain, district livestock officer in Pabna, thinks the price of dairy feed is likely to come under control soon.
Bangladesh requires around 80 lakh tonnes of animal feed annually.
The poultry industry is the biggest consumer but the demand for cattle feed for dairy farming is growing fast as well, said Md Ihtesham B Shahjahan, president of the Feed Industries Association of Bangladesh.
He said the prices of raw materials have soared since the beginning of the pandemic. The freight cost has rocketed six times for the supply chain disruption in the aftermath of the crisis.
The prices of maize, which accounts for more than half of the feed ingredient, usually hover around Tk 20 per kg. The grain is selling at Tk 33 per kg now.
Soybean meal makes up one-fourth of the feed and it has also become expensive.
"But we can't raise prices to the extent of the increase in the raw material prices as rising costs will lead to the closure of many farms," said Shahjahan, adding that many mills are incurring losses now.