Cactus farming turns into a money-spinner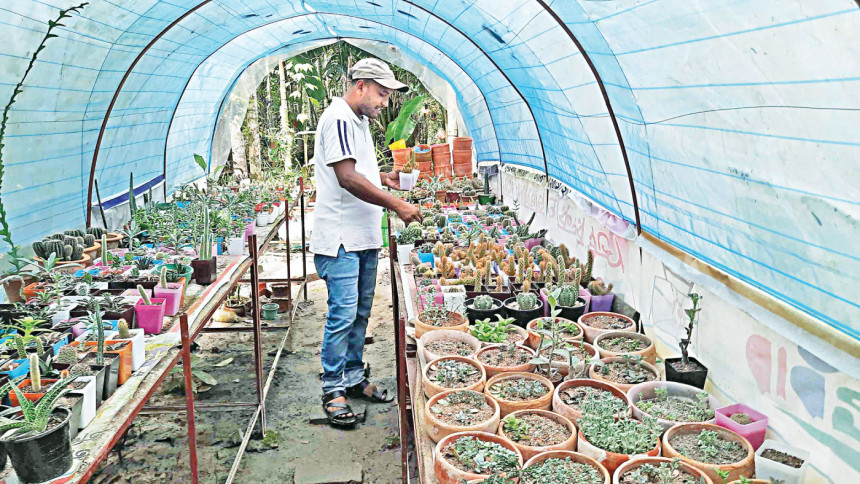 Altaf Hossain, a resident of Chandipur village in Morrelganj upazila of Bagerhat district, began his journey as a gardener back in 2010 by purchasing a single cactus for Tk 30.
He then grew a fondness for the hardy plant as it was both easy to maintain and aesthetically pleasing.
After realising the demand for such houseplants, Hossain decided to grow cacti commercially with three sheds in front of his house in 2016.
Since then, the worker of a non-government organisation (NGO) based in the neighbouring Pirojpur district has added two more sheds and various other plants to his private garden.
Now, Hossain's garden features about 250 species of cacti and other succulents as well as various types of orchids, bonsai trees, adenium and hanging plants.
Still though, cacti remain his best seller, earning about Tk 35,000 to Tk 40,000 each month.
Citing his success, the local Department of Agricultural Extension (DAE) claims that expanding cactus cultivation could bring employment opportunities and subsequently financial prosperity to the region.
Since cacti can survive in nearly all weather conditions, Hossain's garden has various species from at least eight countries, including the US, Thailand, Italy, Indonesia, and India.
Along with this, there are various species of medicinal plants including satamuli, a species of asparagus, aloe vera and lajjabati, also known as the shameplant.
All in all, the plants at Hossain's garden are worth at least Tk 6 lakh to Tk 7 lakh with each cactus selling for anywhere between Tk 150 to Tk 3,000.
Along with the plants, he also sells ready-mix soil, coco peat, bone meal and other gardening materials required for cactus cultivation.
"We bought different cacti from Hossain's nursery," said Mehedi Hasan, a buyer.
"Besides, these plants can be bought online from the garden's official Facebook page," he added.
Hossain said he splits his time between his work at the NGO and tending to his garden.
"This has become my hobby and what's more, I earn about Tk 35,000 per month from both online and offline sales," he added.
Hossain went on to explain that if someone places an order through Facebook, which accounts for about 99 per cent of his sales, the plant would be delivered by courier.
He also expressed a desire to expand his nursery in the near future.
Regarding cactus cultivation, its costs and threats of new entrepreneurs, Hossain said cacti are a very demanding amateur plant.
It does not grow on ordinary soil as various materials need to be used in the soil preparation such as bone powder, sand, coal, manure, bricks, coco peat, and wood shavings.
In addition, cacti need more sunlight.
"But the cost of starting a new farm is not too high but first you have to learn how to take care of this plant," Hossain said.
Md Shafiqul Islam, deputy director of the DAE office in Bagerhat, said cacti are considered as ornamental houseplants with high demand.
At present, there is a huge demand for it in both domestic and foreign markets. Cacti are sold at both low and high prices depending on the species.
"Altaf has been successful in cultivating cactus so if any other farmer wants to cultivate the plant, we will give them the necessary advice," Islam added.