Agent banking a blessing for northern farmers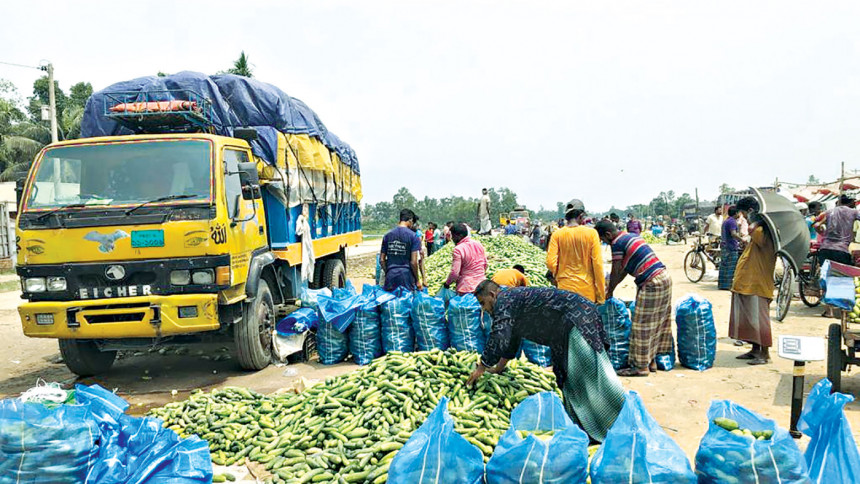 Angura Begum, a 45-year-old farmer who hails from Mithapukur upazila of Rangpur, was seen beaming while selling her vegetables at the local farmers' centre last Sunday.
She had a sense of relief about her that day as she sold her fresh cucumbers at a wholesale price of Tk 14 per kilogramme without facing any hassle.
Along with her, other local farmers such as Lavli Akhter and Mohammad Mohiruddi were seen selling their crops as well.
Meanwhile, wholesalers like Abdur Rahman were purchasing the products from farmers and loading them onto various vehicles for shipping to Dhaka.
They were all informed about the daily price of various crops through a regularly updated price chart hung on a wall of the market. The chart listed the local retail and wholesale rates as well as that of markets in Dhaka.
Other than buying and selling crops, some farmers had come to conduct financial transactions at the local agent banking outlet of Bank Asia while others bought fertilisers and machinery from the market.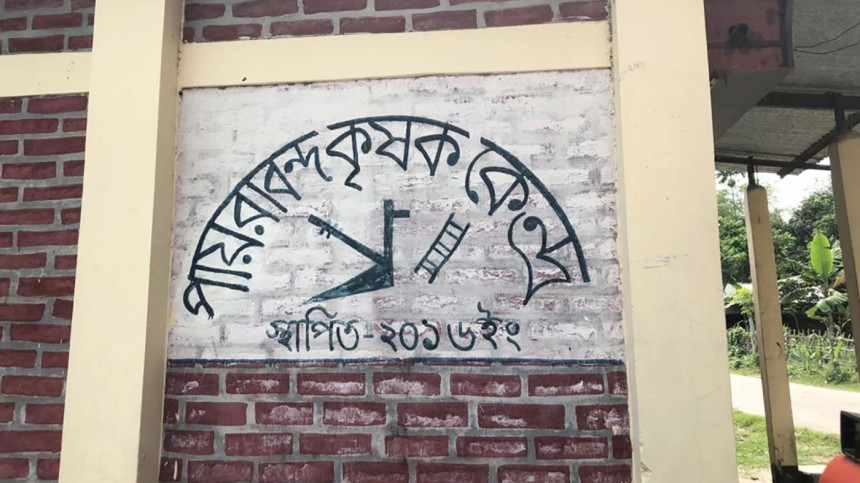 Located in Pairaband union under Mithapukur upazila of Rangpur, the Pairaband Farmers Centre is a place where local growers farmers always get a good deal for their produce.
Bank Asia partnered with Voluntary Service Overseas and Syngenta to establish 20 farmer centres across two northern regions -- Dinajpur and Rangpur -- under the "Growing Together" project, which ended in December 2019.
Now, the project is being run by local entrepreneurs who have formed committees.
Farmer Lavli Akhter said she came to the centre to buy various inputs like seeds, fertilisers, pesticides and machinery, such as rice threshers and power tillers.
In addition, farmers can avail transportation services from the spot.
"Without paying an extra transport cost, we can easily sell our fresh vegetables at the centre. At the same time, we can buy necessary agricultural elements," said Angura, a mother of three.
Angura, who is the lone earner of her family, was in a financial crisis just three years ago.
But in 2019, as a sharecropper, she started potato cultivation on 40 decimals of land after taking a Tk 35,000 agriculture loan from an agent banking outlet of Bank Asia.
Angura sold all her potatoes to earn Tk 76,000, with which she bought a cow at a cost of Tk 42,000. Now, she has taken out another loan of Tk 50,000 at 4 per cent interest.
"It was my great support to continue the education cost of my three children ," she said, adding that without the loans she would have been forced to move to Dhaka in search of a livelihood.
Another farmer, Mohammad Mohiruddin, took Tk 50,000 as an agri-loan from the Bank Asia outlet with 4 per cent loan just a week ago. In the current season, he also took land from Atiar Rahman as a sharecropper and he must pay Tk 150 per decimal.
"Earlier, I took loans with 16 per cent interest from another non-government organisation, which was a burden for me," he said.
Azizar Rahman, in-charge of the farmer centre, said they now have 960 members.
After the project ended, he and other farmers continued conducting operations in the centre.
"The farmer centre was formed as a one stop solution for farmers where they connect with both input and output markets, avail agricultural machinery from rental shops and financial support through agent banking outlets as well," said Rumana Akhter Tulee, programme manager of the project.
"The centre also provides them with physical spaces where farmers can access quality inputs such as seeds, crop protection products, rent simple farming equipment, get necessary advice, and aggregate crops, '' said Tulee, one of the assistant vice presidents of Bank Asia.
Md Ruhul Motin, first assistant vice president of the lender's agent banking division (communication and development), said that through the Pairaband centre, local farmers can get fair prices as the prices are updated daily.
"There is no possibility of cheating anyone from here," he added.
Md Nura Alam Siddeke, SEO and head of Rangpur branch of Bank Asia, said they are working to provide financial assistance to farmers at the right time and to keep them engaged with year-round agriculture in Rangpur region.
"We have already helped 15,000 farmers in Rangpur and disbursed around Tk 38 crore as agriculture loans among them since 2018," he added.
Contacted, Shahnaz Akter Shahin, head of the Agricultural Credit Department of Bank Asia, said they have so far disbursed agricultural loans of Tk 168.1 crore to 43,102 farmers through their countrywide agent banking network.
"These include crop production, fisheries, poultry rearing, dairy production and cow fattening, and agricultural machinery purchase loans," Shahin added.
Bank Asia introduced agent banking services in Bangladesh in 2014 to provide a large portion of the country's unbanked official banking services.
Contacted, Md Arfan Ali, president and managing director of Bank Asia Ltd, said they want to reach out to the rural, marginalised people in each corner of the country to support them through banking services.
"As the pioneer of agent banking in Bangladesh, we have already connected with 80,000 rural people in Rangpur and Dinajpur, and 15,000 farmers have directly taken agricultural loans," Ali said.
"We have a goal to set up a financial kiosk in every village of the country by expanding the agent banking network to open bank accounts for every able person," he added.