'Affordable' prices still out of reach for many
Govt starts selling milk, eggs and meat across Dhaka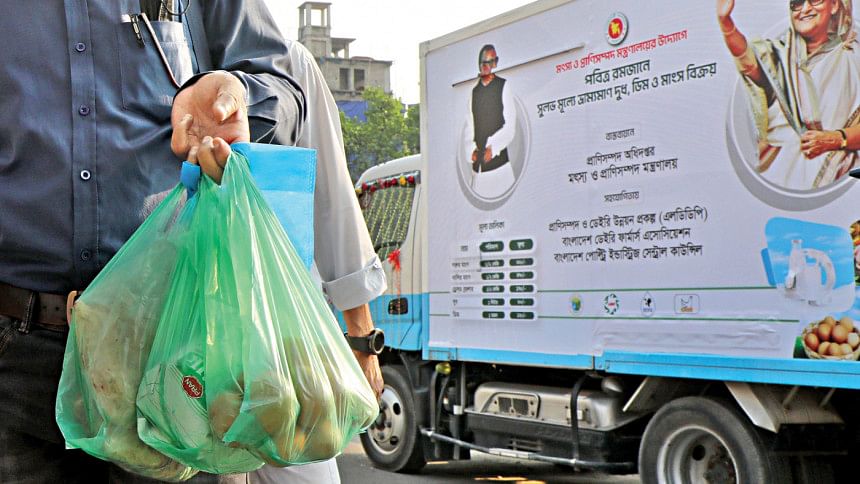 The Ministry of Livestock and Fisheries yesterday started selling milk, eggs and meat at "affordable prices" across 20 locations inside Dhaka in a bid to stabilise the market during Ramadan.
The ministry took this initiative as proteins such as chicken and beef as well as other daily necessities have become costlier in recent times.
But even though the rates are said to be affordable, such items remain out of reach for low-income groups in the country.
The ministry has fixed the price of beef at Tk 640 per kilogramme (kg) while mutton is Tk 940 per kg, dressed broiler chicken is Tk 340 per kg, milk is Tk 80 per litre and eggs are Tk 10 per piece.
Fisheries and Livestock Minister SM Rezaul Karim inaugurated the sales programme at the Department of Livestock Services in Dhaka.
Soon after the programme was inaugurated, many low-income people rushed to a sales point in the capital's Khamarbari area. However, they expressed frustration over the prices on offer and requested government subsidies to bring them within reach.
Speaking at the event, Karim said foodstuff are being sold as a part of their efforts to keep the prices of meat, milk and eggs stable while also helping people meet their daily nutrition requirements.
Still, some people left the sales point empty handed. Of them, Fazar Ali, who is a rickshaw puller, came from Hemayetpur.
"Buying beef at Tk 640 per kg is too expensive for us. Besides, it is still about equal to the current market price," Ali said.
"I came after hearing that each kg was selling at Tk 320, but it was only for half," he added.
Ali then said he only buys meat for his four-member family ahead of major occasions. For example, the last time he bought the protein was on the occasion of Shab-e-Barat.
Another buyer named Amit, who hails from Dhaka's Mohakhali, said the government rates are a kind of eyewash.
"They are selling these items at almost the market price. It should be reduced more," he said while queuing at the sales point.
According to data of the Trading Corporation of Bangladesh, the price of each kg of beef is Tk 720-750, broiler chicken Tk 250-270, mutton Tk 1,100 and egg Tk 11.25 to Tk 11.75 per piece.
Faridul Islam Mukul, who came to the spot from Tejkunipara, said none of the rates could be considered as an affordable price.
"It's just a little less than the prevailing market price," he added.
On the other hand, Faruk Hossain, another buyer, appreciated being able to buy meat in half-kg packs.
"If we want to procure half a kg of broiler chicken, we are usually refused by the shop owner," he said.
Karim, the fisheries and livestock minister, has also said that prices would change as per the market situation.
"It may reduce but it won't increase," he added.
Asked if any government subsidy is being given for these items, Karim said they are not allowing any subsidy and neither are they doing any business here.
He went on to say that the main aim of this initiative is to provide an example that proves such business can be carried out with transparency.
Sales of these three products will begin at 9:00am every day and continue until the 28th day of Ramadan.