Sylhet tourism on road to recovery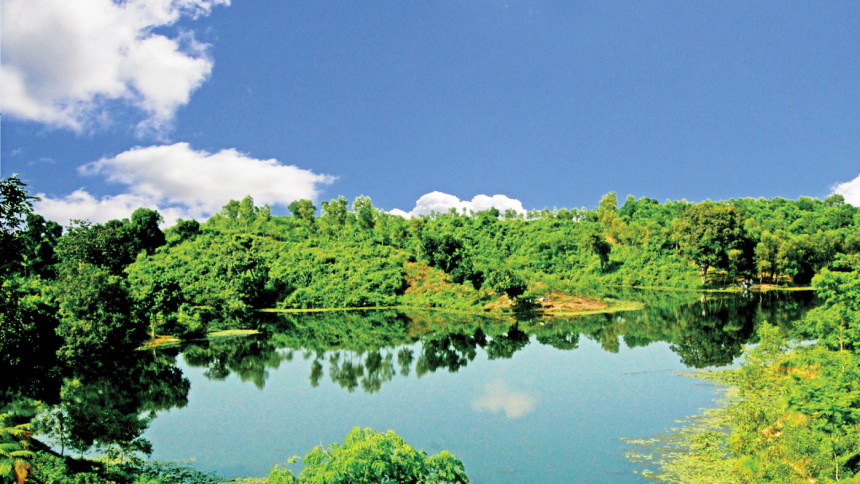 Sylhet division is littered with numerous haors, waterfalls, swamp, hills, and tea gardens that make it an attractive tourist destination.
But soon after the Covid-19 outbreak in March 2020, the local tourism industry and all other related businesses were shut down in a bid to keep the deadly virus at bay.
And although the region was reopened for tourists on August 19 this year, the prolonged closure has cast doubt on whether these businesses can recover their losses.
That being said, it was seen during a recent visit to the area that tourist attractions such as Jaflong, Shahjalal Majar, and Madhabkunda Falls, to name a few, were once again packed with people.
Pranesh Goala, chairman of Kalighat Union Parishad in Sreemangal upazila, said the regional tourism sector lost several crore taka due to recurring lockdowns and restrictions on public movement.
"It will be difficult to make up for the loss now," he added.
In the past, around 8,000 people would visit Moulvibazar district every day and although restrictions have been lifted, people are less willing on spending money vacationing due to the economic uncertainty brought on by Covid-19.
Satrojit Acharjee, the manager of a three-star hotel called Rest Inn, said he hopes the number of visitors would increase with time.
Even five-star hotels and resorts such as the DuSai Resort and Spa, Grand Sultan Tea Resort & Golf, and Lemon Garden Resort now hope to swiftly overcome their losses.
Many of these businesses laid off up to 80 per cent of their staff in order to cut costs during the lockdown.
Some of the staff have already been reinstated while the rest will be brought back in phases depending on the situation, according to industry insiders.
Abu Siddique Musa, president of Sreemangal Parjatan Sheba Sangstha, an association of hotel, motel and resort owners, said they were providing various offers, such as discounts, to attract more customers.
"We have been getting a good response so far and if this continues, we will be able to make up for the losses," he added.
But even with the return of domestic tourists, some hotels and resorts that depend on foreign visitors for a bulk of their income are finding it difficult to survive.
"It will be tough to recover from our loss without foreign tourists," said Arman Khan, assistant general manager of the Grand Sultan Tea Resort & Golf in Sreemangal upazila.
There are about 100 hotels, motels, resorts, and cottages in Sreemangal upazila of Moulvibazar district.
SK Das Sumon, owner of Green Leaf Guest House, said he built the resort on his own initiative.
And even though the government collects a lot of revenue from his business through taxes, Sumon did not get any support amid the ongoing coronavirus crisis.
"We owe several crore taka to banks and don't know how we can repay them," he said.
Shamsul Haque, owner of Nishorgo Eco Resort, told this correspondent that he built the resort with foreign clientele in mind.
"But lately, only local guests come in small numbers due to Covid-19," Haque said.
Still though, the industry is doing comparatively better now, bringing much-needed relief to the related businesses as well.
From roadside tea vendors to CNG-run auto-rickshaw drivers, everyone is benefitting from the return of tourism as thousands of people in the region depend on the industry for an income, he added.
Musa, also director of Sreemangal Tea Heaven Resort, said tourists from all over the country used to flock to the area during major holidays during the pre-pandemic era.
"But the coronavirus has forced us to start all over again," he said, adding that although restrictions on public movement have been lifted, Covid-19 still remains a very real threat for the tourism industry.
According to Musa, the industry can continue as usual as long as everyone abides by health safety rules.
"Lately though, Sreemangal town has been facing traffic congestions and this upsets tourists. So, the local administration needs to take an urgent initiative in this regard," he said.
Mir Nahid Ahsan, deputy commissioner of Moulvibazar, said the district was an important part of Bangladesh's overall tourism industry.
"We have already provided financial assistance to 200 resort, cottage and hotel employees on behalf of the district administration," he added.
Abu Tahir Muhammad Zaber, director (marketing, planning & public relation) and joint secretary to Bangladesh Tourism Board, said the tourism sector should be reopened but run at half its capacity to accommodate tourists to help maintain health safety guidelines.
"We have given some instructions to all the deputy commissioners, especially the deputy commissioners of the Sylhet and Chattogram divisions in this regard," he said.
Besides, mobile courts have been set up to monitor for breaches in safety regulations.
"Everything will be opened 100 per cent by monitoring all the circumstances. The losses will be made up for gradually," Zaber added.