No limit on number of MFS transactions
Cash-in limit doubled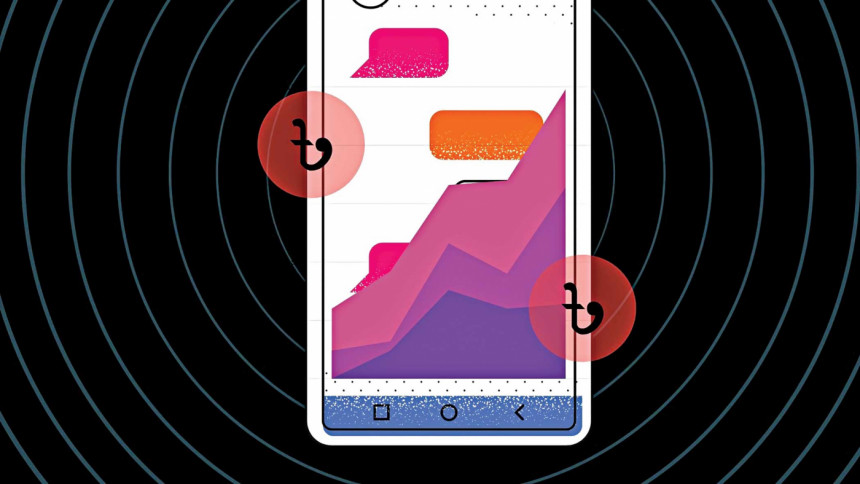 The changes are set to give customers an opportunity to make more transactions through MFS as many people now rely on this mode of payment
Digital transactions in the country are set to get a boost as Bangladesh Bank has allowed customers to make an unlimited number of transactions through mobile financial services (MFSs).
Bangladesh Bank also more than doubled the monthly cash-in limit for MFS customers, according to a circular issued yesterday.
These changes are set to give customers an opportunity to make more transactions through MFSs as many people now rely on such facilities for a host of payments and bills.
Earlier, a customer could make 25 cash-in transactions and 20 cash-out transactions per month.
The central bank has now set the cash-in limit at Tk 5 lakh per month, up from Tk 2 lakh earlier.
Of the amount, a customer will be able to cash-in Tk 2 lakh through agents and Tk 3 lakh through bank transfer each month.
The cash-in limit from the agent point will be Tk 30,000 per day and Tk 50,000 through bank transfer. The cash-out transaction amount limit has remained unchanged, meaning that a customer will be able to cash-out Tk 1.5 lakh per month and Tk 25,000 per day.
Bangladesh Bank had earlier increased the monthly person to person transaction limit for MFSs to Tk 200,000 from Tk 75,000 on the onset of the pandemic in 2020.
Dewan Nazmul Hasan, chief executive officer of Trust Axiata Pay (TAP), welcomed the central bank's decision to increase the limit and withdraw transaction restraints.
"This will help micro merchants use MFS services more frequently," he said.
A client is allowed to keep a maximum deposit of Tk 3 lakh in their MFS account.
Currently, over 11 crore account holders now conduct 2 crore transactions through MFSs each day.
MFS operators register Tk 2,366 crore in average daily transactions, employing 11.23 lakh agents, according to the latest central bank data.
The numbers mentioned in this data would have been higher if Nagad could be included. Launched in 2019, Bangladesh Post Office's MFS arm is yet to get a full-fledged licence.
People now top-up mobiles, pay at shops and e-commerce platforms, utility bills and various educational fees, transfer money among banks, send remittance, receive education stipends and much more though MFSs.
Safety net disbursements through MFS were also initiated in May 2020 right after the pandemic hit. In 2021, the amount disbursed stood at about Tk 14,000 crore.
The MFS providers are bKash, Rocket, mCash, upay, Trust Axiata Pay (tap), MY Cash, TeleCash, Tap 'n Pay, FSIBL, Rupali Bank, OK Wallet, Islamic Wallet and Nagad.