Devise ways to manage public investment efficiently: WB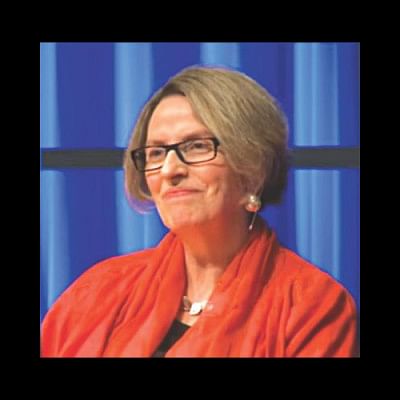 Bangladesh needs to identify the barriers that are preventing the country from better managing public investment and use the $35 billion in aid that has piled up, according to a World Bank official.
Annette Dixon, vice president of the World Bank for South Asia, said the build-up of $35 billion in the aid pipeline is indicative of the public sector's absorption capacity and implementation challenges.
"As we have seen in recent times, despite repeated initiatives by top policymakers, Bangladesh has struggled to fully implement the annual development programme," she told The Daily Star in an email interview.
"It is important for policymakers to identify bottlenecks in the public investment management programme and ensure that the pipeline is properly used."
Dixon said recent steps by the government to identify a pool of specialised project directors and teams would help accelerate the use of these funds.
"We also welcome the move by the prime minister to set up a fast-track committee under her supervision that will monitor the implementation of key infrastructure projects. Using these funds will be instrumental in untangling some of the binding constraints to growth."
Bangladesh, however, is not alone when it comes to challenges in implementing public investment projects. Managing public investment is challenging in developed and developing countries alike, according to Dixon.
"We believe that for any government it is important to improve monitoring, strengthen governance, and ensure robust mechanisms for safeguards: these are all key steps to ensure quality and timely completion of projects."
The WB is working with the Central Procurement Technical Unit of the planning ministry to roll out the e-GP system, which is helping public procurement become more efficient and effective.
Dixon is bullish about the country's future and said Bangladesh can tell the world a remarkable story of development, progress, and aspiration despite formidable challenges.
At its birth, Bangladesh was the second poorest nation in the world. Within a span of just four decades, it has graduated to the status of a lower-middle-income country, and it is now among the 12 fastest-growing developing countries that have a population of over 20 million.
Based on the 2011 purchasing power parity conversion factors and an international poverty line of $1.90 per person per day, Bangladesh has reduced its poverty rate from 44.2 percent in 1991 to 18.5 percent in 2010.
The country lifted 20.5 million people from poverty during the same period.
"The country is well-poised to be much closer to upper-middle-income status in the next 10 years, if it can achieve faster and more inclusive growth with the right set of policies and timely actions," said the WB official.
Bangladesh aspires to raise the GDP growth rate to over 8 percent. And Dixon said the aspiration is not unrealistic.
"But the country must not become too complacent. It faces daunting challenges, with about 28 million people still living in poverty and a third of its children suffering from malnutrition."
She said the strong economic performance in the last two decades has rapidly increased the demand for energy, transport and urbanisation. Insufficient planning and investment have resulted in increasingly severe infrastructure bottlenecks, she said.
"It is imperative for policymakers to address infrastructure bottlenecks, improve the business and investment climate, build on successes in human development, increase women's participation in the labour force, and raise productivity by becoming better integrated with global value chains." 
A citizen of New Zealand, Dixon said the WB will continue to support Bangladesh in removing key bottlenecks to move up to middle-income-country status.
"Our country strategy is anchored in the government's Seventh Five Year Plan."
"We will help the country address its development priorities, including creating more and better jobs, removing growth bottlenecks through investment in power and transportation, improving health and education outcomes, and managing urbanisation."
In recent years, Bangladesh has been the largest recipient of the WB's interest-free credit from the International Development Association (IDA).
The Washington-based lender is Bangladesh's largest development partner and its financing accounts for 25-30 percent of the country's total external development financing annually. The support has more than doubled in the last five years.
"With the latest replenishment of the IDA, we plan to deepen our commitment even further. We look forward to remaining a committed development partner, and continuing our support to help Bangladesh achieve its development goals."
On rising global protectionism, she said the number of trade restrictions has been steadily increasing across the world, reaching a post-crisis high last year.
Emerging markets and developing economies have engaged in a broad set of restrictive measures, including import tariffs and export taxes. And advanced economies have enacted numerous trade defence measures. The future of trade policies is uncertain.
"However, the prospects for Bangladesh, and South Asia in general, are better than it seems," said Dixon.
"The region also stands to gain from the growth recovery we are seeing in advanced economies, because they are the main markets for its exports. For all these reasons, South Asian countries should continue to strive for a stronger outward orientation."