India withdraw Smith protest as boards make peace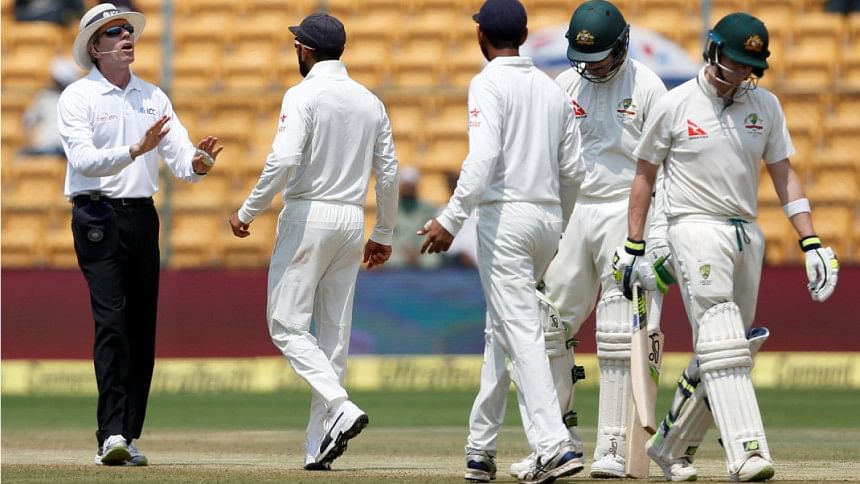 India have withdrawn an official protest about the actions of Australia captain Steve Smith in the second Test as the governing bodies of both countries moved to bring an end to the acrimony surrounding the ongoing four-match series.
The Board of Control for Cricket in India (BCCI) had earlier registered a complaint to the International Cricket Council (ICC) over Smith looking to the dressing room for guidance on whether to review an lbw decision during the Bangalore match.
Despite the hosts winning the Test to level the series at 1-1 on Tuesday, India skipper Virat Kohli alleged the tourists had indulged in the practice throughout the match, sparking a war of words in the media and a robust response from Australia.
The boards released a joint statement on Friday saying the chief executives of both bodies had met in Mumbai on Thursday and agreed to try and bring the focus "back to the game" ahead of next week's third Test in Ranchi.
"India has always cherished a contest with Australia and over the years, the performances of both, the teams and the players, are testimony to the level of competitiveness that exists between these two teams," the BCCI's Rahul Johri said.
"While having responded officially to one such incident which happened in the last Test, together, we believe that the focus of the teams and the joy they provide to the fans, should not be diluted and it is imperative to ensure that the rest of the series ... not be compromised."
The statement said Smith, who blamed the incident on a "brain fade", and Kohli, who was criticised in Australia for his aggression during the match, would meet to iron out their differences.
"BCCI will withdraw the complaint filed with ICC with an expectation that the two captains will meet prior to the Ranchi test and commit to lead their teams by example and play the rest of the series in the right spirit ..." it said.
Despite the row, the ICC opted not to level any charge against either Smith or Kohli, whose public outburst could also have been considered a breach of the code of conduct.
The teams renew their rivalry when the third Test gets underway on March 16 and Cricket Australia chief James Sutherland said he hoped the matter could be put to bed.
"As we have seen this week in Bangalore, with so much at stake, tensions can bubble over," he said.
"We are half way through what has already been a riveting series - and there is still much to look forward to.
"It is in the best interests of the game to put these differences aside and clear the way for the focus to be on the cricket, and the remaining matches of the series."