Dipan Murder
No headway in probe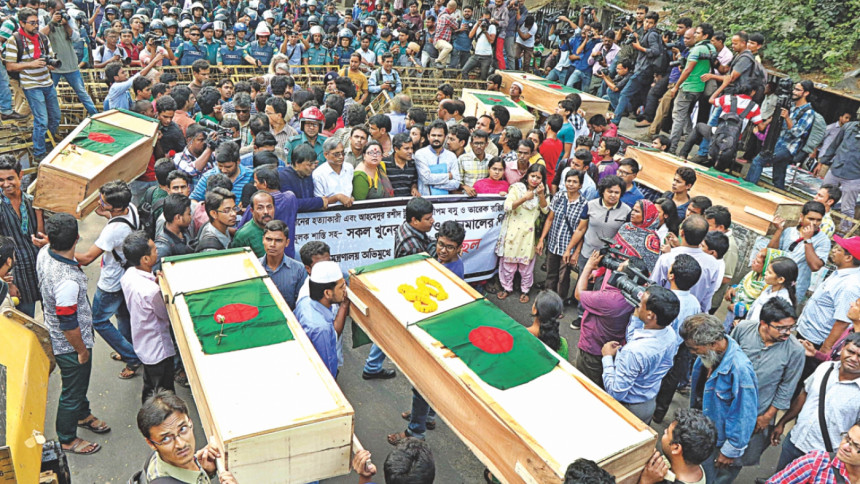 Six days into the murder of publisher Faisal Arefin Dipan, investigators are yet to make any headway in the probe.
Nor was there any mentionable progress in probe into the attack on a publisher and two writer-bloggers that happened on the same day in the capital's Lalmatia area.
They were scrutinising the footage of CCTV camera installed at Aziz Super Market to identify the killers of Dipan, said Mashrukure Rahman, deputy commissioner of detective branch (South) of Dhaka Metropolitan Police (DMP).
"A lot of people had gone and come out of the market on that day. We have got suspicious movement of some people and are looking into it," he said.
None of the three attackers was identified in Lalmatia incident, said police.
On Saturday, Dipan, owner of Jagriti Prokashani, was hacked to death at his office at Aziz Super Market in Shahbagh, and another publisher, Ahmedur Rashid Tutul of Shuddhoswar Prokashani along with two bloggers was severely wounded at Lalmatia almost around the same time.
On Wednesday, traders of the market told reporters that they saw in the footage suspicious activities of a youth moving around in the market after Dipan had reached the parking area on the fateful day.
Around half an hour later, the youth was seen leaving the market with five others.
Asked about the progress of investigation into the case, Dipan's father Prof Abul Quasem Fazlul Huq yesterday said the law enforcement and different intelligence agencies were trying to identify the murderers, but he was not informed of any new development.
He said he had no idea about the persons who were reportedly identified by traders in the footage of CCTV cameras installed on the entry and exit points of the market.
"Even police have not informed me about that. I have just come to know it from media reports," he said.
Responding to a query about getting justice, Prof Quasem said investigations of the previous incidents were carried out in a similar way, but there was no headway.
Meanwhile, five policemen were deployed at the apartment building of Prof Quasem in Paribagh yesterday, a day after he expressed his sense of insecurity.
Mintu Kumar Roy, a constable, said they along with the security men of the building were guarding it round the clock.
Although Prof Quasem was happy with the police deployment, he was still concerned about his safety outside.
"I am going out. But if they [assailants] kill me now, what will happen then?" he told journalists, waiting in front of his house, on his way to attend a protest programme on the attacks at Kataban.
At the programme, he said the continuous killings that were going on were related to politics, economics and culture of the country.
Human beings with good moral sense cannot emerge from the existing education system, he said.
Citing the proverb "Charity begins at home", Quasem said political parties were the home of state machinery.
If the parties did not become transparent, democracy would not be restored although hired intellectuals spoke much about it, he said.
He urged all not to forget Dipan and other slain writer-bloggers.