Onion Import: Govt slaps 10pc tariff to protect growers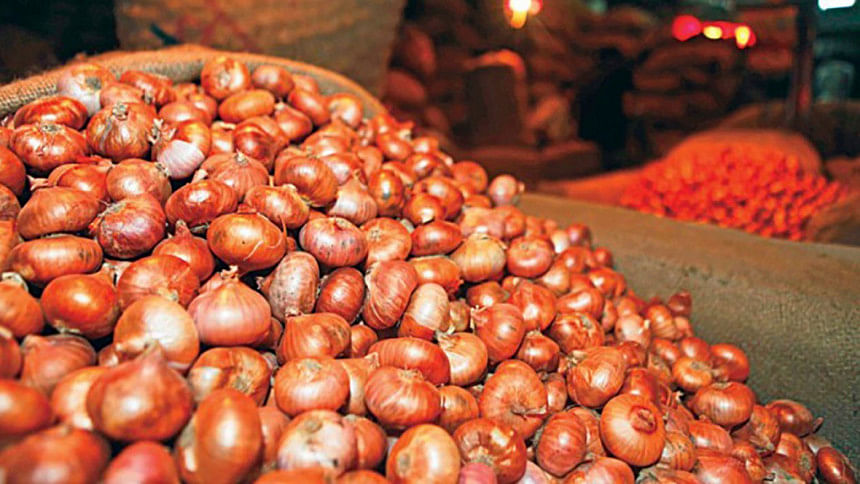 The government has imposed 10 percent tariff on onion import to protect interests of local growers, read a notification issued by National Board of Revenue (NBR) yesterday.
The revenue administration slapped 5 percent regulatory duty and re-imposed 5 percent customs duty on import of the essential cooking ingredient.
The move came less than a week after the Ministry of Commerce requested for imposition of import tariff as prices of onions started falling due to import of early varieties of onions from India.
The neighboring country withdrew ban on import by the end of the last month and onion import from India began from early this month, raising concerns among local farmers for ample supply of the perishable during the current harvesting period.
Farmers have been expanding the cultivation of onions for two years encouraged by the higher prices after India banned exports.
Last year, onion acreage grew 18 percent to 237,000 hectares.
The prices of onion skyrocketed when India banned exports in September last year, pushing the retail price in Bangladesh to as high as Tk 110 per kg on September 16, according to the Department of Agricultural Marketing.
The prices had jumped to a record Tk 250 per kg in 2019 after a similar Indian ban.
Bangladesh has to depend on import of nearly 10 lakh tonnnes onion, mainly from India, as its annual production falls short of demand.
The Department of Agricultural Extension (DAE) has targeted to bring 249,000 hectares under onion cultivation in the current fiscal year.
Farmers in Bangladesh planted early onions on 65,000 hectares in Bangladesh, around 8 percent more than the last year, according to the DAE data.
"We want to bring 184,000 hectares under onion seedling cultivation this year," said DAE Director General Asadullah earlier this week.
The NBR also reduced import duty on rice to 25 percent.
Before the notification, total tax incidence on rice import was 62.5 percent, said officials.
The NBR attached condition that importers will require written permission from the Ministry of Food to bring rice.
Last month, food ministry recommended the NBR a reduction of import tariff to 25 percent in order to increase supply of the grain and to increase supply and curb spiral in prices in the domestic market.
The NBR said that the reduced import duty benefit for rice will be effective immediately and remain effective until April 30, 2021.