Khulna Division's Water Crisis: Dearth now in all 10 districts
78pc drinking water sources dried up, say DPHE officials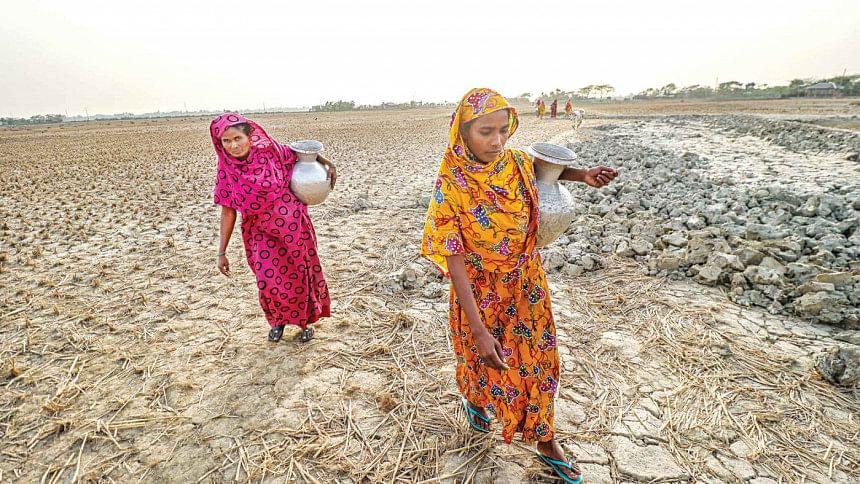 The crisis of pure drinking water is deepening in Khulna division as the underground water level has also gone down in five previously unaffected districts, say experts.
Of the 10 districts in Khulna division, this crisis has been going on for several years in five districts -- Khulna, Narail, Bagerhat, Jashore, and Satkhira. But the remaining five districts have been facing similar problems since March this year.
The newly affected districts, which cover a large area of Padma and Gorai river basins, are Kushtia, Jhenaidah, Meherpur, Chuadanga, and Magura.
It causes immense sufferings to a large section of people in the country's south and southwestern region. The dryness may also affect the world's largest mangrove forest -- Sundarbans -- said environmentalists.
There was hardly any rain in this region in the last eight months. As a result, underground water level has gone down between 200 feet and 400 feet, varying from place to place, said experts.
Many tube wells have gone out of order. Around 78 percent of drinking water sources have already dried up in this region, said officials of the Department of Public Health Engineering (DPHE).
Water flow in the Padma and Gorai rivers has decreased significantly as water does not come to the Padma from the Ganges timely, said Jahidul Islam, executive engineer of Water Development Board (BWDB) in Kushtia.
For this reason, the Ganges-Kobadak Irrigation Project, popularly known as G-K Project, a large surface irrigation system serving the southwestern region, is being affected.
The 1,655km canal of the G-K project goes through Kushtia, Jhenaidah, Meherpur, Chuadanga, and Magura. Regular water flow of the Padma and Gorai rivers provide sufficient water for irrigation in the region.
This year, the scenario is different. Reduced water flow of the two rivers means insufficient water for the irrigation project.
The crisis has been created as water flow of the Ganges has been interrupted upstream, said the BWDB Kushtia engineer.
Bangladesh has been facing problems with Ganges water flow from March every year when the dry season begins.
As per the Ganges Water-Sharing Treaty, water flow in the Padma should be 35,000 cusecs (cubic feet per second). But Bangladesh gets less than this, down to 23,000 cusecs, according to BWDB's hydrology department.
Furthermore, water supply of the G-K project has been stopped since May 1 as Boro paddy harvesting is going on. When the water flow of the Padma goes down, smooth water supply cannot be ensured.
Contacted, Jamalur Rahman, superintendent engineer of DPHE in Khulna, said the water level in this region started going down in the last five years. Along with other factors, climate change has contributed much to the crisis, he added.
Random installation of submersible water pumps has also accelerated the water crisis in this region, said Md Taimur, engineer of DPHE in Kushtia.
Kushtia municipal engineer Robiul Islam said people are increasingly setting up submersible water pumps as it is difficult to get water by using regular water pumps or tube wells.
Installation of a large number of submersible water pumps and low flow of river water are contributing to lowering the underground water level in the region, said Jamalur.