"It is even more than Mirpur," came the response from Bangladesh captain Mashrafe Bin Mortaza after their Asia Cup match against Sri Lanka on September 15 in Dubai. He was talking about the feeling of home provided by a Bangladesh expatriate-dominated crowd of nearly 25,000 at the Dubai International Stadium.
Bangladesh had not played in the UAE since 1995, and the cricket-starved patriotic Bangladeshis had turned up in numbers to dwarf the Sri Lankan faithful, as their beloved Tigers eventually did on the pitch.
When Bangladesh had won, the fans cleaned the stands before they left -- as if to say 'we are worthy of being called to play here, worthy of coming to this glitzy stadium, of being inside the ring of lights that line the roof instead of out'.
If that was the sentiment, its poignancy increases the more time you spend in the UAE and the more Bangladeshis you come across. Whether more than Mirpur, whether less, for a large number of those screaming Tamim Iqbal's name when he came out with a fractured left hand, the Bangladeshi experience here is far removed from that in Mirpur. It is not obvious, neither is it advertised in neon lights in Dubai's city centre; it is implicit and the reality is contained outside the ring of lights.
TOWARDS A DUBAI NOT OFTEN SEEN
The taxi wound its way out of Dubai's posh surrounds that the world gets to see. The destination was the Dubai Fruit and Vegetable Market in Al Aweer, the purpose to catch a glimpse -- the entire picture can of course not be perceived in one visit -- of how Bangladeshis not fortunate enough to hold plush jobs in Dubai exist after coming to the beacon of the region in hopes of bettering their lot.
According to an official in the Bangladesh embassy in Abu Dhabi, there are some seven lakh Bangladeshis working in the UAE, making a significant remittance contribution of $ 2 billion.
Each one of these migrant workers often holds odd jobs. But before that, they have to spend two to three lakh taka on average just to get to the country, often selling their properties, or taking loans to do so.
To that end, it was fortunate that the taxi driver was a Bangladeshi.
"To tell you the truth, the lot of Bangladeshis here is not good," he said as the Toyota Camry hurtled through a 16-lane highway. "When it comes to expatriates, the Bangladeshis are the worst off."
There may be something to that -- in late 2012, the UAE imposed restrictions on issuing work visas to Bangladeshis, making exceptions only for female domestic workers.
However, before we could dwell further on his exact sentiments, the taxi driver clarified that he did not want his name on the record, a common feature of each subsequent person who agreed to take time out of their work to talk.
He would only say he is from Cumilla.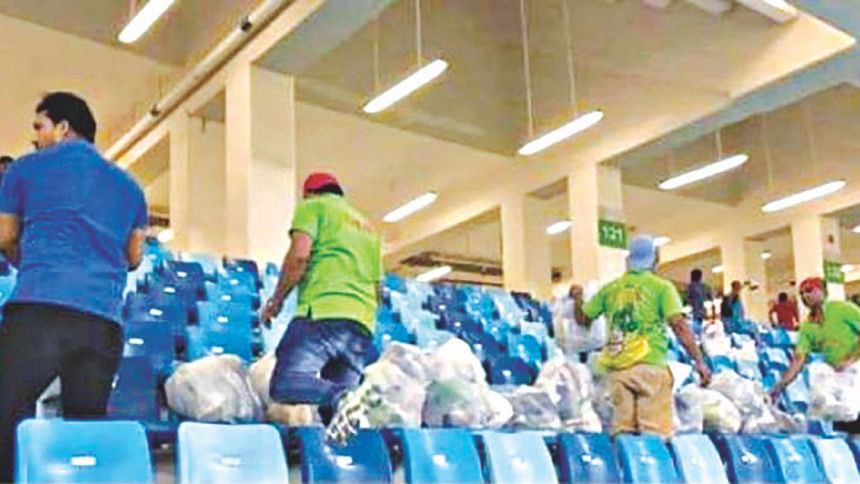 Prodding further on a different trajectory, he said he had come to Dubai seven years ago and had worked in security for the first six years. His shift to driving taxis in 2017 was not by choice, but rather a compulsion. His work visa had expired and the company where he worked, who were till then his visa sponsors, did not help renew it. This is a problem as you don't achieve citizenship in the UAE. They said that he was not needed anymore and so would not sponsor his visa.
"Basically, if you are a Bangladeshi you can only get a visa renewal [once it has expired] if you are needed by a taxi company or if you are employed in the household of an Arab," he said. 
"To tell the truth, I was much better off in the security job. As far as benefits go, healthcare is required by law, but the rest varies – if it is a good company, you will be okay. If not, things get difficult.
"I say Bangladeshis are worst off because, with the visa situation, you have very little bargaining power. If we ask for higher wages or better benefits, they will just say 'if you don't like it, go home'. That does not happen if you are, say, an Indian. I could go home, but I have come here for a reason -- what I do and the money I send back helps my family.
"Also, when you are driving taxis, there will come instances when you will get fines. If you drive 10-12 hours a day, there will be the odd mistake and the fines are steep. I pay something like 500 dirhams [or around 11,500 BDT] a month in fines."
Close to the destination, he let out a gasp. His "Oh my god!" was said with a touch of horror and resignation more in keeping with a reaction to some great calamity. When asked what the matter was, he said dejectedly, "I just crossed a red light", and briefly turned around to see whether a camera had taken a bit of the food out of his plate.
Soon we reached the destination. "You will know the Bangladeshis when you see them," the Cumilla man in Dubai said before driving off.
At the mercy of a whim
If the name 'Fruit and Vegetable Market' draws up an image of bustling retail in the heart of the city, it is anything but.
It was all wholesale, and it was an industry unto itself. If the posh parts of Dubai form the face of the UAE, this formed the gullet -- unattractive but essential to lend the nutrients that keep the faces pretty. And the supply line was manned by the labourers, many of them Bangladeshi.
Under the hot, cruel sun, sunburnt labourers pulled wheelbarrows on the side of the sand-stained road -- the picture as far from the paved streets and Maseratis plying the streets outside the Dubai Sports City as possible.
When approaching one of these men, he would only say that he was from Sylhet, and would not slow down his barrow march, but smiled all the same. When he saw someone else coming in the opposite direction, he gestured towards him -- he will have more to say, he seemed to mean.
The man from Feni, who has been in Dubai for 11 years, seemed to be having it better than most in the area. The taxi driver was wrong about only taxi companies and Arab households having the power to sponsor.
"You have to have licences to sponsor visas, and those who want to continue staying here when their visa has to be renewed have to get in touch with a license owner and enter a contract with them," he said, also not slowing down as he had someplace to be.
He worked in a fruit warehouse, and he was a step up in the chain as his job was loading and offloading goods from trucks parked in front of his company.
"My sponsor is a good man. He charges me around 7,000 dirhams [around 160,000 BDT] every two years to keep sponsoring my stay here," he said.
"I get permission to work in Dubai, and it does not have to be for my sponsor -- but it has to be in this area. I can't seek work elsewhere, otherwise the CID may catch me and fine me 50,000 dirhams [around 11 lakh BDT]."
He then pointed to some more labourers pulling their load down the street.
"Many of them have it much worse off; they are charged as much as 10,000 -12,000 dirhams [almost three lakh] every two years – maybe even higher. The poorer and less literate they are, the less chances they have of getting information like we do on Facebook and find a good deal."
How much does it take to actually renew the visa?
"3,000-4,000 dirhams [80,000 BDT on average]," the Feni man said. "The rest is up to the whim of the license-owner."
No labourers wanted to stop and talk.
A man from Chattogram -- walking through as the man from Feni entered his place of work – stopped and talked about a typical day here.
"We work 16 hours a day -- all of us are labourers in some form or the other," he said. "We start work at 2:00am, go home at 10:00 and return to work at 2:00pm to work till 10:00 at night."
Everyone agreed to one thing. Bangladeshis are worst off. Some said it is because they are illiterate, others blamed their own for being undisciplined. But they were in no doubt about the fact that Bangladeshis of low income were worst among equals in Dubai.
"Let me give you one example," the Feni man said. "If we have an argument, the police come and the first thing they will do when they see us is ask where we are from. When we say Bangladesh, they take us aside and into the car."
"Yes, not me, but many from here went to watch the match on Saturday. I'll go to watch the match against Afghanistan [in Abu Dhabi]," the man from Chittagong answered the question that seemed completely out of place in the context.
Back inside the ring of lights, it is probably not like Mirpur at all. Bangladeshis have problems, myriad, in their own country. But when they go home after cheering on the Tigers in Mirpur, they go home as citizens.
They can have arguments.