The Asia Cup so far has been an exercise in making lemonade out of lemons for Bangladesh. From the first match, during which opener Tamim Iqbal was felled by a fractured left hand because of which he eventually had to leave the tournament, Bangladesh have had to deal with the heat in the UAE, which the country's cricketers have not experienced since the 1995 Asia Cup, and tough scheduling.
However, they have had to make it work, which they did in two of four matches so far, landing them in a virtual semifinal today against Pakistan at the Sheikh Zayed Stadium in Abu Dhabi.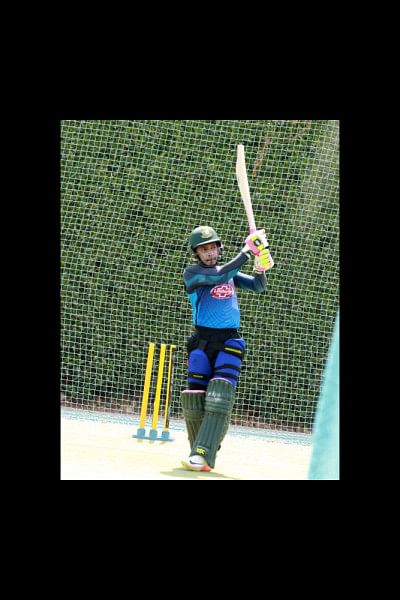 Tamim's exit was followed by heavy defeats to Afghanistan, where they crumbled to scores of 119 and 173 all out respectively. On Sunday, in a thrilling three-run win over Afghanistan, they played out the full 50 overs for the first time in the tournament. They had to shift resources, sending in opener Imrul Kayes, at number six  to counter the leg-spin threat of Rashid Khan. Both wins -- the first being a 137-run win over Sri Lanka in the opening match, relied on two batsmen finding form and rescuing the team. In short, they are yet to click as a batting unit.
Bangladesh's highest score by the time two wickets had fallen in this Asia Cup is 18. While Pakistan have not had the best of times with the ball, it is known in cricketing circles that they retain the ability to strike at any moment, and against a vulnerable Bangladesh top order without Tamim may just be the occasion.
"They come with more challenges. There's a little bit more pace in some of their pace bowlers," Bangladesh head coach Steve Rhodes said after team practice at the ICC Academy in Dubai yesterday. "But the wicket in Abu Dhabi has tended to be on the slow side, so it's not necessarily favouring the really fast bowlers. It might make the ball come on to the bat nicely. It will be interesting to see whether their pace actually makes the wicket play well for our batsmen."
"These are the toughest conditions I have played in, you get tired after spending a little time on the field," said skipper Mashrafe Bin Mortaza, a veteran of 17 years in international cricket. "Riyad found it difficult to breathe after scoring 30-40 [on Sunday], you have to take singles and doubles and that tires you even more.
"One thing that you can do is score runs at the top and play for longer. Then the middle order have less time to spend out in the middle and can go for their shots. We can't just say that it is not possible, we have to try."
Although the head-to-head is stacked firmly in Pakistan's favour with Bangladesh winning four and losing 35, the Tigers won their last three matches in a memorable whitewash in Dhaka in 2015.
"The Pakistan team is now better than that one [Bangladesh beat in 2015]," Mashrafe said. "They did not have [pacer] Hasan Ali and [leg-spinner] Shadab Khan then. You can't judge them based on the match against India [which Pakistan lost by nine wickets on Sunday]. They are playing very well, but that does not mean we cannot play well."
"Pakistan, let's be honest, will be favourites in this contest," the coach said. "That puts us in a very nice position because they know we are a dangerous team and to go into that game as a slight underdog, we can really make that work for us.
"They are unpredictable. Let's hope they have an off day because if we play well, we are going to win. What we can control is what we do and how we play and the objective for our team is that we have a good day."
In the end, much will depend on whether Bangladesh can find a way to prevail once more.