Last man Mustafizur Rahman had a brain freeze with 3.1 overs still left and the job, despite Mushfiqur Rahim's stellar unbeaten ton, nowhere near done. The scoreboard read 229 for nine but the players were making their way back to the dressing room. That is because opener Tamim Iqbal, seen a few minutes earlier sitting with his left hand in a bandage in the dressing room balcony, had retired hurt in the second over after being hit on the wrist by a Suranga Lakmal bouncer.
He was taken to hospital for a scan and team management informed, less than an hour before Mustafizur was supposedly last man out, that there was a fracture and he definitely would not be taking further part in the match. So it was certainly not a leap to think that Bangladesh were all out.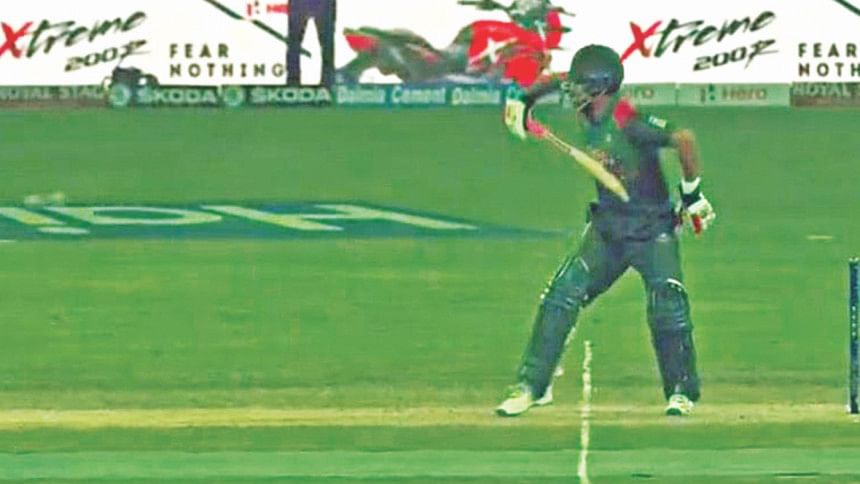 But then, Mushfiqur stopped walking, and the Sri Lankans halted a second later. Tamim, with the palm of his left glove partially cut to let his hand jut out of it to accommodate the bandage, entered the field with bat held in right hand. Sri Lankan shoulders drooped just a little, perhaps just at the disappointment of having to field a bit longer when they were congratulating themselves on a job well done.
Mushfiqur seemed to perk up. He had scored 112 off 135 balls that seemed destined to be a lone hand in vain. He looked careworn as he marshalled the tail after the failure of his teammates, including young Mohammad Mithun who gave it away on 63. In 6.5 overs since the start of the 40th over, Bangladesh scored 31 runs for the loss of two wickets -- the story of a team struggling to avoid calamity.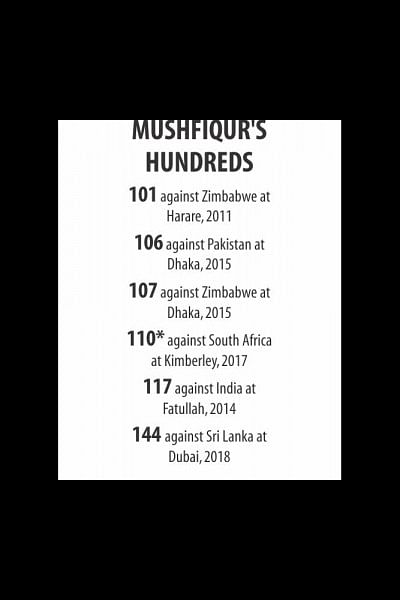 Tamim strode up to face the bowler who had rendered his left arm useless. Lakmal did what any bowler would do -- banged it in short -- and Tamim hopped up on his toes, tucked his left hand away and played the ball safely down with his right hand, which incidentally also held an injured ring finder that needed painkillers to be functional.
Over done with, now it was Mushfiqur's show.
He made sure Tamim would not have to play one more ball. Tamim was there to ensure that Mushfiqur played out the overs and give Bangladesh a chance at a winning start to the Asia Cup. He did a little more than that. He pumped up a pumped-up Mushfiqur after every boundary -- and there were three fours and three sixes off the next 15 balls, realizing 32 runs of genius from Mushfiqur, who had hit eight fours and one six in his previous 135 deliveries. Mushfiqur himself was batting with rib pain that put his participation in doubt and kept him off the field during Sri Lanka's chase.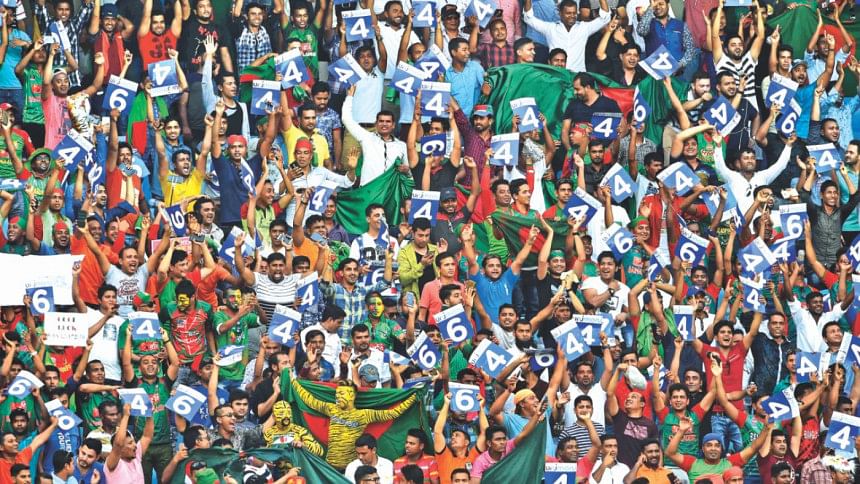 It painted the remarkable picture of two players who barely made a whole compensating for all their disadvantages through sheer will, commitment to the team and skill. After the match, information filtered through that it was Mashrafe's plan to send Tamim in, but only if Mushfiqur was on strike at the fall of the ninth wicket. The captain also supposedly fashioned the glove he wore. That Tamim strode out even when he Mushfiqur was at the non-striker's end says that Tamim took it upon himself to help his team even when it may have ended up jeopardizing his career.
Tamim may not play another game in this tournament and that will certainly be a blow, but he -- along, of course, with Mushfiqur -- has set the strongest example yet to an underperforming next generation of what it requires to be elite national cricketers.
Former South Africa captain Graeme Smith, in January 2009, was hailed as one of the bravest men in cricket for coming out to face Australia with a broken elbow in order to salvage a draw on the fifth day in Sydney. Smith had to face more deliveries as he was batting with the tail, but the principle was the same -- batting with broken limbs and injuries that may make it difficult to breathe takes real bravery.
Smith lost that match while Tamim and Mushfiqur won theirs, but their greatest achievement may be that a momentous victory will be secondary to the much more momentous example of their character.