Ushering in Pahela Falgun
Cultural programmes held in the capital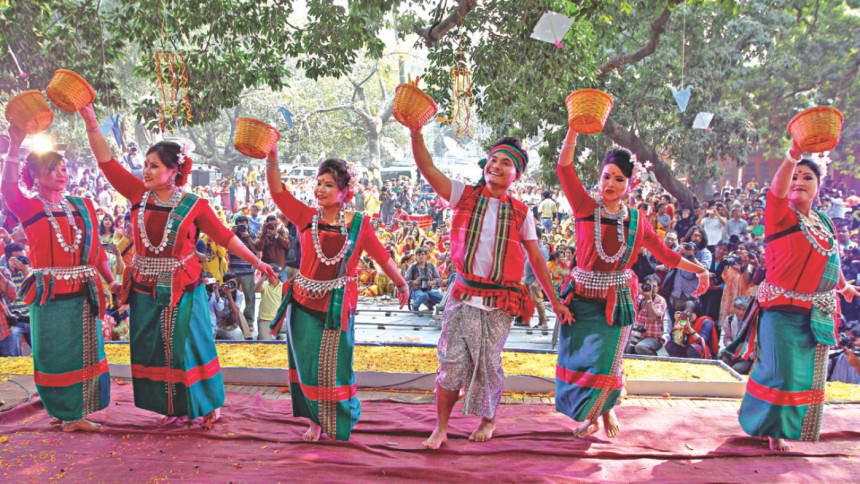 With the onset of Pahela Falgun, nature gets a new lease of life. Like previous years, the city dwellers hail the season with joys and melodies. It's a day painted with bright colours and joyous tunes in the air. Yellow, orange and red seem to be the colours of choice for the women with flowers in their hair. Dhaka, especially the Dhaka University vicinity, took a festive look. Colourful rallies and cultural programmes welcomed Spring, and the sprouting of fresh leaves on trees, blossoming flowers and the songs of cuckoo herald the festive season.  
To usher in Pahela Falgun, the first day of Spring, Jatiya Basanta Utshab Udjapan Parishad (JBUUP) held day-long programmes at four different venues –Bakultala of Charukala (Faculty of Fine Art, DU), Rabindra Sarobar of Dhanmondi, Bahadur Shah Park of Lakshmibazar, and open stage of Rabindra Smarani, Uttara in the capital yesterday. 
Both prominent and promising singers, dancers and elocutionists of the country performed solo and group songs, dances and poems at the events. Sarangi artiste Matiar Rahman set off the morning session of the programme at Charukala while Dr. Asit Roy presented Raga Bhinna Shadaj. 
Artistes of Nritya Nandan, Dhriti Nartanalay, Nataraj, Spondon and Nrityakshya danced to several songs themed on Spring. Noted dancer-choreographers -- Sharmila Banerjee, Warda Rihab, Laila Hasan, Anik Bose and Salma Munni choreographed the pieces respectively. 
Noted Tagore singers Mita Haq and Fahim Hossain Chowdhury rendered solos while Artistes of Satyen Sen Shilpi Goshthi performed a folk song "Ayre Basanta". Dance presentations by several Chakma and Santal artistes added different colours to the programme. 

The morning session came to an end with the presentation of a choral song "Orey Grihabashi" that was followed by a colourful procession. Cultural programmes were also held other three venues with solo and choral performances of songs, poems and dances. The leaders of the JBUUP spoke at the event. Desh TV aired the morning session of the programme live.      
---
---
Photos: Sheikh Mmehedi Mmorshed