Laljomin gets a boost forward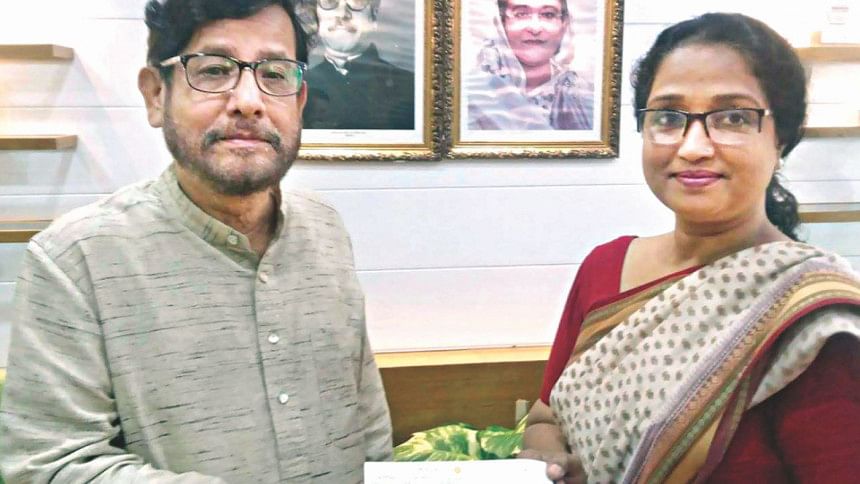 Bangladesh's Cultural Affairs Ministry has recently extended their support to theatre group Shunyan Reparatory for their much acclaimed production "Laljomin." A cheque of Tk 11 lakh has been granted to the group's President Momena Chowdhury by Cultural Affairs Minister Asaduzzaman Noor, to enable monthly productions across 44 districts countrywide.
Written by noted playwright Mannan Hira and directed by Sudip Chakraborty, the one-act play will stage 10 productions every month across Bangladesh until June 2018. Under this initiative, the drama opened curtains on October 9 in Rajarbagh School and College, followed by a second staging at Bangladesh Shilpakala Academy's Studio Theatre.
"This is the first time the government has taken the initiative to carry a theatre production across various districts in Bangladesh. There will be more of this kind in the future," added Momena Chowdhury.
"Laljomin" is a poignant tale of a 13-year -old girl in a war-torn Bangladesh, highlighting the effects of the Liberation War on present day. The play is a solo performance by Momena Chowdhury.
"The play depicts the struggles and sacrifices of a young girl, and we would like to carry the play towards the youth. We have staged productions in eight colleges so far, and are preparing to do many more," said Momena Chowdhury.
The play will be staged today at Bangladesh Mohila Samity, in Baily Road, Dhaka.