Registration for 'Ispahani Mirzapore Banglabid' underway
Ispahani Mirzapore Banglabid, one of the most popular TV reality shows of Bangladesh, has begun its fourth season, with the promise of spreading our language, Bangla, to a wider scale, according to a press release. Registration for the contest is underway and will continue till February 21.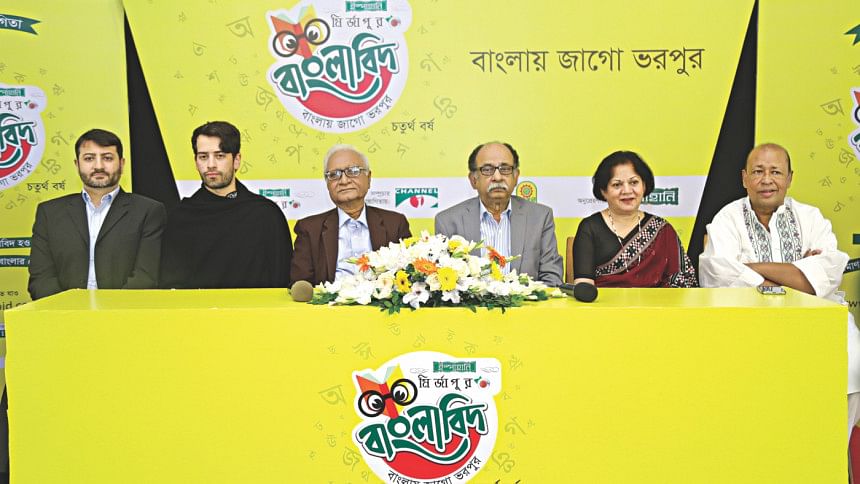 Ispahani Mirzapore, one of the country's most popular tea brands, organises the event every year to promote the proper use of Bangla to the young generation with the slogan, 'Banglay Jago Bhorpur'.
 On the occasion of launching the new season, a press conference was arranged at the office premises of Channel i, recently. Chaired by Faridur Reza Sagar, Managing Director of Channel i, Professor Emeritus Dr Sirajul Islam attended the press meet as the chief guest. Habibullah Sirajee, Director General of Bangla Academy, Zahida Ispahani, Emaad Ispahani and Mirza Ahmed Ispahani, Directors of M M  Ispahani Ltd and Omar Hannan, G M of Ispahani Tea Limited, among others, were present at the event. 
 This year, the show is going to be organised in a larger scale, as new games and challenges will be added. It is expected that the number of total registrations will surpass a hundred thousand. 
 The first three winners will receive BDT 10 lakh, 3 lakh and 2 lakh, respectively. Each of the first 10 winners will receive a laptop, along with Bengali books and a bookshelf worth BDT 50,000.
 Initially, students of classes 6 to 10 from different parts of the country will take part in the competition. After the primary round, selected participants will be brought to Dhaka for the studio round, and they will compete against each other. Later, the contest will be aired on Channel i. 
Final winners will be selected after 20 different episodes of exciting competitions. An experienced judges' panel, consisting of representatives from the Bangla Department of University of Dhaka and language experts, will be actively involved in the selection process. Ispahani Mirzapore Banglabid is honoured to have renowned Professor Dr Soumitra Shekhar, Bangla Department, University of Dhaka and media personality Tropa Majumder as judges of the show. 
Ispahani Mirzapore Banglabid started its first season in 2017.