Art world adjusts to lockdown cautiously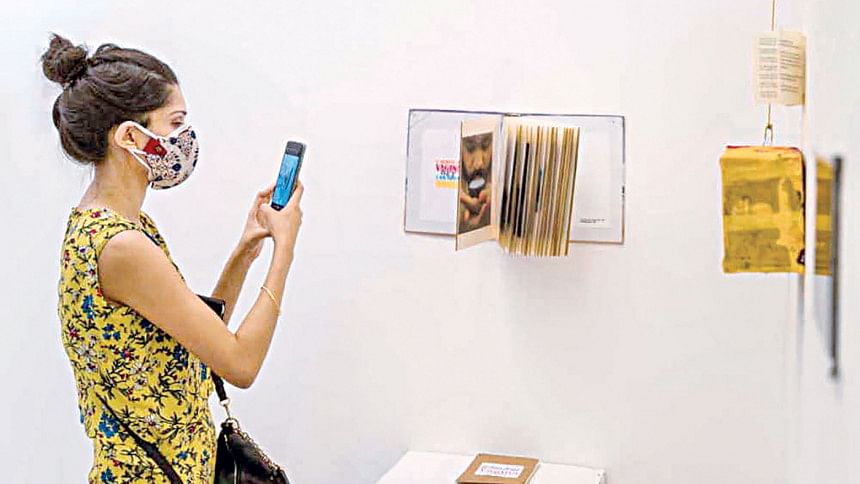 With spiralling Covid-19 cases, the government of Bangladesh announced a seven-day countrywide lockdown, starting from April 5. Art galleries and event spaces are monitoring the situation strictly. While most of them have postponed their public programmes, others have chosen to operate cautiously.
"Flowing & Static", a group exhibition featuring the works of twelve artists, is underway at Galleri Kaya, Uttara. Initially, the exhibition was supposed to take place from April 2 to 16. Owing to the current circumstances, the event's timeline has been extended to May 7, and its amended visiting hours are now from 11 am 4 pm. "We have strict policies in place for crowd management, following safety protocols. We are not allowing more than ten visitors inside the venue at a time," said Goutam Chakraborty, Director, Galleri Kaya. "The exhibition catalogue is available online, and we are using social media to communicate with interested clients."
Artworks presented in "Flowing & Static" are mainly still-life, capturing the alluring beauty of floral depiction through the use of watercolor, pastel, charcoal, acrylic and mixed media, contained through canvas and paper. The participating artists are: Samarjit Roy Choudhury, Hashem Khan, Hamiduzzaman Khan, Abdus Shakoor Shah, Iffat Ara Dewan, Ranjit Das, Sheikh Afzal Hossain, Aloptogin Tushar, Anisuzzaman, Monidipa Dasgupta, Shohag Parvez and Shahanoor Mamun.
The group exhibition, "Dui" took place simultaneously at Dwip Gallery and Studio 6/6 from March 20 to April 3. As a part of the exhibition, an "art bazar" was held from April 1 to 3. Taiara Farhana Tareque, Co-Founder of Studio 6/6, shared that they were planning to continue the "art bazar" for longer, but for now, they have postponed all public events. However, they will be arranging individual appointments with art buyers upon special requests, maintaining all safety guidelines. People can also reach out to them online.
Goethe-Institut Bangladesh, in partnership with Kala Kendra, began the exhibition, "Futures beyond the Self", featuring eleven multidisciplinary artistes, from March 10 at Kala Kendra, Mohammadpur. The exhibition, which was supposed to continue till April 8, was shut down. Goethe-Institut Bangladesh's Programme Coordinator Khandaker Md Mahmud Hassan said that they will move forward with their virtual film events, if the lockdown is extended.
"Colors of Tradition", a duet exhibition by artists Abdus Shakoor and Shambhu Acharya, started on April 3 at Edge Gallery, Gulshan 2. Though originally recognised as a modern artist, Shakoor takes a shift from this vein to explore a distinctly Bangla folk imagery for this exhibition. His pieces, alongside the traditional Potchitras done by Acharya, complement each other marvelously.
Edge Gallery's Manager Md Abu Soyeb mentioned that they have been taking precautions in regards to the pandemic, such as measuring temperatures of visitors before they enter the building, providing hand sanitisers in both liquid and gel forms, and distributing face masks upon requests. Furthermore, only ten guests are allowed inside the gallery at a time, and as the space itself is over 3,000 sqft, people can maintain physical distance easily. Yet, as Covid-19 cases are on the rise again, visitors are quite low in number. "Colors of Tradition" is also available for viewers on Edge Gallery's website. It will conclude on April 23.
The authors are respectively: a marketing student from North South University, [email protected]; a postgrad student of English literature, [email protected].