Oyshee looks forward to new releases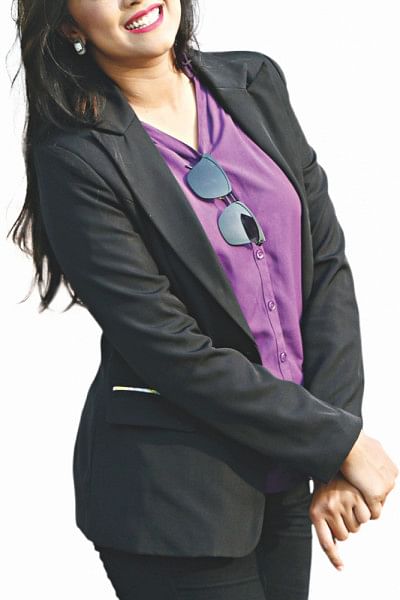 Popular singer Fatima Tuz Zohra Oyshee has her hands full these days -- with new singles being released, the singer will also have credits in several films for playback singing. To top off her busy schedule, the singer is a medical student, and is passionate in her aim of becoming a doctor.
Oyshee's most recent venture is a duet single titled "Tor Bhalobasha" with Belal Khan, released a week ago as a music video. The single, written by Ishtiaque Ahmed, is also composed by Belal Khan with Meer Masum behind musical arrangements. "The song is about young love, aimed at people in their twenties or younger," elaborated Oyshee.
The singer has recently finished recording a funky dance number to be released under the CMV banner, titled "Pappi". Written by Shajeeb Shahriar, the singer revealed that the number contains dialogues as well as singing, with some EDM elements. The single is slated to be up for release soon, with a date yet to be fixed. "I feel very enthusiastic about this venture, and I look forward to the response it will generate," added the singer.
A great deal of Oyshee's time is being invested in playback singing for several upcoming movies. The singer has recorded a number for the Badrul Anam Saud-helmed "Gohin Baluchor", as well as a folksy number for "Dulabhai Zindabaad". She has also wrapped up recording a song to be featured in "Ontorjala", and "Pashan", for which she sang the title song.
"I love playback singing. I enjoy the challenge of embodying a character's emotions and personality through song. It's never boring, and each song is a welcome change," she said.
Her comfort in performing within a wide variety of genres is why the singer is able to look forward to such versatile projects. "My parents ensured that my training groomed me to tackle any song comfortably, but every artiste has a personal preference, and for me that would be folk rock. I believe it suits my vocals best, and I am working on carving an image fitting for this genre," she stated.