WELCOMING 1426 with Loko Sangeet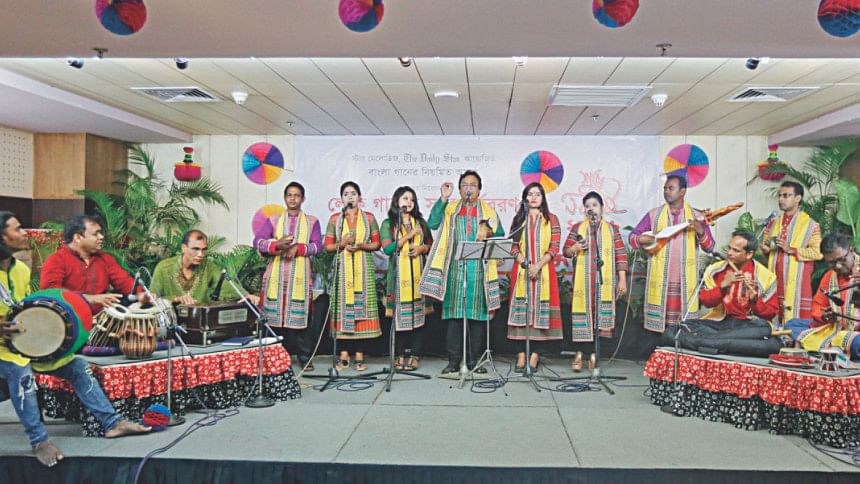 Marking the Bengali New Year, Star Melodies, an initiative of The Daily Star promoting Bangla music, arranged a musical evening titled, Loko Gaaner Shurey Borshoboron, at The Daily Star Centre yesterday. Hosted by Sadya Afreen Mallick, Chief, Culture Initiatives, The Daily Star, the heartwarmingly melodious programme, presenting numerous Bangla folk numbers, featured the supremely talented group, Banglar Dugdugi, led by noted singer Abu Bakr Siddique. In addition, local traditional crafts were on display at the venue. Mahfuz Anam, Editor, The Daily Star, delivered the welcoming address. Noted composer and musicologist Azad Rahman and academic and writer, Niaz Zaman, were present in the audience among many other distinguised guests. Azad Rahman applauded Star Melodies for bringing Bangla folk music under the spotlight through the programme.
Banglar Dugdugi charmed the audience with their renditions of O Ronger Ghora Douraiya Jau, Shonar Bandhali Nao, Amar Har Kala Korlam Re, Dekhechi Rup Shagore Moner Manush and Bhenge Mor Ghorer Chabi Niye Jabi Ke Amare. Among others, they also performed a medley of the songs, Amar Ekla Nitai and Ekla Cholo Re, along with a few songs of Radha Romon, Hason Raja and satire and comedy, beautifully. The group used  traditional acoustic instruments such as ektara, dotara, flute, Bangla dhol, harmonium, tabla, mondira and several others in their performances.
A three-day folk music festival, titled, Jatiya Bhatiali Sangeet Utshab, was held in Mymensingh in October 2018. The first of its kind festival was supported by the Ministry of Cultural Affairs and Charan Akhra. Banglar Dugdugi, along with Bhatiali singers from different parts of Bangladesh, performed at the festival. Siddique mentioned that at the time, the former Minister of Cultural Affairs, Asaduzzaman Noor, MP, gave him the encouragement that he needed to form the group.
Since then, Banglar Dugdugi has performed in different national and international festivals, television programmes as well as stage shows.
"The objective of Banglar Dugdugi is to uphold and maintain the culture of Bangladesh with traditional music," said Siddique. "Many emerging artistes of today are producing fusion versions of folk songs and singers who are not necessarily trained in folk music, are singing those. Many musical forms of folk, such as Bhatiali, Bhawaiya and Gombhira are hardly present in the music scene today. We intend to showcase Bangla folk music in its purest form."