He took an ordinary boy like me in his band: Bassbaba Sumon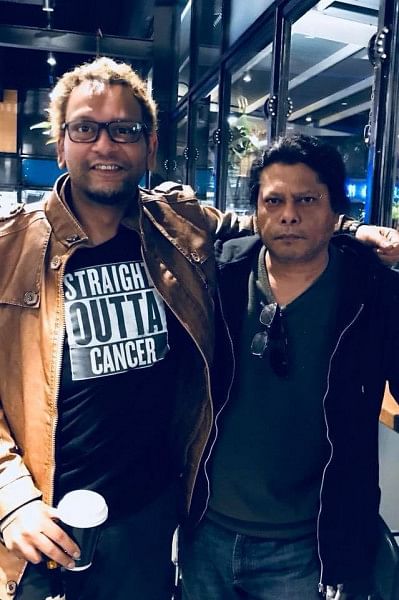 Today marks the 57th birthday of modern 'guru' of Bangladeshi rock, James. Many celebrities have been wishing the musician on social media.
Eminent musician and frontman of Aurthohin, Bassbaba Sumon has shared an emotional personal account on meeting James and how he welcomed him with open hands to join his band "Feelings".
The Facebook post read, "Back then I had just completed my SSC exams and one of my friends, Emon took me to James bhai's house. I was told that I had to do jamming with them but I didn't have my own bass guitar".
"However, I rented a guitar from one of my friends back then and went to jam next day with a lot of nervousness and anticipation. As I walked right into the practice pad, I saw the band "Feelings" practicing along with James bhai and I was completely star struck. One thing that I noticed out there that they didn't have any bass guitarist, "the post added.
And then came the moment that truly changed his life for good.
"James bhai told me to play the bass guitar. Initially, I felt really nervous but once I started playing with them the uneasiness started to fade way and I smoothly blended in with the band. Once the jam ended James bhai told me the next date for practice session and just as I was about to leave the pad, he gave me a sudden surprise by telling me 'Welcome to Feelings'," mentions Sumon.
"Words wouldn't describe my feelings at that time. Here, I was just an ordinary boy who has just completed his SSC exams and was just brimming with dreams of making my own famous band in the future. And then James bhai accepted me to be part of such popular mainstream band at such a young age. It was truly a dream come true moment for me. James played a huge contribution in making me the mainstream bassist," the post stated.
 "Happy Birthday to James bhai. Lots of prayers and love for you," concluded Sumon in his post.