Celebrations of International Jazz Day 2019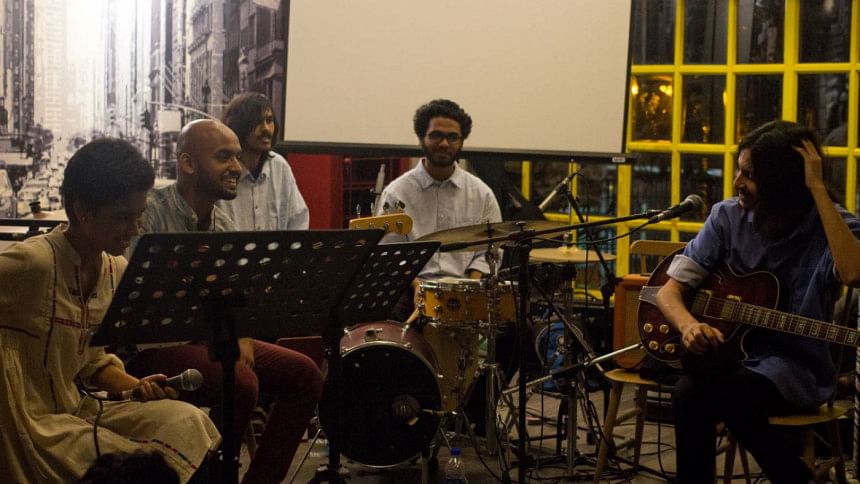 On April 30, 2019, celebrations of International Jazz Day took place at 138 East in Gulshan. The show welcomed jazz enthusiasts from all over Dhaka to witness performances by Imran Ahmed Trio, The Seesaw Quartet and the student band. The event was organised by Verve Bangladesh Ltd.
Once the gates opened at 7 pm, people, young and old, rushed into the hall for an evening of jazz.
The student band were the first set of the show. The five jazz students, trained under Imran Ahmed, played a set of two songs, including an original Waltz composition by one of the members, Aumio Ishaat. The audience, including their proud mentor, cheered them on throughout. It was refreshing to say the least, to see a glimpse of what the future of jazz music in Bangladesh might have in store for us.
By the time The Seesaw Quartet took the stage, there was a room full of audience, while some were still trying to make their way through to see these talented artistes perform.
The band, consisting of saxophonist Rahin Haider, guitarist Jishnu Haider, bassist Alistair Sarkar Raj and drummer Samiul Wahid, played a number of songs which included four originals. Their song, On est tous africains was particularly impressive, with the groovy melodies from the saxophone and intricate guitar work.
Finally, the closing band, Imran Ahmed Trio, took the stage, as the audience roared in excitement. Just last year the band went on a world tour. They are the first Bangladeshi band to do so. 
They started off with two originals called Rhumba and Ode to Brazil, for which one of the students, Dehan, joined them. Their performance was full of energy and it resonated with the audience as they cheered on throughout the performance. They also welcomed singer Rupakalpa Chowdhury to sing a number of songs with them, including What a Wonderful World.
The show ended with a brilliant encore performance by all the musicians who played that night, as they came together to play an electric cover of Spain by Chic Corea.
Leaving after the show on a hot summer night on a weekday, it was clear that jazz was going to be kept very much alive for the years to come through talented performers and the universal love we have for good music.