'Rogue One' scores massive $155 m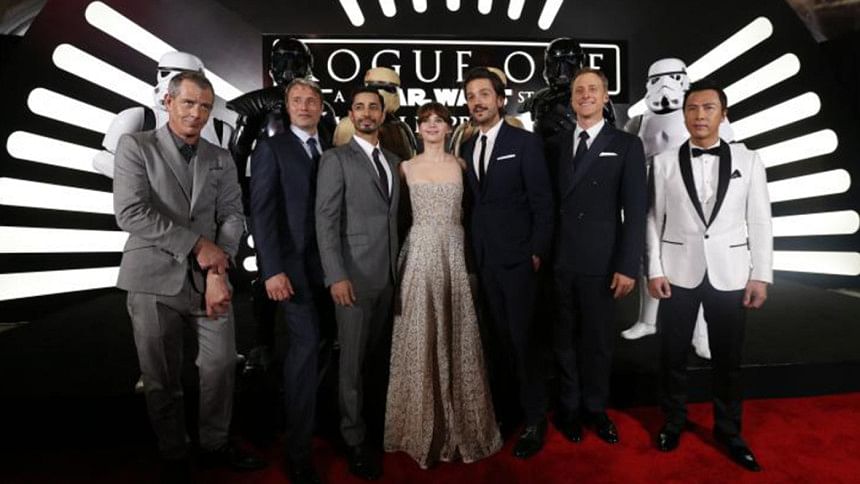 "Rogue One: A Star Wars Story" sold out multiplexes around the country and brought fanboys and fangirls out in force over the weekend. The "Star Wars" prequel scored the second largest December opening in history, the second largest launch of the year, and one of the top debuts in history, opening to a massive $155 million.
Globally, the film has earned $290.5 million, after touching down in nearly every major foreign market save for China and South Korea.
Disney, which shelled out $4 billion to buy "Star Wars" creator LucasFilm in 2012, had been trying to downplay expectations for "Rogue One." Executives noted that the film is the first "Star Wars" movie to exist outside of the main Skywalker clan storyline. It's also a darker, war-themed tale; one that has an unusually high body count for a popcorn flick.
But the "Star Wars" pedigree proved irresistible to audiences, and the film seems positioned to play well through the holidays. Disney is planning to do more "Rogue One"-style spinoffs. The company is already working on a film about the early years of Han Solo that will star Alden Ehrenreich.
Most studios steered clear of "Rogue One," but Warner Bros. and New Line offered up "Collateral Beauty" as counter-programming for audiences unmoved by tales of Jedi warriors. The drama about a grieving ad executive (Will Smith) was savaged by critics, and only managed to eke out a paltry $7 million debut for a fourth place finish. That's a rough start for the picture and continues Smith's bumpy period at the box office. The actor scored with last summer's "Suicide Squad," but struck out with the likes of "Focus," "After Earth," and "Concussion." "Collateral Beauty" cost $36 million to produce. Village Roadshow also backed the picture. The opening weekend crowd skewed female and older, with women comprising 59% of the audience and 58% of ticket buyers clocking in over the age of 35.
Jeff Goldstein, Warner Bros. domestic distribution president, acknowledged that the poor reviews hurt the film, but stressed that its A-minus CinemaScore indicated that audiences were enjoying "Collateral Beauty."
"I'm disappointed," he said. "But the film plays well with an older audience, and we hope that over Christmas, they'll have more free time available to go out and discover it."
Disney's "Moana" snagged second place, picking up $11.7 million and pushing its stateside gross to $161.9 million. Paramount's "Office Christmas Party" nabbed third, earning $8.4 million and bringing the raunchy comedy's total to $31.5 million after two weeks of release.
"Fantastic Beasts and Where to Find Them" rounded out the top five, picking up $5 million to push the Harry Potter spinoff's domestic total to $207.7 million.

Oscar-frontrunner "La La Land" performed nicely in its expansion. The acclaimed musical picked up $4 million after moving from five to 200 theaters. That brings its total to $5.3 million. Lionsgate is backing the film, which stars Ryan Gosling and Emma Stone as two Angelenos in love.
Amazon and Roadside's "Manchester by the Sea" capitalized on a slew of Golden Globes and Screen Actors Guild Awards nominations, adding $4.2 million to its $14 million haul while moving from 356 to 1,200 theaters.
In limited release, "Fences" picked up $128,000 in two theaters. Paramount is backing the adaptation of the August Wilson play, with Denzel Washington directing the film and co-starring opposite Viola Davis. It cost just over $20 million to make.
"Rogue One" galvanized the box office, but overall ticket sales still fell sharply. That's because of tough comparisons. Last year, this period hosted "Star Wars: The Force Awakens," which shattered records when it opened to $248 million.