"Star Wars" headed for $215M+ Box Office record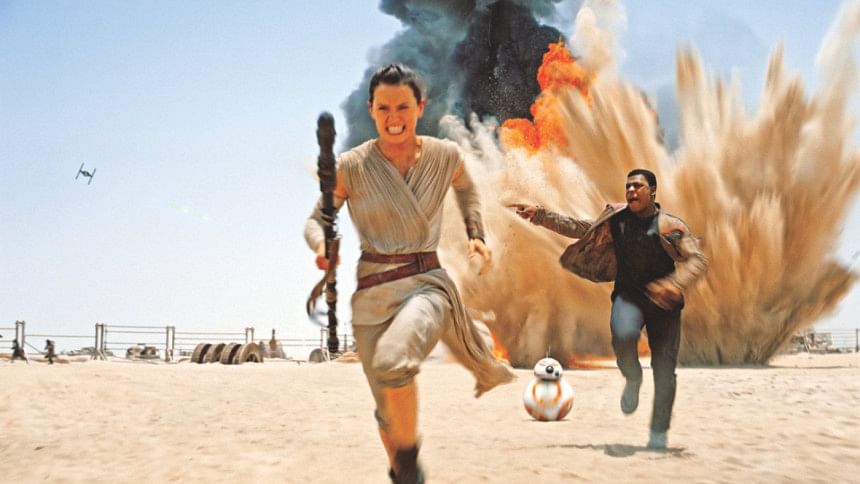 "Star Wars: The Force Awakens" will set a new opening weekend record of at least $215 million in the US, estimates showed Friday evening.
The updated estimate from Disney places the seventh Star Wars movie about $6 million ahead of current record holder, Universal's "Jurassic World", which opened at $208.4 million earlier this year on the June 12-14 weekend.
"The Force Awakens" started screening on Thursday evening with hundreds of sellouts following months of massive marketing. Rival studios had been projecting an opening weekend above $250 million since midday Friday, but Disney has opted for a cautious outlook, asserting in the early afternoon that the seventh Star Wars movie would top $200 million and then pushing that to $215 million in the late afternoon.
Disney also boosted its Friday estimate from at least $100 million in the early afternoon to $120 million by the late afternoon — smashing the opening day record of $91 million for 2011's "Harry Potter and Deathly Hallows: Part 2".
"The Force Awakens" started its US box office run in record-setting fashion with $57 million in Thursday night previews — 31% above the $43.5 million in previews for the final Harry Potter film.
The film is playing at a total of 4,134 North American locations on Friday — a record for a December opening.
Disney also reported Friday that "The Force Awakens" had grossed $72.7 million in two days from 44 international markets with the UK, Germany, Sweden and Norway generating single-day records. The film, which carries a production cost of at least $200 million, opened in most other markets Friday.
That means "The Force Awakens" could also eclipse the international opening weekend record of $316.1 million by "Jurassic World" — along with the dino movie's worldwide opening record of $524.9 million.
Rentrak's survey of moviegoers showed 76% rated "The Force Awakens" at "excellent" along with 19% as "very good". The gender split was 70% male, 30% female; 51% of the audience was over 25.
"The Force Awakens," directed by JJ Abrams, stars Daisy Ridley and John Boyega in the key roles as Rey and Finn along with along with original "Star Wars" stars Harrison Ford as Han Solo, Mark Hamill as Luke Sywalker and Carrie Fisher as General Leia.
The movie is opening three years after Disney paid $4.06 billion for Lucasfilm. "The Force Awakens" is set 30 years after the events of 1983's "Star Wars: Return of the Jedi".
Source: Variety