Bengal Shilpalay's renewed journey with Kazi Ghiyasuddin exhibition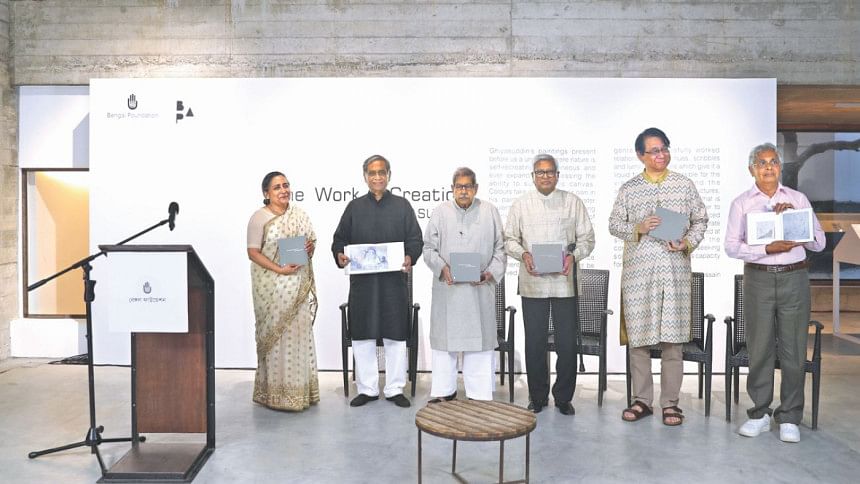 Bengal Shilpalay has recently completed its 19th year of operation. The newly renovated museum-like art space previously hosted a number of art exhibitions, musical programmes and more. The exceptional art organiser and dedicated activist, Subir Choudhury, played a pivotal role in taking Bangladeshi art to great heights. With his untimely demise in 2014, Bengal Foundation had to rethink on projecting Bangladeshi art and artists anew. Two world class exhibition halls of Bengal Shilpalay have been rightly named after master painters Quamrul Hassan and Subir Choudhury.
Luva Nahid Chodhury, Director General of Bengal Foundation, welcomed all at the inaugural ceremony of the internationally renowned Bangladeshi artist Kazi Ghiyasuddin's solo exhibition titled The Work of Creation at the venue on April 5. She elaborated on the backdrop of re-constructing the art space and thanked all concerned associated with the gigantic task.   
"Holding the heritage of our own art and culture in hearts, we thought of upholding Bangladeshi art through renovating Bengal Shilpalay aiming to use it as a multidimensional art space. Art is not static; it has its own dynamism. So, we can now use this space as multidisciplinary purposes. We always want to stand very close to human beings and society," said Luva Nahid Choudhury. "You all know about the beautiful interactions between the  youth and the world famous classical music maestros at our annual Bengal Classical Music Festival. The way Bengal Boi has already attracted the entire community towards the path of enlightenment; we hope the same way the youth will come under the identical horizon of this art space creating a positive vibe in the art scene of Bangladesh." 
National Professor Anisuzzaman, BRAC Founder and Chairperson Sir Fazle Hasan Abed, KCMG and Japanese Ambassador to Bangladesh, Hiroyasu Izumi, graced the inaugural ceremony of the exhibition.
"Bengal Shilpalay started its journey in 2000 through holding solo exhibition by eminent artist and my teacher, Mohammad Kibria. I am grateful to the Chairman of Bengal Foundation, Abul Khair, who hosted my solo exhibition as the second show of the gallery. This time, Bengal Shilpalay started its renewed journey through holding my solo exhibition as well," said Kazi Ghiyasuddin.
"I am elated that my first art teacher, Rafiqun Nabi, is present here. I am also exhibiting one of my artworks done with Nabi Sir when we went outdoor," he added.
"I congratulate Abul Khair, and all concerned with the Bengal Foundation for inaugurating the world class gallery where I am happy to be present. Bangladesh has a rich tradition of art and culture. In order to promote innovative art and talented young artists, and to preserve cultural heritage for the next generations, Bengal Foundation has engaged itself in various programmes, especially in the field of painting, music, film, research, archiving, publications and exchange programmes with foreign artists. All these activities have significantly contributed to the advancement of art in Bangladesh. We appreciate Dr Ghiyasuddin's marvelous paintings to be exhibited in Bengal Shilpalay," said Hiroyasu Izumi.
"I am immensely happy that the inaugural ceremony of Dr Kazi Ghiyasuddin's exhibition is being held in this grand new gallery. Dr Kazi Ghiyasuddin is the most renowned artist of our time. Last year, the Government of Japan conferred on him the Order of the Rising Sun (Golden and Silver Rays) in recognition of his great contributions to strengthening cultural exchange to promote modern art in Japan and Bangladesh. His daughter, Maya Kazi, a Tokyo-based TV personality, was appointed as the supporter of cultural exchange between Bangladesh and Japan by the Embassy of Japan. I thank the father and daughter for promoting art and culture between two countries," the ambassador added.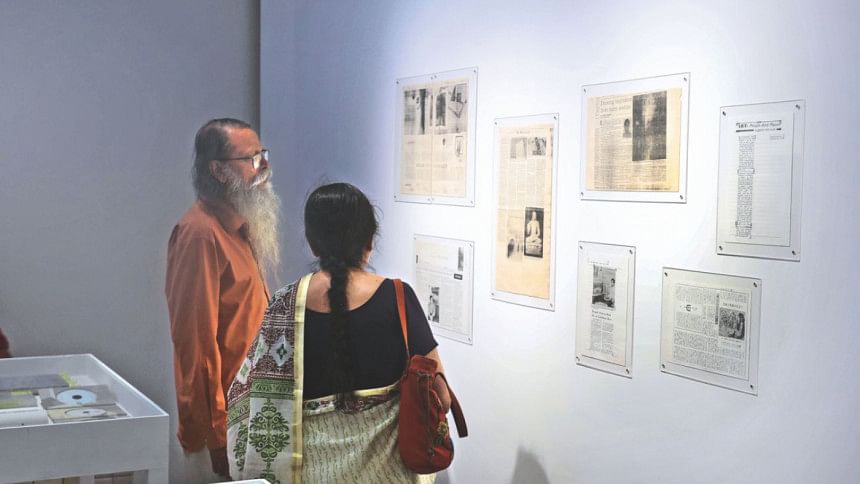 "Bengal Foundation has a great role in diffusing art to all and in the development of audience's taste. Kazi Ghiyasuddin has created a distinctive hallmark of his own in the realm of art through mastering outstanding subtlety and the use of harmonized colours on canvas. Many of his works look like cave paintings from afar, but one can comprehend the entire subtlety of his artworks getting close to them. The gallery started its new journey with the showcasing of the precise artist Kazi Ghiyasuddin," said Anisuzzaman.        
"Kazi Ghiyasuddin is a contemporary master and I remember that the Skira and Bengal Foundation published one of his rare art books.  I congratulate him on his receiving the Order of the Rising Sun. I heartily congratulate Bengal Foundation to construct such a building here for the sake of art," said Sir Fazle Hasan Abed.
"We will no more go for any commercial operation from the gallery. We would like to dedicate this space to display artworks by both the prominent and promising artists of Bangladesh. We have also a special plan to showcase around the 8 thousand artworks from our own collection. I am immensely grateful to Anis Mama (Anisuzzaman) and Abed Bhai (Sir Fazle Hasan Abed), who are my mentors. So all my credit and liability ultimately goes to them," said Abul Khair.
The displayed 73 masterpieces on oil and watercolour, will continue until May 18 at Bengal Shilpalay, Dhanmondi.