Exhibit of Quamrul and Sultan's works at M'singh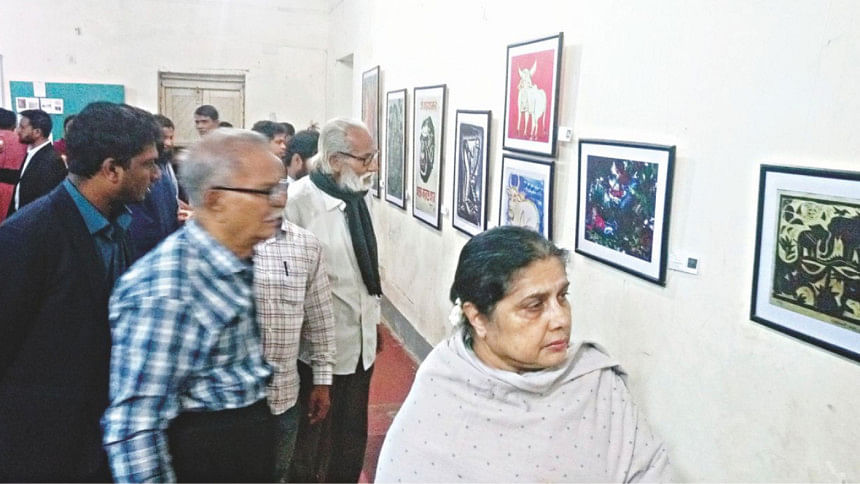 A 15-day exhibition with the paintings of master painters Quamrul Hassan and SM Sultan began at Shilpacharya Zainul Abedin Sangrahashala (art gallery) in Mymensingh town.
The exhibition, titled "Shilpi O Shilpokormo" was organised by the art gallery. It was inaugurated by HM Lokman, chief executive officer of Mymensingh Zila Parishad on Friday afternoon.
The exhibition, the first of its kind, will conclude on March 7, said the organisers. A total of 20 paintings, ten each of the artists, were displayed at the exhibition.
Hassan was known as Patua Quamrul Hassan for his down-to-earth yet modern artworks, while  SM Sultan was an avant-garde artist who worked in paintings and drawings. They are considered two of the most influential artists of the country's art history.
Earlier, a discussion was held marking the event. Nagorbasi Barman, head of Fine Arts Department of Jatiya Kabi Kazi Nazrul Islam University; veteran artist Amirul Islam, Jugol Kishore Talukdar and Sarwar Jahan spoke at the inaugural session, among others. Mukul Datta, Museum Manager of the art gallery was in the chair.
The speakers were of the view that Quamrul Hassan is mostly popular for his variation in artwork, and he gave priority on rural life.
"Two of Hassan's work have come to be part of Bangladesh's political history-- a monstrous rendition of Yahya Khan, the Pakistani president who ordered genocide in Bangladesh and mocking the then dictator of Bangladesh, Hossain Mohammad Ershad as 'Desh aaj bisshobeheyar khoppre'", they said. 
On the other hand, SM Sultan's fame rests on his striking depictions of exaggeratedly muscular Bangladeshi peasants - male and female -- engaged in the activities of their everyday lives, said the speakers.
Thanking the organisers, they also said this exhibition will surely benefit huge number of artists and the youth to enrich their knowledge and vision.