Portraits with live models are rather artistic
Jamal Ahmed on his solo show at Galleri Kaya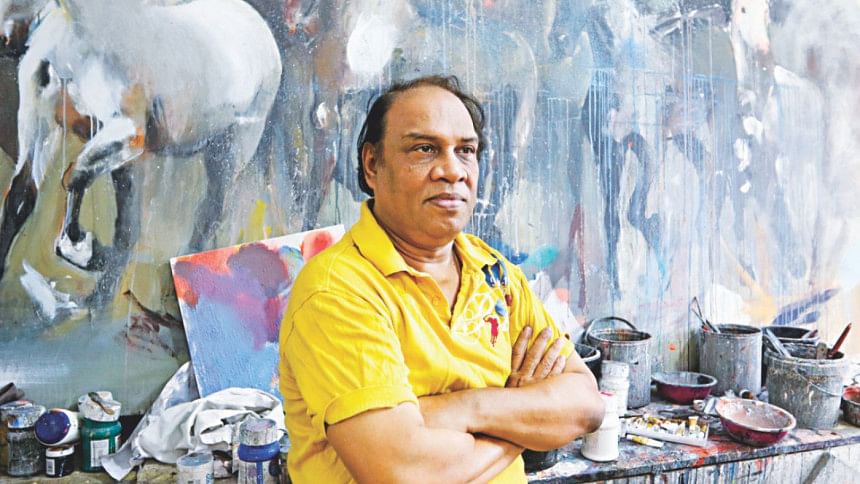 Every true artist is a great teacher, but every teacher is not a great artist. However, renowned artist Jamal Ahmed is an exception to that notion. Even after being a Professor at the Faculty of Fine Art of the University of Dhaka, Jamal Ahmed's artistic self is prominently alive and visible. The artist regards human beings as the most important aspect of nature. He enthusiastically depicts human figures, especially the female ones. "I paint whatever I find interesting to my eyes. Once I went to the USA and was struggling to figure out what to portray. Suddenly, a lonely and panicked pigeon sat beside my balcony, and I started painting it. After that, pigeons have become one of my favourite subjects," said Jamal Ahmed.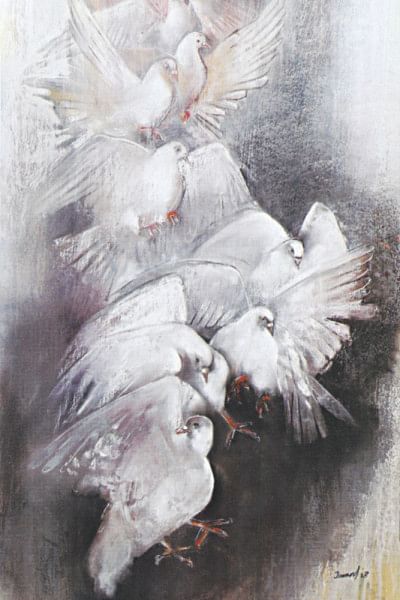 The artist celebrated his 62nd birthday by having his 58th solo exhibition titled Chronicles in Charcoal at Galleri Kaya in Dhaka. The exhibition was inaugurated on November 10 and will run until November 24. Boat and rivers, pigeon with women, mother and child, portraits of Tagore and Nazrul, half-nude feminine grace, Bauls, white horse and white horse with denuded female are some of the striking visual beauty on display at the gallery. "I depicted the displayed artworks following my own techniques. Painting is like poetry; innovative techniques appear when an artist is constantly at work." said the artist.
"When I was still a student, I portrayed old Dhaka with oil. Suddenly, one of my friends called me to join an adda, and I went hastily went with him, keeping the unfinished work leaned against an outer wall.", said Jamal Ahmed. When he came back, he couldn't recognize the painting as it was drenched by heavy rain. At that point, the artist had found a technique of natural drench, from the one that left a soft feeling on his unfinished painting.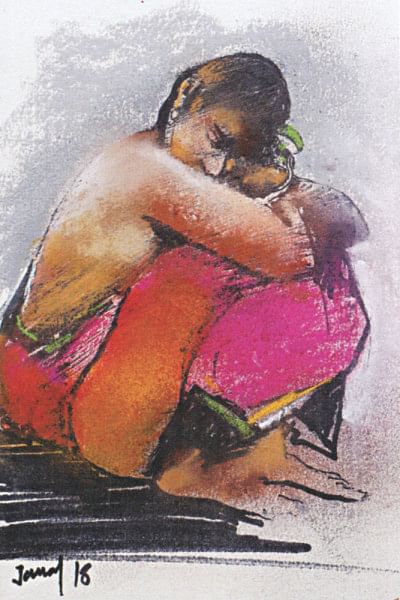 Though charcoal is black in colour, Jamal Ahmed uses it in unique ways. He uses soft pastel colours along with thin acrylic dust layers as the background of his paintings. The acrylic and charcoal dust create amazing textures coupled with mystique aura on the surface of the canvas.
He compares expressing himself as an artist to a singer who sings from the heart. "Our hearts soften and a euphoric feeling sweeps across our body when we listen to a melodious song. People become emotional while listening to the beautiful melody by the mystic bards," he said, "There are also some other singers who cannot create any impression or appeal as they only sing with their voice, but not their hearts. The same is true for art. You can never create art as long as you don't entirely engage your soul to freely play with your feelings, imagination and colours." 
Jamal Ahmed also draws inspiration from the words of his mentor, Mohammad Kibria. "Kibria sir once told me that making portraits with models is much more artistic than depicting them with photograph. A craftsman's work is not regarded as fine art as they are devoid of artistic feelings." he said.
As a person, Jamal Ahmed is witty and humorous. He often makes impromptu paintings with female models, and emphasizes the need for spontaneity as an important aspect of art. He exhibited his artworks both home and abroad, and received many awards. Currently, he is the President of Bangladesh Charushilpi Sangsad.