Art itself is more powerful than the artist-- Monirul Islam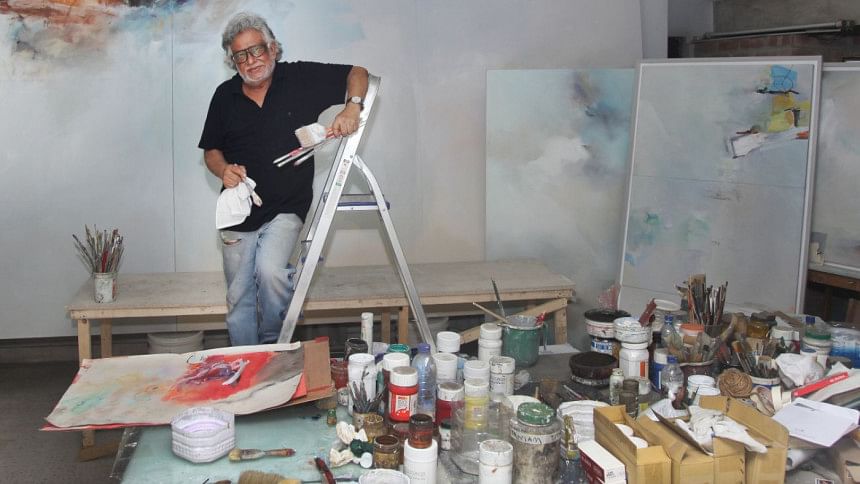 People often say they don't understand what an artist depicts. Internationally-acclaimed artist Monirul Islam says art, aesthetics and emotion are basic things of life: "Life is a canvas and it is the artists who portray the various aspects and elements of life into it. Understanding art is a process that incorporates many things. It doesn't happen all of a sudden in someone."
Monirul Islam works on diverse media, including print, etching, watercolour, acrylic and oil both at home and abroad. The artist has been living in Spain for several decades. 
"In my childhood, I never saw any original artwork or even art materials; but I had a latent intuition to do something creative. While I was in class seven, my artistic journey started with a big painting. Nature attracted me; I depicted many paintings delineating nature and its elements in those days. I had been in Kishoreganj until I was 22," the artist adds.
Subtle lines and a harmonious colour balance between space and composition is an important aspect in his works. The artist fondly uses little doodles, lyrical lines, dots, tiny motifs and symbols. Applying meticulous colours in thin layers and reducing the texture of the paint to its most minimal expression, Monirul Islam established a personal abstract language in the early '70s.  
"The main object for any painting is creating space. It is easy to fill up a canvas with subject, but difficult to leave empty space. Minimisation is important in art. The Europeans always term our works as curry painting -- full of spices," mentions the artist. 
The artist's nostalgic childhood days had a great influence on his being an artist. While he was at the College of Art and Crafts (now Faculty of Fine Art of Dhaka University) in 1961, he would complete 4/5 watercolours in a day. Hundreds of watercolours are kept preserved in his drawers till date. 
"I would go to Rayer Bazar, Kawran Bazar and other places to complete the work. Kawran Bazar was then a hub of potters. My classmate and friend, actor Tele Samad would accompany me. My teacher Mustafa Monwar has a fantastic drawing hand. He would say watercolour is like poetry and oil painting is like novel. Watercolour was a study media in Europe. Master painters like Turner and Rembrandt applied it for colour references and quick sketches. Later, it became a major art media. At the beginning of 60s, our teachers Mohammad Kibria, Safiuddin Ahmed, Abdul Baset and others brought modern painting to the Dhaka Art College. Our art college is one of the best art colleges of the world regarding such a space, greenery, architecture and design," says the artist.   
Anything new drives Monirul Islam's artistic realm. He uses espresso coffee, marble and brick dust, burnt ground rice and other natural colours and pigments to experiment and develop new features to his artworks. 
"My artistic fantasy plays with many unfinished works scattered in my studio. They seem to grow with my dreams spreading their wings. I dream of depicting what I cherish; but I don't know if I'll make it. This unquenchable thirst is a prerequisite for any artist to move forward. Art itself is much more powerful than the artist," asserts the artist. 
In closing, he says "Art is meaningless and someone may say it has no importance and value; but in every inch of life it is of immense value. Art, culture, literature and education are necessary to nourish the soul. The art of talking, cooking, eating, dressing, behaving and above all, art for teasing sensuousness encircles our life."