From the archives: Freedom fight by two missionaries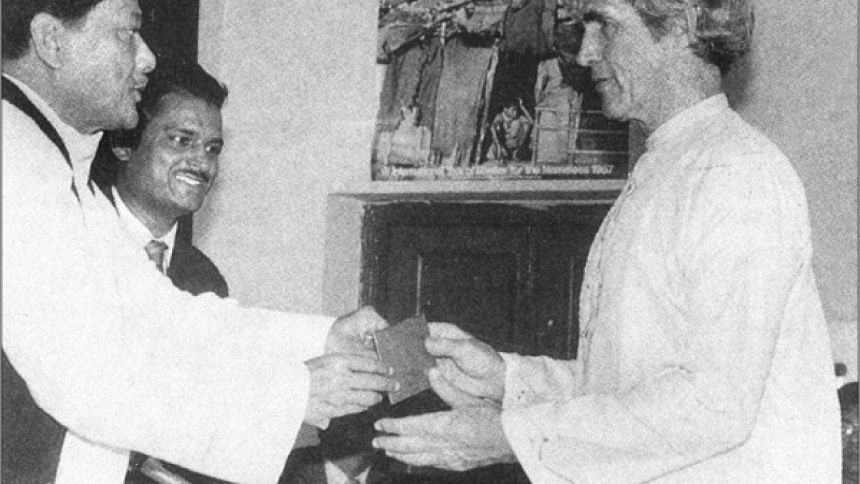 Alongside the Bengalis in general, many foreign missionaries who have been living in Bangladesh since the fifties and sixties had joined our War of Liberation in 1971 in their own capacity. We have heard about their heroic contribution and on various occasions paid our tribute that they deserved. I personally met and heard the story of two missionary doyens who defied the threats of the Pakistani military and continued to help the freedom fighters. They did so for the sheer love for the common people of this country irrespective of their religion, cast or creed.
I met Father Homerich of Jalchhatra Mission some years ago and heard how he and his mission people gave shelter to and dressed the wounds of freedom fighters in the mission hospital located deep inside the Modhupur forest. When the Pakistani military came to know about this a contingent led by a senior officer entered the mission one morning and quizzed Father Homerich. Point blank Father Homerich told the officer that the mission was a house of God and he would treat any wounded man, whether a Mukti or a Pakistani soldier. The answer defused the anger of the officer a little and he left with an warning of dire consequence if he gave shelter to the Muktis. But the mission door was always open for the freedom fighters and for this reason he had to face death threats. The nine-month experience of Father Homerich is worth the content of a book.
Next, I have had a talk with Father Timm (Rev. Richard W. Timm, CSC. Former teacher of Notre Dame College) recently and he talked about his contribution to the war. He had written many letters to US senators and important people in the UN Headquarters informing about the ongoing war in Bangladesh and the extent of atrocities by the Pakistani army and Razakars and Al-Badars. He has given a detailed account of his experience in his book titled "Forty Years in Bangladesh: Memoirs of Father Timm," published by CARITAS. Therein he has devoted three long chapters on his experience and these are: Chapter 6: Manpura during the War; Chapter 7: Dhaka during the War and Chapter 8: Independence and Reconstruction. Some excerpts from one of these chapters are given below.
Dhaka during the war
"I returned home to Notre Dame College feeling sick in mind and heart because of the seeming world, and especially American indifference to so many atrocities. The Time and Newsweek cover stories on genocide in East Pakistan came out soon afterwards and, although banned in Pakistan, bootlegged copies were quickly circulated. They probably did more to arouse world opinion than anything else except The Rape of Bangladesh, a book by a West Pakistani journalist, the late Tony Mascarenhas, who was allowed in by the government because they expected him to share the official viewpoint. Instead, he got his family out to London and then published his timely expose.
The college had opened a week before my arrival in Dhaka with only 21 students, most of whom had come out of curiosity. Dhaka University had no students at all, while government announced that Rajshahi University had a majority of its students come back. It was conveniently far enough away so that no one could easily check. One Urdu-speaking (West Pakistan) student of Notre Dame complained that he had a right to have classes, so Fr. Wheeler told him that if his father would pay tutorial fees he would be taught. The Army was coming every day to check on the number of teachers and students, but Fr. Wheeler convinced them that he could not run a college with only 21 students. Intermediate examinations were to be held in the second week of August and our college was to be a centre for our own students and those of some small college as well. But the Mukti Bahini was out to stop the examinations. At nearby T&T College (Telephone and Telegraph) on August 8 a large section of the building was blasted out. The explosion could be heard for five miles. We had good relations with the Mukti Bahini, however, and were not worried about being blasted.
In the third week of August I made a quick trip to Bhola with two CARE people and heard there the encouraging news that the government had done away with discrimination against Hindus in agricultural loans as a result of my intervention. On the way back from Bhola our steamer out of Barisal was fired on by the Mukti Bahini. I heard bullets pinging on tin as we hurriedly dived out of our bunks onto the floor. Lying on the side near the corridor I felt safe, since other bodies were lying between me and the firing. After two or three minutes I got back on my bunk while everyone else yelled "Get down, get down!" I replied: "We're already well past the firing point." In the morning my confidence of the night before was greatly shaken. Our room was the first one off the lounge and bullets from a previous firing had passed through the corridor at an angle and through the wall right where I had been lying.
In a lengthy report to Rohdes on September 2, after returning from a week's trip in Patuakhali with a Caritas Germany representative, I emphasized that in spite of a VOA (Voice of America) analyst of the situation in Bangladesh, which I had heard the previous night, the big cities were not "fast returning to normal." Eighty per cent were supposed to have turned out for the re-opening of schools but the fact was that no schools were running in Dhaka district outside of Dhaka town. For the Intermediate Examination at Notre Dame College there was only 20% attendance, high for Dhaka. For the Matriculation Examination of Dhaka Board of Education only 13,000 out of 72,000 candidates sat for the exams. Most of those sat only because their fathers, government employees, had to fill out a questionnaire asking, among other outrageous items, how many children they had and which exams they were eligible for in 1971. The fathers got the message, but many of their children reported "sick" after a day or two of examinations.
The Mukti Bahini were already enjoying much success in the rural areas but were tightly controlled in the cities. Large numbers of Hindus who had fled joined the Mukti Bahini and came back to fight for the establishment of Bangladesh. Whenever the Mukti Bahini entered a village they seized the looters of Hindu homes and forced them to restore everything. The Razakers (armed collaborators with the Pakistan Army) were a special target of the freedom fighters.
On September 11, I wrote to my Indiana Senators a resume of some of the important recent developments: There are certain recent developments in East Pakistan which may trick the outside world into thinking that conditions have changed substantially in recent times and that American aid given now would no longer be in support of a fascist militarist regime. These developments are the lifting of press censorship and the proclamation of a general amnesty. However, just the day before lifting of press censorship, Marital Law Order No. 89 was promulgated, which forbids the publication or dissemination of anything, which can in any way be interpreted as prejudicial to the welfare of Pakistan, i.e. of the military regime.
In mid-September the Pakistan government began proclaiming amnesty for those who had gone to India. A few days before, I had gone with Fr. Homrich to the jail at Muktagacha, Mymensingh district, to try to get the release of a tribal boy who was being held because he was alleged to have gone to India. Fr. Homrich had been five times to the jail previously and took four Muslim witnesses to prove that the boy had never left home. He was in a cell with five other men, but it was only big enough for one to lie down at a time. We did not get the boys' release, in spite of the amnesty."
The writer is a former Senior Assistant Editor, The Daily Star. The original article was published on Star Weekend Magazine on December 16, 2009.