Pandemic-hit Education Sector: Recovery plan needs $90m
Suggests ERD-Brac study
The government, following a study, has primarily estimated that it will need at least $90 million to implement a recovery plan for an education sector hit hard by the Covid-19 pandemic.
This amount is separate from the regular budgetary allocation for the education and primary and mass education ministries, said senior education ministry officials.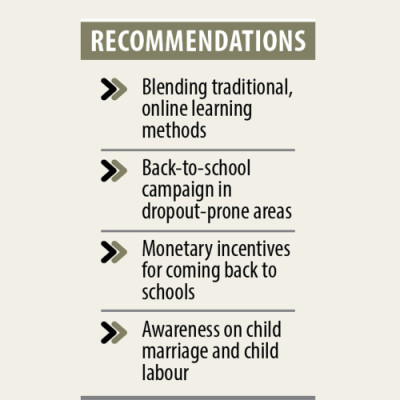 The study that came up with the $90 million number is titled "Position Paper on COVID-19: Implications on Education and Graduation Trajectory for Bangladesh", and was jointly prepared by the Support to Sustainable Graduation Project of the economic relations division of the Ministry of Finance, and Brac.
The study, yet to be published but a copy of which The Daily Star has obtained, also said Bangladesh's achievements in adult literacy rate and gross secondary enrolment ratio is higher than some other countries vying for graduation to developing country status from least developed country (LDC).
The pandemic, however, has somewhat halted that progress and impacts would mostly be felt in the gross secondary enrolment and in the gender parity at the secondary level.
The position paper is based on review of various documents, reports and analyses of secondary data that was vetted by the education ministries and various stakeholders.
The Ministry of Primary and Mass Education and the Ministry of Education have developed a Covid-19 Response and Recovery Plan with an estimated budget of $90 million (Tk 768 crore approximately). The plan will first be supported by the Global Partnership for Education (GPE) accelerator funding for Covid-19 and will later be joined by other development partners, said the study.
Deputy Education Minister Mohibul Hassan Chowdhury told The Daily Star that the estimate they made was a primary one.
"Financing of recovery plan will not be a big problem. Development partners' financing will speed up the implementation, but even without that, the implementation will not remain stuck due to unavailability of funds," he said.
Quoting the study, a senior education ministry official said around $20.7 million would be needed for TV, Radio, mobile and online content development and developing low-cost learning packages and distribution. Another $36.6 million would be need to arrange sanitisation in schools following health protocols for reopening, raising awareness on health and safety issues, and providing mental health support for students and teachers.
The study also said about $10.5 million would be needed for student assessment upon return to school and teachers' training. Another $4 million would be required to arrange supplementary learning materials and community-based activities.
The rest of the money will be needed for communication, technological solutions, integrating remote learning into regular education, upgrading remote learning platforms, and formulating policies.
The government had allocated Tk 71,951 crore to the education sector for the 2021-2022 fiscal -- Tk 26,311 crore for primary and mass education ministry, Tk 36,486 crore for secondary and higher education division and Tk 9,154 crore for technical and madrasa education division.
The amount makes up 11.91 percent of the total outlay and 2.08 percent of the GDP.
The government has continued to keep its focus on education indicators with targeted policies, interventions and support programmes to improve both quality and quantity of education. However, a number of challenges still hover around the country's goal of attaining universal education. The concerns include inclusive and quality education at all levels, said the position paper.
The pandemic has distorted much of the education ecosystem and has had a multi-dimensional impact. A number of new vulnerabilities emerged, making the existing ones more acute.
In the wake of the pandemic, educational institutions have been closed since March 17, 2020, and that caused massive disruption in the education of 36.8 million students.
The impact of economic distress on education cannot be neglected. Covid-19 has increased the poverty rate of the country from 20.5 percent in the 2019-20 fiscal year to 29.5 percent in the 2020-21 fiscal year, according to BBS.
"Studies have shown that people have struggled to meet basic food expenses. An estimation made by SANEM [South Asian Network on Economic Modeling] states that before the pandemic, families of 24 percent students were below the poverty line, which could rise to 44 percent with three months of prolonged lockdown."
Not resuming education will also affect the situation of child marriage in the country. As per Unicef, Bangladesh has the highest rate of child marriage.
RECOMMENDATIONS
The position paper recommended, introduction of two-three years' back-to-school campaigns, placing emphasis on drop-out-prone areas. Giving monetary incentives for coming back to school will also be instrumental. The interventions should be targeted and specific, like stipends or school feeding.
It also recommended increasing parental engagement for raising awareness on the importance of education and implications of child marriage and child labour. Redesigning the school feeding programme to mitigate the nutritional deficiencies children might have had during the closure of the schools was also recommended by the position paper.
It urged a focus on equity-based quality education programmes targeting areas that are still lagging behind and incentives for teachers serving at vulnerable areas. It will also be important to pay special attention in maintaining gender parity in education considering the changed context of the pandemic.
The paper proposed blending traditional and online learning methods. Schools should also offer the option for joining classes online for students who would prefer not to join in-person classes.
It also proposed investment of 4 percent of the GDP and 15 percent of the budget to resolve the existing vulnerabilities.
Deputy Education Minister Mohibul Hassan Chowdhury said the government has plans to reduce possible dropout rates as well as child marriage.
"It will be easier once the schools reopen. Many are predicting huge dropouts, but we have seen that around 93 percent of students are submitting assignments to their schools when they are given assignments as part of the government's efforts to continue education for secondary students."
"We will give due attention to the recommendations after reviewing it," he added.