Appoint more teachers urgently
Speakers tell meeting on indigenous children's edu in mother tongues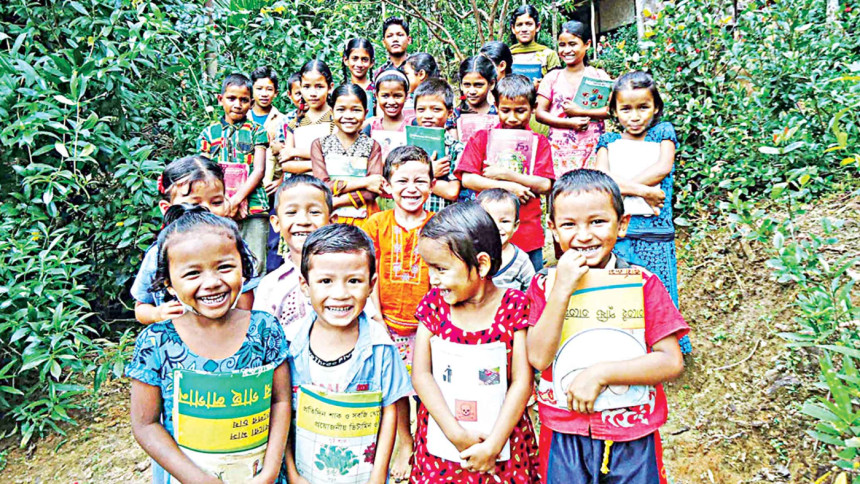 Indigenous leaders and researchers have demanded urgent appointment of teachers to teach indigenous children in their mother tongues.
They made the demands at a consultation meeting arranged by Kapaeeng Foundation at YWCA auditorium in the capital yesterday.
Though textbooks are available in five indigenous languages, there is a shortage of teachers who can be appointed under special arrangements and relaxed policies.
AKM Reazul Hasan, NCTB (primary) member, said, "We are now providing NCTB books in Chakma, Marma, Garo, Tripura and Sadri languages. But we don't provide books in the Santal language due to the alphabet debate. We are trying to solve the issue."
"We gave the plan to make books in all 39 indigenous languages...," he added.
Sanjeeb Drong, general secretary of  Bangladesh Indigenous Peoples' Forum, said, "The government should urgently appoint at least 100 teachers per language to teach indigenous children in their mother tongues."
"We know the recruitment process is time-consuming, hence this should be done under special arrangements," he added.
"Training the teachers is equally important in this regard," said Prof Mesbah Kamal, member of the Parliamentary Caucus on Indigenous and Minority Affairs.