Ruet teachers stage sit-in at VC office demanding promotion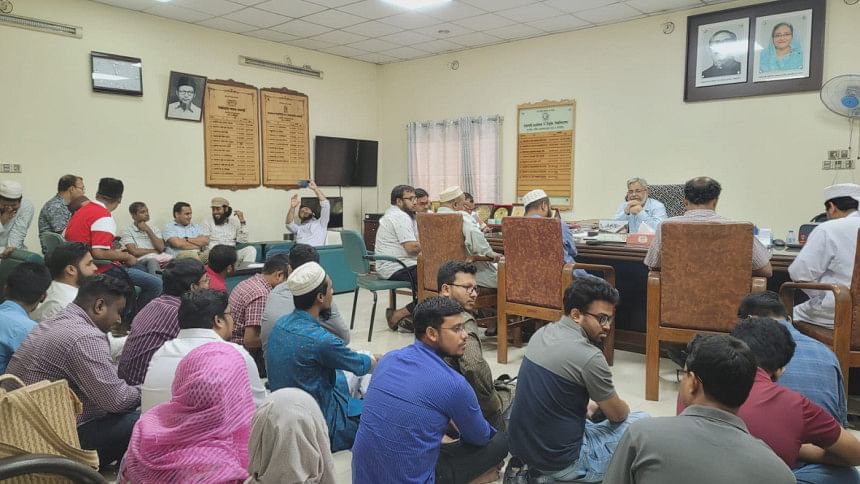 More than 50 teachers of Rajshahi University of Engineering and Technology (Ruet) are staging a sit-in inside the vice chancellor's office from this morning demanding their due promotion and upgradation.
The teachers along with some leaders of Ruet Teachers' Association entered the VC's office around 11:45am and were still demonstrating till filing of this report at 2:45pm, the teachers said.
According to the protesting teachers, at least 80 teachers are being deprived of their due promotion and upgradation for the last 15 months despite fulfilling all conditions.
The teachers began demonstrating last month.
They refrained from attending classes for four days till May 24 and staged sit-in programmes at the campus.Ruet authorities usually promote and upgrade teachers by issuing employment circulars every year.
No fresh employment notice was issued since the last notice served in February last year as the university has no regular VC, the teachers said.
When the former VC Prof Md Rofikul Islam Sheikh completed his term in July last year, the government appointed Prof Sazzad Hossain, dean of humanities faculty, to perform the daily functions of the VC in August, said Prof Rabiul Awal, Ruet Teachers' Association general secretary.
The appointment of Hossain violates the Ruet rules that ensures none other than teachers from the engineering faculties can play the role of a VC, Prof Awal said.
The acting VC did not answer his phone when called for comment.