Sri Lanka bids for Xmas tree record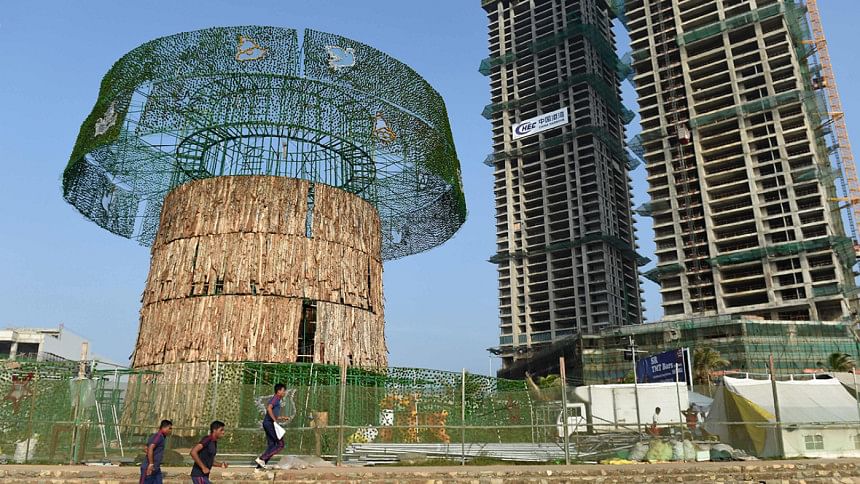 Cricket legend Arjuna Ranatunga today announced that he was reviving his bid to build a record-breaking 100-metre tall Christmas tree in Sri Lanka's capital despite opposition from the Catholic church.
Ranatunga, who is also a government minister, said the project was back on track after Prime Minister Ranil Wickremesinghe spoke to the Archbishop of Colombo Malcolm Ranjith.
"The work resumed this morning after the prime minister's intervention with the archbishop," Ranatunga said in a statement to AFP. "It will be ready for Christmas."
There was no immediate comment from the archbishop who described the scheme as "wasteful expenditure" last week and said that the estimated $200,000 cost would have been better spent on alleviating poverty.
Ranatunga, who led Sri Lanka to victory in the 1996 World Cup, has been at the forefront of the project to first raise the money and then erect a 325-foot artificial tree in central Colombo.
The 53-year-old, who represents a largely Catholic parliamentary constituency, had recently laid the steel base of the tree which was beginning to take shape on Colombo's Galle Face beachfront promenade.
Ranatunga had said that it would be the tallest artificial Christmas tree ever built anywhere in the world.
According to Guinness World Records, the largest artificial Christmas tree was erected in the southern Chinese province of Guangzhou last year, measuring around 55 metres.
A team in Mexico claimed to have erected a 90-metre tree in 2009. 
Last year Sri Lanka's Catholic church urged priests not to put up Christmas trees in their churches over the festive period, with Cardinal Ranjith saying they had no religious significance.
Sri Lanka is a mainly Buddhist country but around 1.2 million of its population of 21 million are Catholics.