Bangladesh 3rd in providing UN peacekeeping troops
India largest, Pakistan second as South Asian countries dominate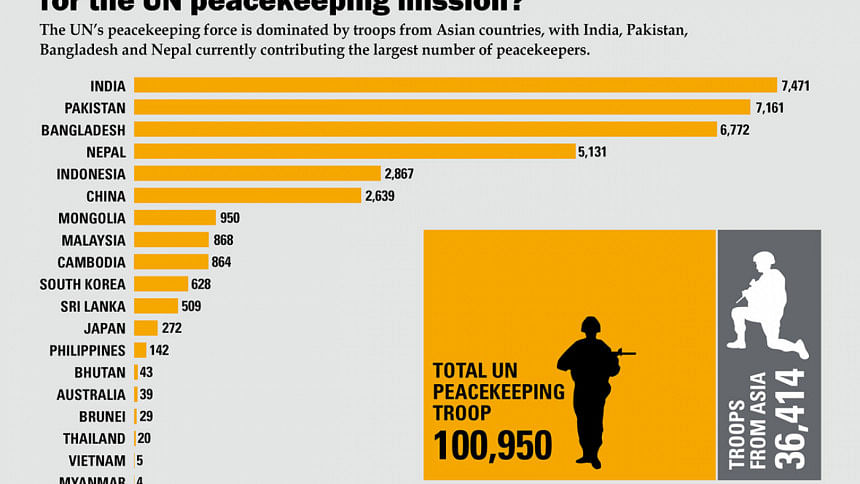 Bangladesh is the third largest contributor of army personnel in UN peacekeeping missions, whereas, India ranks first followed by Pakistan in Asia. 
A total of 6,772 Bangladeshis have served in 58 peacekeeping missions across 40 countries since 1988.

The peacekeeping army is dominated by the South Asian troops which have traditionally been the top providers.

In Asia, it is India that contributes the most number of troops with 7,471 personnel stationed worldwide.  India has participated in the most peacekeeping missions than any other country.

Pakistan is the second highest contributor in Asia with 7,161 troops in the UN missions.  It was the first country to respond to crisis in Somalia and sent 500 troops to Somalia in 1992.  

Nepal has contributed to 11 peace peacekeeping missions most of which are in Africa.

The United Nations does not have an army but it has peacekeepers for sustaining peace in conflict ridden areas. If the peacekeeping force was ranked against the national militaries it would be the 44th largest army in the world. 

There are a total of over 100,000 UN peacekeeping personal - consisting of 91,132 troops, 13,563 police and 1,811 military experts from 123 countries.

Indonesia first contributed troops in the 1950s and after a sustained absence has been once again actively contributing to the UN peace keeping missions.

China's troop contribution has increased over the last many years and it is the 12th largest provider of troops in the world and sixth highest in Asia.  Mongolia contributes 950 troops for UN peacekeeping mission. 

Malaysia, South Korea and Cambodia individually contribute less than one thousand troops.
Japan's contribution to peacekeeping has diminished over a period of time.  It contributes a handful of personnel for UN missions.

Compared to its neighbours Sri Lanka remains an outlier in terms of troop contribution to the UN.  Bhutan, Australia, Brunei, Thailand, Vietnam and Myanmar together contribute just hundred and forty personnel to the peace keeping missions of the UN.
Copyright: Agency: DataLEADS/ Asia News Network