Mammoth 'Snowzilla' blizzard blankets Washington
A monster blizzard threatening the US East Coast slammed into Washington, blanketing the nation's capital in snow as officials urged millions in the storm's path to seek shelter, warning the worst was yet to come.
Forecasters predict the storm will dump two feet (61 centimeters) of snow in Washington and the surrounding area by late Saturday, bringing life to a wintry halt as residents ride out the rough weather.
"The real teeth of this will be after midnight thru early Sat afternoon. Heavy snow, increasing winds, lightning threat," the National Weather Service (NWS) for the Washington and Baltimore region tweeted.
A blizzard warning was in effect for a large swath of the eastern United States from Washington up to New York, the NWS said.
Several southern states were already hit by snow and sleet -- unusual for that region -- with tens of thousands without power.
"I want to be very clear with everybody. We see this as a major storm. It has life and death implications," Washington Mayor Muriel Bowser warned.

Thousands of flights were scrapped and grocery store shelves emptied in preparation for the storm, which was dubbed "Snowzilla" by The Washington Post's weather team.
Schools and government offices in Washington were all closed, with public transportation scheduled to shut down late Friday until early Monday.
"Visibility will be reduced to near zero at times in whiteout conditions," the NWS reported.
"Heavy snow and blowing snow will cause dangerous conditions and will be a threat to life and property. Travel is expected to be severely limited if not impossible during the height of the storm."

The Post reported that by 8:00 pm (0100 GMT Saturday), snow accumulation on Washington's National Mall had reached 3.5 inches, with a bit more in the near suburbs.
Winds were expected to pick up overnight, prompting city police chief Cathy Lanier to urge residents to stay indoors.
"With the increasing winds and increasing snow accumulation, now we're going to see more and more people stranded," she told CNN.
NWS director Louis Uccellini said Thursday the system had the potential to "affect over 50 million people."
Crews were out clearing the roads throughout the US capital, while others turned to shovels.
Among them was 28-year-old William Duren, who was clearing a sidewalk outside a downtown Washington hotel.
"Usually when we see snow in the forecast, it turns out to be only an inch or so. They always exaggerate on TV," he said, before adding that this time, the forecasters appeared to be right.
"It's a doozy," Duren said.
'Going to be a disaster'
So far, more than 7,000 flights originally scheduled for Friday and Saturday within, into or out of the United States have been canceled, according to the flight monitor flightaware.com.
In Washington, officials took the unusual step ahead of the storm of closing down the city's rail and bus system from Friday night until Monday morning.
The Metro system -- the second busiest in the United States after New York -- serves about 700,000 customers a day in Washington, Maryland and Virginia.
Grocery store shelves were bare -- with toilet paper, milk, bread and alcohol conspicuously missing -- as residents anticipated impassable roads and power outages.
"I think it's going to be a disaster," Sharonda Brown, a nurse, said as she waited for an Uber car with a full cart of groceries at a Washington supermarket.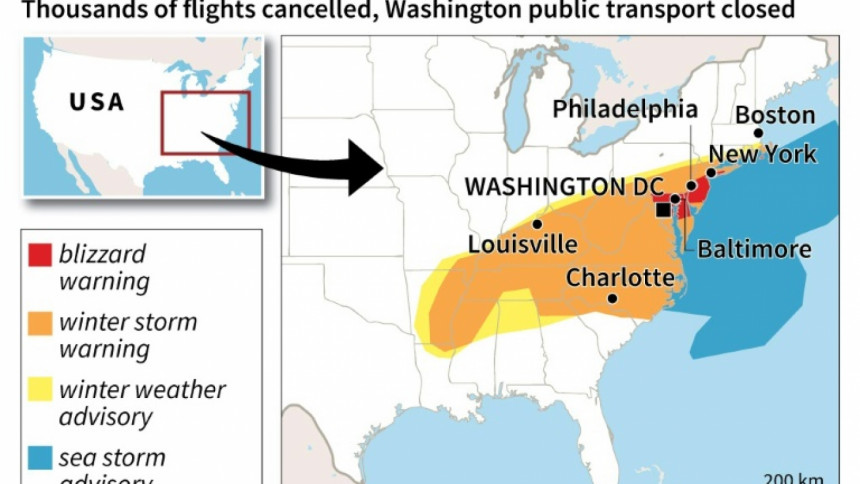 If the blizzard leaves as much snow in Washington as forecast, it could surpass a record set in 1922 by a storm that dumped 28 inches over three days and killed 100 people after a roof collapsed at a theater.
US Capitol Police have said they were lifting a decades-old sledding ban, but the national monuments, Capitol building and Smithsonian museums were all closed.
Even a massive snowball fight in Washington's Dupont Circle neighborhood, which nearly two thousand people said they would attend on Facebook, had to be postponed from Saturday to Sunday due to the storm's ferocity.
'Lots of accidents'
Snow and sleet has already hit the southern states of Arkansas, Tennessee, Kentucky, North Carolina, West Virginia and Virginia, with 18 states under blizzard or other winter storm warnings, the Weather Channel reported.
"We're having a lot of accidents," North Carolina Governor Pat McCrory told CNN.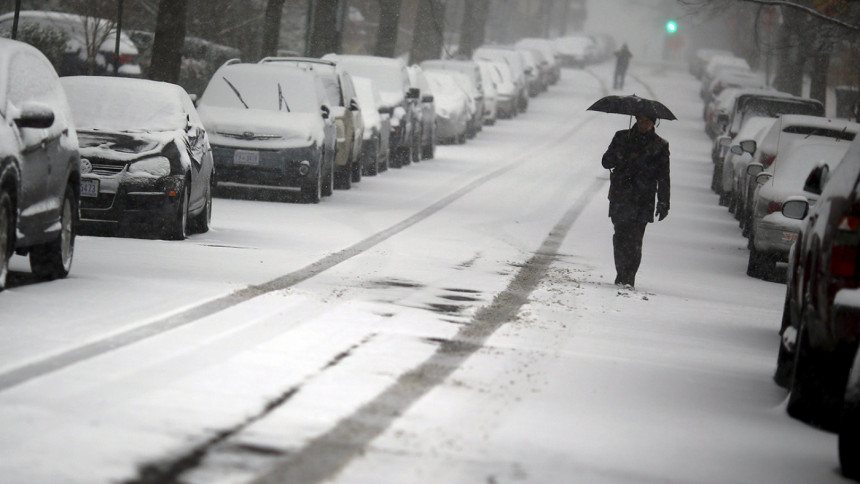 Nearly 95,000 people were without power in the state, emergency officials said on Twitter.
CNN reported that nearly 133,000 were without power across the Southeast.
Further north, in New York, the storm is expected to dump up to a foot of snow from early Saturday to midday Sunday, the NWS reported.
"Unless urgent, stay off the roads," Mayor Bill de Blasio told a news conference.
The frigid weather marks a stark departure from what has otherwise been a mild winter along the eastern seaboard.
Just a month ago on Christmas Eve, the NWS reported that temperatures in New York's Central Park peaked at 72 degrees Fahrenheit (22 Celsius), the warmest ever for the day since records began in 1871.