Rohingya family's dream of a better life dashed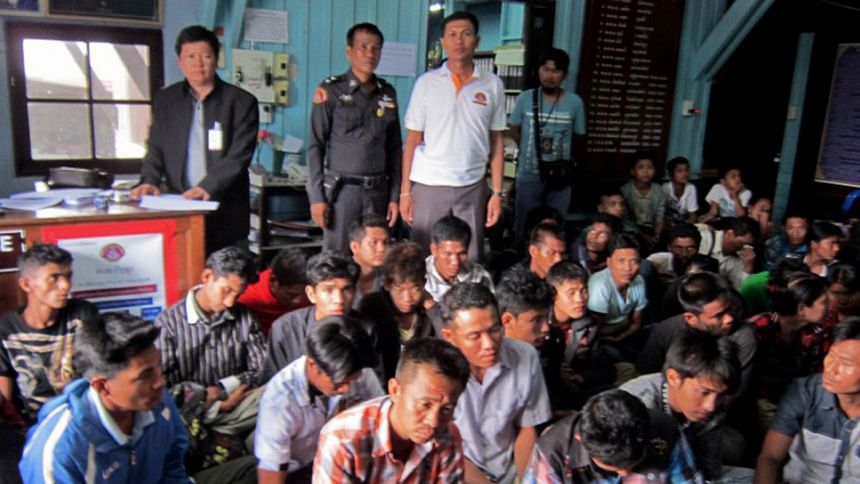 All he wanted was a better future for his family, but now he is not even sure whether they will have a roof over their heads tomorrow.
Mohamed Khalim Mubarak Shah, 23, was willing to bring his 20-year-old wife and three-year-old son to face the storm and danger, being starved and cramped with hundreds of others in a boat from Myanmar in the hope of landing a job in Malaysia.
But they are now squatting at the Rattaphum district office hall, awaiting further action by the Thai police.
His dreams of building a better life are now dashed.
The Muslim Rohingya said he was promised a job in Malaysia by an agent and was asked to pay 5,500 ringgit (US$1,525) each for him and his wife and 500 ringgit for his son.
He was required to pay the agent after getting a job in Malaysia.
Life in Myanmar was tough. That is why I decided to take the risk and go to Malaysia with my family," he said when met at the hall yesterday.
However, he and the other Rohingyas and Bangladeshis on the same boat were brought to a jungle camp some 15km from here after arriving more than a week ago.
There, they were held captive and would only be released when their families paid the ransom money.
Mohamed Khalim was one of the 241 migrants found by Thai authorities at the jungle camps in southern Thailand.
Provincial Police Region 9 Deputy Commissioner Puthichart Ekachant said the authorities were still trying to verify if the Bangladeshis and Rohingyas were human trafficking victims or if they had violated the country's immigration law.
Aid in the form of donation, food, water, clothes and others were pouring in from the locals.
Food stall operator Kritsanee Nathammo, 37, spent close to 400 ringgit to buy the migrants daily necessities.
Although I can't speak their language, I feel obliged to help as they are humans too and should not be treated this way," she said.
---The Star/Asian News Network