The road to development begins with education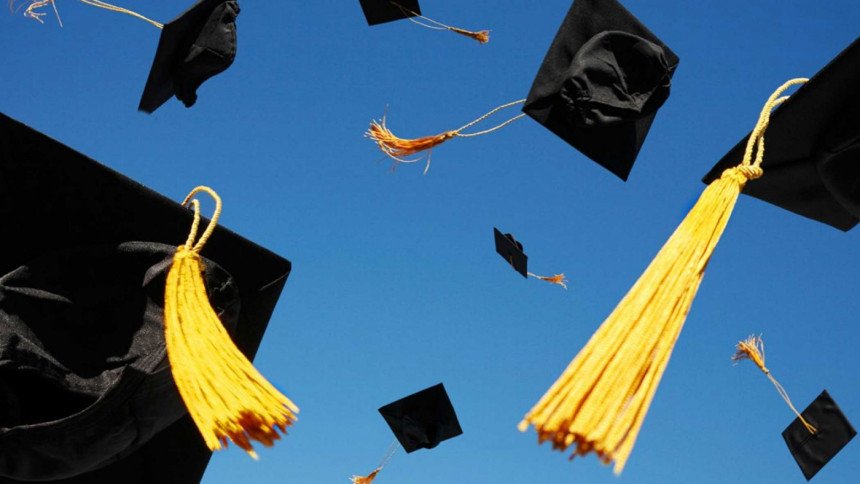 We are the biggest applauders of our own successes. Sometimes, regional and international arenas, too, portray our positive growth through development indicators. When many countries found themselves in dire straits because of Covid-19, Bangladesh's economic indicators remained somewhat consistent. Bangladesh is a "role model" for development—this is a common phrase now.
On some indexes, Bangladesh is ahead of even India—and this is often highlighted in many discussions nowadays. There is no doubt that Bangladesh has some big, notable achievements under its belt. For instance, no matter how debatable the per capita income index may be, there is no denying the fact that Bangladesh is in a better position than India. India is a huge country, where certain areas are home to extreme poverty. So the question remains whether it is justified to draw comparisons between the two neighbouring countries. But that is not what I want to discuss here—I firmly believe what the indexes indicate.
Bangladesh's success in exporting RMG products and human resources, its contribution to peacekeeping in several countries, and success in food production are, indeed, a matter of pride. So it is expected that those in power would claim credit for these feats. And they deserve it.
Keeping all this in mind, I would like to share my two cents on the "role model of development."
There are many examples in world history where a poor nation has changed its fate through development. We don't have to look very far: some of these examples exist nearby.
The development process through which Lee Kuan Yew turned the fishermen's village of Singapore of 1965 to the highly-developed country it is today, or how Mahathir Mohamad changed the Malaysia of 1980s to what it is now, hardly needs any elaboration. Japan's development after World War II, since 1945, and South Korea's rise after the Korean War of 1950 are success stories that have taken the world by surprise. Thailand is no different either.
In order to rebuild and develop, all these countries focused on one thing: developing their human resources. They established strong state institutions, using which they reached the height of success they enjoy today. And to achieve all of this, the first initiative that they took was educating all their citizens. At first, they brought in foreign experts with high salaries for a certain period of time to help with nation-building. In the meantime, they sent their young students to Europe and North America for higher education. Once those students returned home, equipped with modern knowledge, these countries no longer needed to hire foreign experts. 
After World War II, Europe and the US put more focus on air links. Japan, one of the Axis powers, was barred from making aircraft. But Japan did not sit idle, and instead focused their research on making fast trains. Only 10 years after the great war, Japan managed to invent high-speed trains in 1955, solely through their home-grown experts. They took USD 80 million as a loan from the World Bank to facilitate this project.
During the Summer Olympics in 1964, which was held in Tokyo, Japan stunned the entire world by inaugurating their bullet train service.
For Japan, as well as all developed countries, education was the prerequisite to development. They put the highest possible priority to education and research in their development policies.
Now the most critical question arises: How much importance has Bangladesh, which is hailed as the role model for development, put in its education sector? Let's not look into what Europe and North America, or Asian nations like Japan and Korea do. Compared to its South Asian neighbours, Bangladesh has the lowest allocation for its education sector. It is generally said that countries with less than four percent of budget allocation for education cannot succeed. Bangladesh's budgetary allocation for education is about two percent.
We don't follow the policy of sending our brilliant students abroad and have them gain expertise through higher education. Those who do that using their own means, seldom think of coming back. But then, the government has no attention to spare to create an environment where those who want to return home are given the due respect, good work environment, and the opportunities to implement their knowledge and expertise. Nepal is ahead of Bangladesh in terms of the number of students going to the US for higher education. No Bangladeshi university has managed to take a respectable spot in any of the international rankings, but we can find the names of Indian, Pakistani, Sri Lankan and Nepali universities on those lists.
The CEOWORLD magazine published a list of best educational systems in 2020, where India was ranked 33rd, Sri Lanka 77th, and Pakistan 83rd. Even Myanmar ranked in the 92nd place. Bangladesh was not even on the list.
A recently published news story, published by The Daily Star, revealed that graduates of Dhaka University, who achieved first class in Sanskrit, could not speak or read Sanskrit. And they had applied to teach at the Department of Sanskrit in their alma mater. Speaking to this daily, Dr Madhabi Rani Chanda, a professor at the Department of Sanskrit, said: "There is no scope for denying the fact that the educational standards in this university are declining day by day. Most of the students score good marks by memorising the answers."
It's not just the Department of Sanskrit; this situation is alarmingly prevalent everywhere in Bangladesh.
The pathetic condition of Bangladesh's education sector has been repeatedly exposed in many relevant international researches over the last few years.
Bangladesh is ranked 116th among 132 countries in the Global Innovation Index. The Global Talent Competitiveness Index sees Bangladesh in 123rd position among 134 countries. In the Global Knowledge Index, Bangladesh is ranked 112th among 138 countries.
In all three of these indexes, Bangladesh trails behind India, Pakistan, Sri Lanka, and Nepal.
We claim to have become "Digital Bangladesh," but our internet and mobile data speed is the slowest among all South Asian nations.
Using this ultra-slow internet, I tried to find if there are other countries where two rival student organisations, or two factions of a single organisation, frequently engage in violent clashes using an arsenal of weapons, often leading to bloody and sometimes fatal outcomes. From Uganda to Nepal, I couldn't find a single example of such a phenomenon. Uganda has a history of student uprisings against dictatorship. Similar accounts of movements can be found in the histories of Nepal and India as well. But I have yet to find an example that even vaguely resembles the incident of two rival wings of the same organisation beating each other up, which resulted in one student ending up on life support, his doctors forced to remove a part of his skull to help his healing process. On the bandage around his head, these words were written: Haar nei, chap diben na (No bone here, do not apply pressure).
In our "role model" development philosophy, education and research have zero importance. What is important is building roads, bridges, flyovers, and buildings. There is no denying the fact that infrastructural development is a staple for overall progress. But we have forgotten that infrastructure provides support for achieving development goals—they are not the markers of development themselves. For sustainable development, we need skilled, tech-savvy human resources, and to achieve that, there is no alternative to proper education and research. Importing expertise from abroad can be a temporary measure, but it can't be a permanent solution. We have built bridges and satellites using foreign expertise. The technology remains unknown to us. The knowledge that we need to train skilled manpower is still beyond our grasp.
Golam Mortoza is a journalist at The Daily Star. The article has been translated from Bangla by Mohammed Ishtiaque Khan.