'Long delays defeat the purpose of justice'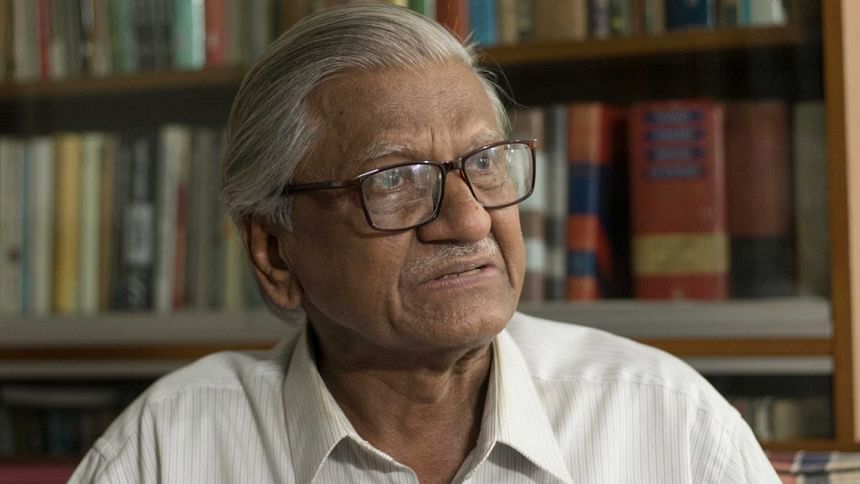 Prof Abul Quasem Fazlul Huq, the Ahmad Sharif professor at the Department of Bangla in the University of Dhaka, speaks about the verdict on Prof Humayun Azad murder case, which came out yesterday, and the overall situation in Bangladesh in a conversation with Shamsuddoza Sajen and Priyam Paul of The Daily Star.
What is your view on the verdict in Prof Humayun Azad murder case?
I must appreciate this move. However, we have to look into why it took almost 18 years to get the verdict. Prof Humayun Azad was one of the foremost intellectuals in Bangladesh. If it takes so long in a case of such a prominent personality like him, I wonder what the common citizens must go through when they seek services in our justice system. There is no respite from violence and killing in the country. How long do the common people have to wait to get justice in their cases?
Moreover, even if you get a verdict in your case from a lower court, you have to wait for years to get the final order from the High Court and subsequently its execution. The murder case of Humayun Azad went through the same delayed procedure. Such long delays defeat the purpose of a justice system. In the case of my son Dipan's (Faisal Arefin Dipan, publisher, Jagriti Prokashani) murder, we received a verdict from a special tribunal after five years, and now we are waiting for the High Court's verdict.
Please share a memory you have of Humayun Azad after he was attacked.
Prof Humayun Azad was my colleague at the Department of Bangla in the University of Dhaka. He was talented in many different ways—he was a good researcher, a popular author and, most importantly, an excellent teacher.
Humayun Azad was sent to Bumrungrad International Hospital in Bangkok, Thailand for better treatment following the heinous attack on him (on February 27, 2004). At that time, I was also there on a visit. I called on him at the hospital and spent some time with him. I found him as jolly as ever.
After making some recovery, he paid me a visit before he went to Germany for a fellowship. I told him to come back from Germany soon and make a fresh start in his research and writing projects. Those were my last words with Humayun Azad.
In the recent case of schoolteacher Hriday Mondal, we saw how he was implicated in a false blasphemy charge by his students. Why do you think our education sector is failing to build a tolerant society?
Our entire education system is flawed. Educationists have very little say in the formulation of education policies. The government appoints professors for preparing education policies, but it does not follow their recommendations. It changes the policies according to prescriptions from outside. Will you find exams like PEC and JSC anywhere else in the world? Who was behind the introduction of such a flawed evaluation system? We have to think sincerely if we are really concerned about what is happening in our education sector at present.
What is the way out of the impasse that Bangladesh seems to be in?
There is no alternative to democracy. To build a peaceful and egalitarian society, we have to ensure democracy in every aspect of life, viz universal democracy. We have to look at democracy from a broader perspective. Democracy is not just limited to elections. It is also about creating space for different voices so that we can discuss our differences without hurting anyone. We also need to seriously think about the process of building democratic political forces. You can learn from foreign models, but you have to build your own political system considering your unique reality.
When Dipan was murdered by extremist forces, journalists repeatedly asked me why I was not in favour of filing a case. My view was that hanging or imprisoning some people would not bring any result—unless good sense prevails among us. I believe that creating a democratic environment in the country is necessary, and we all should make efforts to this end.