For coffee lovers on a budget: Miyako CM-1286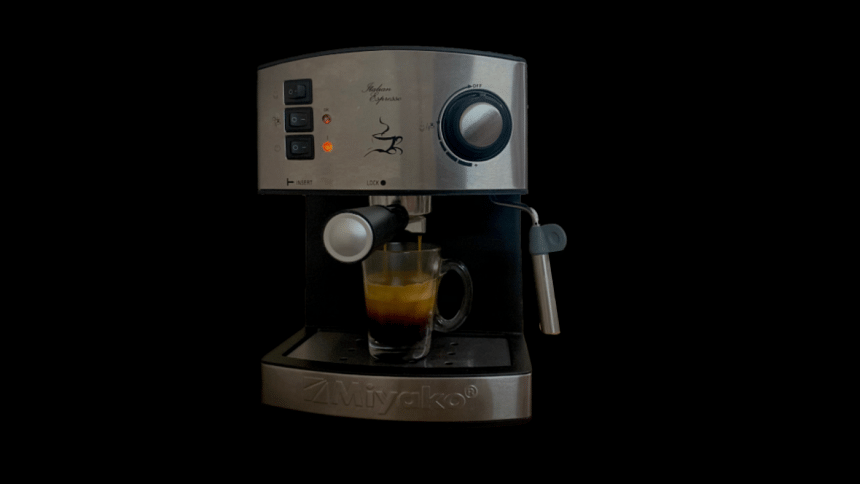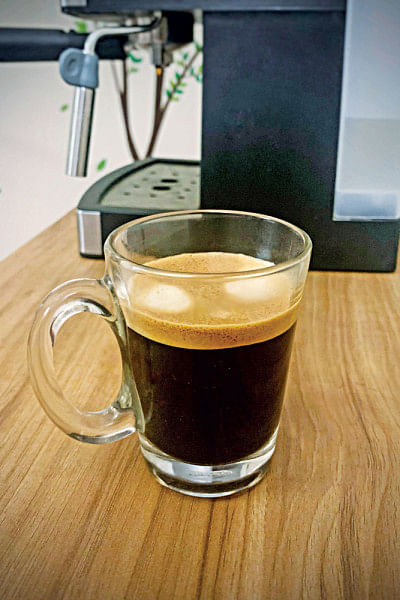 As much we coffeeholics love the aroma of a freshly made shot of espresso, we all have to admit — it is an expensive taste.  A single shot from any decent coffee shop will set you back from anywhere from BDT80 to BDT180, totalling to a whopping BDT2400 to BDT5400 a month if you drink it every single day.
A way around this is just to make it at home, but the lacklustre performance of the cheap 'coffee machine's' and the manual operation of the French press makes both options quite unappealing.
The best solution would be to get a dedicated espresso machine, which unfortunately starts around BDT14,000 if you wish to get it from a reputable brand.
But what about unreputable brands? Well, there aren't many options and most of them are not that good. But with all things there are exceptions, and in this case, the Miyako CM-1286 is a diamond in the rough.
What is it?
It's a budget espresso machine that does the job. The body is largely built out of plastic, with metal bits covering the heat-sensitive parts. At the front, there are three toggle switches and a knob, used to control the power, espresso machine, and the steam wand respectively.
There is a small basin under the portafilter to take care of all the spillage mishaps, with a removable tray for easy cleaning. A 1.6 liter reservoir in the back round out the package, which holds the water needed for your caffeine production. Overall, a bare bone but well thought out package, especially considering what you're paying for it.
The good
For something that costs as much as a decent pair of shoes, the espresso shots made by the machine will presently surprise you. The portafilter has a metal filter basket and is cares a nice crema when in use. For those wanting upgrade, your espresso shot a to cappuccino or latte, the included steam want will froth up without any kind of issue. The use of operation is made to be as simple as possible, with sufficient heal insulation to protect the user from any kind of accidental burns.
The bad
Miyako had to cut some corners, and one of the places they did is sound dampening. The machine is noisy to use, with the pump getting about as loud as an electric drill on idle. There are no mode or temperature controls, meaning hot coffee shorts are the only thing it can make.
Finally, the combination spoon and tamper provided with the machine is made out of cheap plastic, and dose a substandard job in both cases. A cleaning kit is also missing, so you would need to source that from a third party, or repurpose an eyebrow brush if you have one lying around.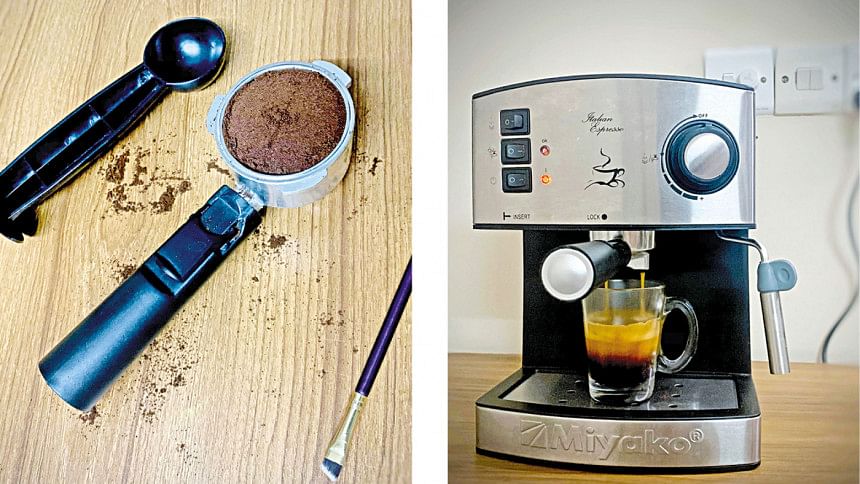 Should you get one?
If you're a coffee enthusiast looking to upgrade from the depressing drip coffee machine found in every super shop, this will do nicely.  The CM-1286 typically goes around BDT6000-BDT7000 if you get it from a retailer and a little bit more if you buy it online.
However, that inflated price is still about half of what you will be paying for a banded coffee machine, making it a great value for the money. 
Pictures: Ashfia Noora Nazam