Behind the scenes of Tamim's bravery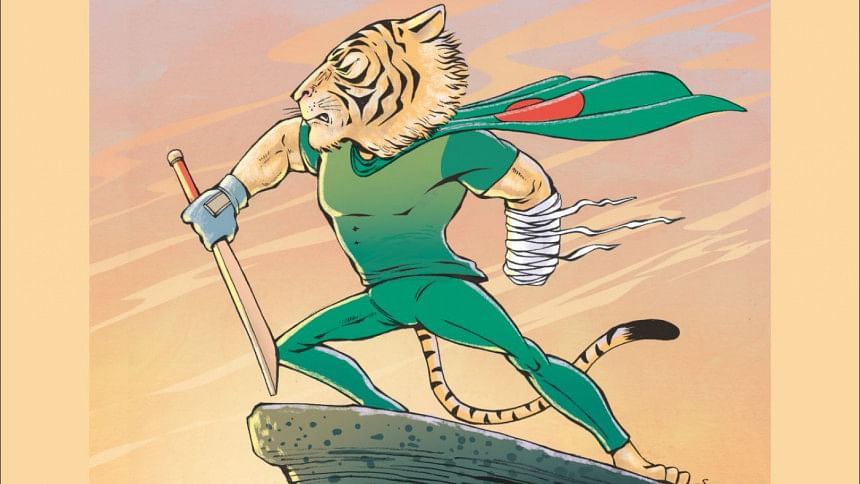 Tamim Iqbal's heavily bandaged left hand stuck out of a blue sling as he sat on the dressing room balcony staring off into space. The international match unfolding in front of him -- one that he was at the centre of just an hour and a half ago in hot sunshine before being reduced to a spectator as the Dubai sun was setting-- probably did not register.
He had just returned from the hospital, with the diagnosis being a broken wrist. In other words, his Asia Cup was over.
"When I was in hospital [Mohammad] Mithun and Mushfiqur [Rahim] were having a good partnership, but by the time I had returned Bangladesh had lost two-three quick wickets," Tamim said yesterday, the day after the Asia Cup opener against Sri Lanka.
In the middle, Mushfiqur had built a 131-run third-wicket partnership with a young player coming back to the side in Mithun after Bangladesh lost two wickets in the first over and Tamim had been put out of commission in the second.
Mithun's departure at 132 for two sparked a collapse. Roughly around the time Tamim had gotten back, Bangladesh had slumped to 142 for five. After his return, team manager Khaled Mahmud had informed the media that Tamim would definitely not bat again in the match -- hardly a revelation for those who saw the left-hander sitting in the balcony.
With around 20 overs to go Mashrafe -- who would later add a small but crucial eighth wicket stand of 20 with Mushfiqur -- came up to Tamim and said: "If Mushfiqur is still there [in the last over], go out to bat."
"I thought at first that he was joking with me," Tamim said with a smile. "Then when he repeated it once or twice, I gave it some thought and realised that if it is the last over and I am not on strike, I may as well go because I wouldn't have to do anything. The last over was 20 overs away, so it was an unlikely scenario because we lost a lot of wickets by then.
"Then in the last three overs, when Rubel was batting, I padded up. When Mustafizur got out there was one ball left in the 47th over. The plan was that if Mushfiqur was on strike, I would go. The physio [Thihan Chandramohan] told me that I couldn't run, he was in fact not giving me permission to even go out onto the field. But at the end of the day the call is on the individual. It was my call, and it was Mashrafe bhai's idea – plus the way he was talking to me about it pumped me up."
On the pitch Mushfiqur had no idea that this was brewing inside the dressing room. He was nearing a high-class hundred when Rubel was eighth man out (and Tamim began padding up).Number 11 Mustafizur Rahman came to the crease, with a message relaying the plan -- Tamim will come out if Mushfiqur was on strike.
It did not exactly go according to plan. It wasn't the last over when Mustafizur got out -- it was the penultimate ball of the 47th over -- and Mushfiqur was not on strike.
"The coach [Steve Rhodes] told me 'you don't need to go out there'," Tamim recalled. "I said 'no, I can play that one ball'. He said 'think again, it's your call'. The frame of mind I was in for those 15-20 seconds, I think I would have tried to the utmost of my ability to play that ball against any bowler in the world."
His preparations to go out to the middle will certainly be the stuff of comic dressing room tales for years to come. Mahmud insisted that he should wear a glove on his left hand, because it would look odd otherwise.
"He [Mashrafe] cut my gloves, and put on my pads… no, Mominul [Haque] put on the pads but Mashrafe bhai put on my guard," laughed Tamim. "It was possibly the first time in history that a player inserted the guard for another player."
"Mashrafe cut the palm of the gloves and I cut the wristband," said Mahmud with a smile.
But the fun was over when he went out there. He would need to play the ball with one hand when he had been programmed to go at balls with two hands.
"Even running was bad for me at that time. When I played the ball, you have seen me tuck my left hand behind my hip," Tamim said. "But at the point of impact that hand came forward. If I missed the ball, it could have struck the injured hand. All I was focusing on after playing that ball was running to the other end in the last ball of the over."
"When Tamim came at No 11, we were on a sub-par total. I felt that I should do something for him," added Mushfiqur.
And that is exactly what he did.