Editor's Note
MARTYRED INTELLECTUALS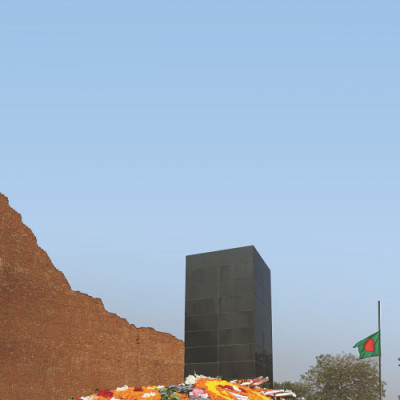 December 14 will always be remembered as a black day in our history. The killing of our intellectuals by the occupation army of Pakistan and their cohorts on the eve of our victory stands out as the most horrendous and atrocious of acts committed against the intelligentsia of this land. Some of the best minds of our intellectual world who hailed from all walks of life were killed in the most gruesome manner and the remains of many were never traced at all, leaving behind grieving families and well wishers who did not have closure in their lifetimes.
On this day, we remember and we grieve for loved ones who were picked up from the streets, from their homes in the dead of night and brightness of day - ending up in the killing fields of Rayer Bazar and so many other killing fields all over the country. In this supplement, we publish a collection of articles, some of which are reminiscences, while some other are accounts of friends and close associates which throw light on the persona and qualities of some of those we lost forty-six years ago. This year, we highlight individuals who were killed during our war of liberation by the local collaborators outside of Dhaka city. Each piece was originally published in Bangla by Bangla Academy's Smriti '71 volumes and these have been translated into English.
While we mourn our dead, we must take the pledge to stand collectively to thwart all evil forces that wish to destroy the spirit that united us in the nine months of pain and hardship to attain our independence.
Mahfuz Anam
Editor & Publisher