An unconventional English instructor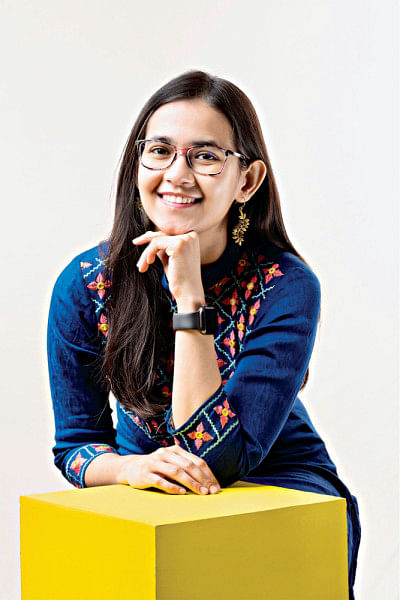 Munzereen Shahid is an emerging online content creator and educator, from Bangladesh. Through her conversation skills and unconventional methods of imparting knowledge, she has impacted the lives of many. She recently received the Silver Play Button from YouTube, after crossing 100,000 subscribers on the platform. Her YouTube channel currently has over 170,000 subscribers.
"When I started making educational videos, I thought no one would watch them and I would stop after making a few," she shared. "After receiving the Silver Play Button, I am inspired to keep teaching English for as long as I can."
A Chevening scholar, Munzereen is an instructor at Robi 10 Minute School. Her course, "Ghore Boshe Spoken English" has over 55,000 registered students as of now. Her book of the same name is also available for purchase. Currently, she is a master's student of Applied Linguistics and Second Language Acquisition at University of Oxford.
She began her journey as an educator during the pandemic. "I made my first video out of the intention to be productive," she shared. The video soon garnered millions of views.
From motivating her to post her first video lesson to helping her with university applications, Munzereen's friends have always supported her.
Over time, teaching and making videos became a coping mechanism for Munzereen. "Initially, I had planned 30 videos on spoken English. My lessons are for those who are afraid to start conversations in English," she added. Currently, her YouTube channel has over 95 videos.
After completing her undergraduate education in English from University of Dhaka (DU) in 2018, she did her master's in Applied Linguistics and English Language Teaching from the same institution, before applying to study abroad. "My experience as an instructor at Robi 10 Minute School helped me immensely during the application process," she said.
Attending online classes at University of Oxford is a new experience for Munzereen. She feels that their teaching system focuses on students' individuality. Although she is yet to start on-campus classes, she is excited about the programme that she is enrolled in.
"There is a common perception in Bangladesh that English students want to be university teachers. While teaching is a popular choice, there are many more career options for English graduates, such as content writing, blogging, and journalism," she added.
Munzereen also reflected on the different opportunities in freelancing. "I have a lot more to do. By joining an institution as a full-time teacher, I do not want to restrict the possibilities," she said.
Munzereen's second book, "Shobar Jonno Vocabulary" was launched at this year's Ekushey Boi Mela. Her future projects include a children's book and an IELTS course.
The author is a freelance journalist who likes reading, planning and scribbling. Write to her at [email protected].