Menstrual hygiene is a necessity, not a taboo
"I stayed at my ancestral home, Lakshmipur, during most of the pandemic, and noticed many rural women still use wet cloth during their periods," adds Nadia.
Nadia Sultana Priyanka, the founder of NapreF3, has always carried a passionate heart towards social work. She established NapreF3 back in May, 9 2021 on International Mother's Day, to help women and girls who cannot afford sanitary pads.
"I had a passion for social work from a young age and volunteered to help the common people even before NapreF3," said Nadia.
NapreF3 gifts sanitary pads to the poverty struck and rural areas of Bangladesh, hoping to raise menstrual hygiene awareness in every corner of the nation. Plans for NapreF3 began between 2019-2020. Nadia was inspired to work with menstrual hygiene during the COVID-19 pandemic.
"I stayed at my ancestral home, Lakshmipur, during most of the pandemic, and noticed many rural women still use wet cloth during their periods," adds Nadia.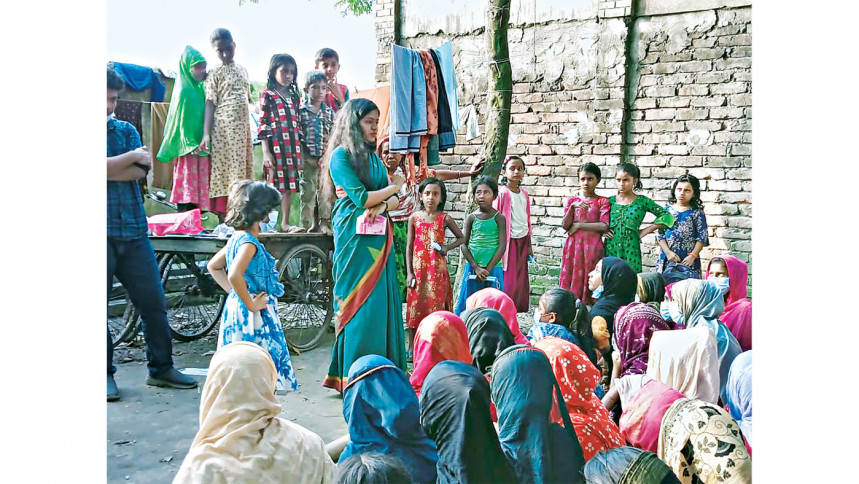 "Menstrual pain is a common enemy of every female. However, they were unaware of menstrual hygiene," said Nadia, adding that, "They do not bother to buy sanitary napkins, as it is too expensive for them. That's where the idea of Napre F3 struck me."
'Napre' stands for 'before sleep' and 'F3' represents 'free from fence'. The organisation started with a small fund from Nadia, which she had up from her pocket money over 1.5 years.
"My mother has been my pillar of support when I first began NapreF3," smiled Nadia, "Both of us go house to house back in Lakshmipur, raising awareness about menstrual hygiene and sanitary pads. We would also provide them with free sanitary pads afterward."
Later, sixteen volunteers joined Nadia's cause to raise menstrual hygiene awareness within the female population.
"We are a bit tight on funds, as most of the funding comes from our own pockets. From my parents to our volunteers, everyone supports and contributes as much as they can to keep NapreF3 afloat," said Nadia.  
NapreF3 has already conducted multiple events and seminars on menstrual hygiene in Lakshmipur, Dhaka, Chandpur, and Netrokona. "We are also trying to help out girls and women from ethnic minorities scattered around Bangladesh," adds Nadia.
"Recently we gifted sanitary napkins to 100 girls from Netrokona," reports Nadia, stating that, "Their appreciation for our work filled my heart with indescribable joy."
Apart from providing sanitary pads and hygiene counselling, NapreF3 is also trying to establish a 'period corner' within female washroom's in schools.
"Many girls have to leave their classes due to abrupt menstrual pain," reveals Nadia. "The period corner is a solution to that."
While they have only managed to make one school adapt this 'period corner' facility, Nadia aspires to ensure this facility is available in every school in the nation.
During her escapades with NapreF3, Nadia and her team faced bad comments and disapproval from many across the internet, from netizens to families of their beneficiaries, many were against the work NapreF3 was trying to do. However, Nadia bravely continued to work towards her goals.
"I believe the taboo surrounding the topic of menstrual hygiene only exits because many are unaware about the issue," says menstrua hygiene activists, adding that, "Both boys and girls should learn about it, only by doing this can we break this social taboo."
"Menstrual hygiene is a necessity for women across the nation, yet 86 percent of women in Bangladesh are unaware about the topic. We at NapreF3 dream of spreading menstrual hygiene awareness to every district in Bangladesh," concludes Nadia.
The author is a freelance journalist. Email him at akhlakurrahmancharles@gmail.com.