Inside the mind of Asia's Top Outstanding Youth Marketer, Md Tajdin Hassan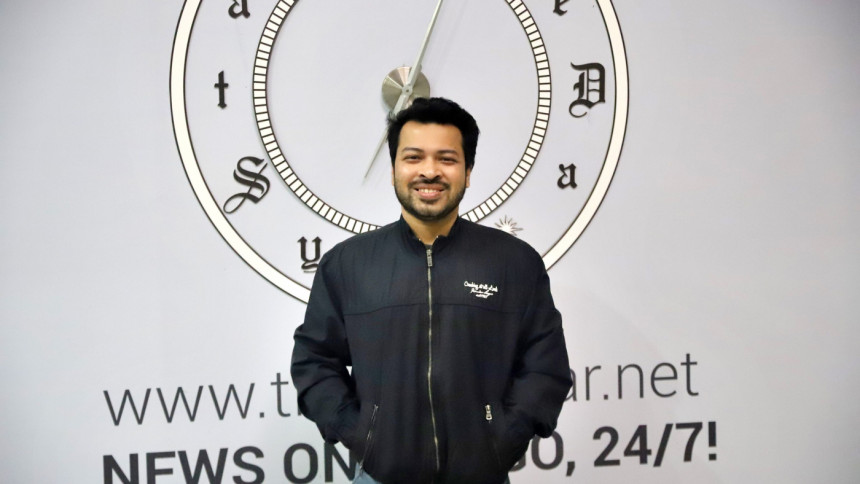 Asia Marketing Federation (AMF) is a collaboration platform for all marketing federations in Asia, working towards strengthening the Asian marketing fraternity.
The organisation has awarded its prestigious YWN Marketing Excellence Award 2020 to The Daily Star's Head of Marketing, Md Tajdin Hassan.
Tajdin won the award under the Top Outstanding Youth Marketer of the Year category. He was featured this year in The Washington Post, Yahoo News, INMA, GXpress, among other prestigious platforms for his groundbreaking prowess in the field.
He is also an alumnus of Exchange programs – U.S Department of State, initiator of acclaimed humanitarian platform Mission Save Bangladesh.
We talk to the prodigious marketer about his journey in the industry.
Congratulations on the achievement. Tell us about the rigorous process behind the selection.
Thank you very much. The Bangladesh Chapter of the AMF chose nominees in three categories: Youth, Women and Netizen, after monitoring their prowess closely. The Youth category, from which I was nominated, requires the individual to have extraordinary prowess within their field, while being under the age of 35. The Bangladesh contingent then sent documents, which encapsulated the past three years of our work to the AMF jury board.
After the jury board received the documents, they then chose which nominees from the respective countries will be eligible to present their defense, which happened on Zoom this year. The presentations were to be marked by the AMF jury. One rule that they follow is board members from the same country as the presenters have to opt out for that particular defense.
Ultimately, I faced the board, competing against participants from Cambodia, China, Hong Kong, Indonesia, Japan, South Korea, Malaysia, Myanmar, Philippines, Singapore, Sri Lanka, Taiwan, Thailand, and Vietnam. I must say, it was humbling for me when I was selected for the award.
You have now accumulated 15 years in various fields. Talk to us about the journey.
The journey was one full of many challenges and indecisions that I had to overcome. When I initially graduated, I was in a dichotomy, whether to pursue marketing or finance. I ultimately chose the former, and joined BAT Bangladesh as a territory officer. I would say I learned a lot about consumer behavior from the very root level, and their relationship with a retailer. I constantly ask myself questions like, "Why does a consumer choose a particular brand?" or "What does the consumer visualize when they hear about a product?"
Later, I took up an offer for a higher role in finance for the company, because I figured that I would be good at number-crunching. However, I eventually discovered that it was not for me at all. I would still say that my years in finance was a valuable learning process nonetheless.
After working in variegated positions at Chevron, Robi Axiata and DHL Express, I eventually ended up at The Daily Star in 2015, as the Business Development Manager. In 2016, I was promoted to be the Head of Marketing.
How would you compare working in the corporate sector to working in the media?
The Daily Star has given me the freedom to execute my crazy ideas! (Laughs) In the corporate world, there are certain restrictions and limits to what you can do as a marketer, buried behind policy and paperwork. In this pandemic-riddled year alone, we launched a new initiative almost every month – which went a long way towards keeping in touch with our reader base.
Our projects included "Gorbomala" – an interactive digital book that represents different aspects of Bangladesh through alphabets, our day-long programme "Youth Skill Day", "Imagine Nation" – an art competition encouraging children to visualize a post-covid world, "Bondhutte Bondi" – a campaign to rediscover friendship during the lockdown, "Babar Adorshe Ami" – a campaign for Father's day and "Thriving in the New Normal" – centering around how people are adapting their lifestyles in a post-covid world, among many others.
The question you have to ask yourself is "what does my reader want to read?" and to a potential reader "what content could I provide that would make you want to read my newspaper?"
Are your plans of execution any different during the pandemic?
The three "C's" of marketing during the pandemic are Communication, Collaboration and Compassion – each of which is crucial to the craft.
We need better communication in the crisis, as uncertainty looms within stakeholders. Collaboration is needed in order to gratify customers – mainly for logistical support. Compassion is especially important during this time, as being humane towards your employees and customers will play a long way, both from a humanitarian and business perspective.
You initiated Mission Save Bangladesh -- a humane, forward thinking and appreciated initiative during these dire times. How did you come up with the idea?
Everyone, including us in the print industry, have been affected by the pandemic. Many people have lost their jobs. I was thinking of doing something for the worse-for-ware before the shutdown began. After the situation deteriorated, I contacted a friend, who is the CEO of Sheba.xyz. One of the most reputed Bangla newspapers, The Daily Samakal, came on board alongside The Daily Star; hence Mission Save Bangladesh was created.
Our work consisted of providing groceries to underprivileged communities, financial support for small businesses, and doing community-based activities, such as disinfecting common public places and houses.
Due to the constant publishing by The Daily Star, many brands and personnel extended their hand to the cause, including our country's number one sportsman, Shakib Al Hasan.
Until now, we have raised 200,000 dollars and helped 0.1 million people. As of now, Mission Save Bangladesh has received many accolades, including the prestigious Joy Bangla Youth Award.
The initiative also proved how crucial the role of print media could be during a campaign. Newspapers are not merely a source of information, but have a much wider role in today's world.
What advice would you give to a young marketer, looking to make it in the industry?
It is imperative to be more curious to learn about the industry. The academics will teach you about the fundamentals, but if you are curious to learn from the practitioners, you will know about how things work.
Secondly, learn in detail. Do not just focus on how the most amazing campaigns happen; figure out the 'why' too. Know who your customers are. Content is king, but the consumers are the ones who put the crown on you and make you better marketers.
Lastly, grow your network. You might think you are too young to work on enhancing your network, but now is the perfect time from which you should start. Learn design thinking to know about innovative approaches to solve a problem. Lastly, read case studies on marketing. When you know about the best stories by heart, you can create the next stories from the heart.
Make everyday count.