In Case of Distress, Scream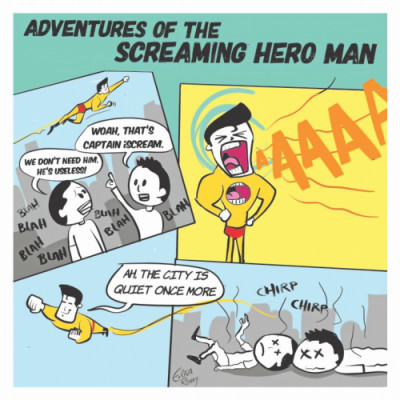 I was hanging out near a park with my adult friend the other day watching kids—
Um. Let me rephrase.
I was at a park the other day with my friend Tom—who just so happens to be an adult like myself, which neither of us can be blamed for—and the area was infested with the verminous offspring of other adult humans.
It was a hot, dusty day in the wake of the heatwave in northern Europe, the sort that turns the meticulously green fields funded by colonial wealth into little Saharas—the sort of thing I'd have been gleefully pleased to hear that the Belgians have to put up with for a change, if I hadn't been stuck in the middle of it myself. Instead of cackling maniacally at the yellow haze and grey lawn, I just wanted to scream at AccuWeather. However, I've spent the past near-26 years learning to not stand in the middle of a park and squawk in pique.
The kids in the park were free of this indoctrination, and they were letting it rip. We saw one little devil get swatted on the bottom by his older sister for reasons that were probably acceptable. He stood still for a second or two as though pondering a protest, and then resorted to screaming and howling. We stood there in admiration. It was a bold move. "What if," Tom said, "you could just do that in adult arguments?"
What if you really, really could? Imagine.
When the rickshaw-puller tries to pretend the fare is 10 taka more than it ought to be, don't try to balance your desire for immediate financial fairness with the wider awareness of the socioeconomic injustice that's created the class divide between you and him, just scream. If someone who, in February 2016, was talking about refugees as Muslim brothers who need rescuing, but now uses Rohingya as an insult, don't sweat it—nature gave you a healthy pair of lungs for just such crises. When your dad comes up to you and tries to explain to you how Soumya Sarkar is an Indian dalal because Bangladesh just failed to be good at cricket, instead of trying to navigate the complex space between filial respect and telling him to shut his bigoted mouth, just take a deep breath and say, "AAAAAAAAAAAA."
It doesn't even have to be arguments, honestly. When the creepy TA at your university started messaging you at 1 am asking for provocative photographs while, simultaneously, referring to you as "Appi"—instead of trying to say "no" in a way that wouldn't then lead to him going hog wild on your exam sheet—you could flummox him by typing out a scream. You're heading out on a Friday afternoon to hang out near the lake and watch the peanut shells and drug addicts, and some rando on the street has the stones to look at your pants and mutter how modern women are destroying the fabric of this society? Just take him down with a banshee wail.
Someone claiming to be a relation has ambushed you at a wedding when you only want your kachchi fix, and they have tousled your hair and given you the old one-two punch of Amake chinte parso, shone muni?? and Kemne chinba, amake jokhon dekhhsila tokhon eto chhoto chhila! while cackling like a hyena and holding their hand up at a height approximately 3'11" high, which should have made you more than old enough to remember anyone worth remembering? Banish this worthless fool with a well-deployed scream bomb. Bwoosh. EEEEEE. Peace out.
Scream at people. Scream at the sun. Scream at the "water" that's piddling around up to your thighs, trying to get at your underpants while you're going to work. Scream at the birds arrogantly chirping up there in the trees as they watch your terrestrial misery. Scream at the trees being sawed up and carted away because someone needs to illegally extend their Tehari Ghar onto the middle of the road, and the birds got electrocuted on telephone wiring or something.
Don't just think about the small stuff, though. The frantic, wordless gurgle of hate and fear has already revolutionised international politics. Entire countries clustering around that nebulous idea of Western rationality have spontaneously decided that that sort of thing is boring as hell, and what complex issues such as migration, internal security, unemployment and climate change really need is a bit of screeching, a bit of ranting and a whole lot of raving while rolling one's eyes in tight little circles. What if this remarkable tactic could be deployed in the service of good, instead of being targeted at transgender people and persons with skin that isn't the colour of an old strawberry?
Picture this: Donald Trump, that old sack of human skin swollen and wobbling as the various demons within him jostle for standing room, sidles up to Angela Merkel at one of their summits or wherever such people congregate, and starts telling her about brown men stabbing people in a Finnish town whose name he just made up, and how this proves something or the other and that refugees should be all locked in a small room for being naughty. Ordinarily, Merkel, being a normal person, would either ignore the comment or attempt to educate the monster in front of her, and thereby she would waste her time and achieve nothing. Were she to fight fire with fire, she could scream the Pimple of the United States back to the abyss from which he boiled forth.
If you were to think on it further, screaming would be the most democratically robust form of power division. Your ability to weigh in on an issue wouldn't rely on accidents of birth such as your race or location, rigged privilege markers such as your bank balance or property acreage, or even your education and ability to form coherent, persuasive statements—which are in themselves far more reliant on access to resources rather than merit than we would like to admit. No, all you need to be heard—is to be heard. Let it loose. Taxation? Yell at it. Can't decide which Chinese restaurant to go to on the family night out? Howl until everyone decides to go to the place you always go. It's that easy. Police brutality? Doesn't even matter. Shriek on the haters.
Too long have we let children and populist politicians monopolise the remarkable, equalising tool of incoherent screeching. It's time to let the adults into the playground.
(No, not literally, don't do that.)
Zoheb Mashiur is an artist and an MA candidate in International Migration at the University of Kent. Read more of this sort of thing in Disconnect: Collected Short Fiction.