International Anti-Corruption Conference 2018
A global menace that spares no one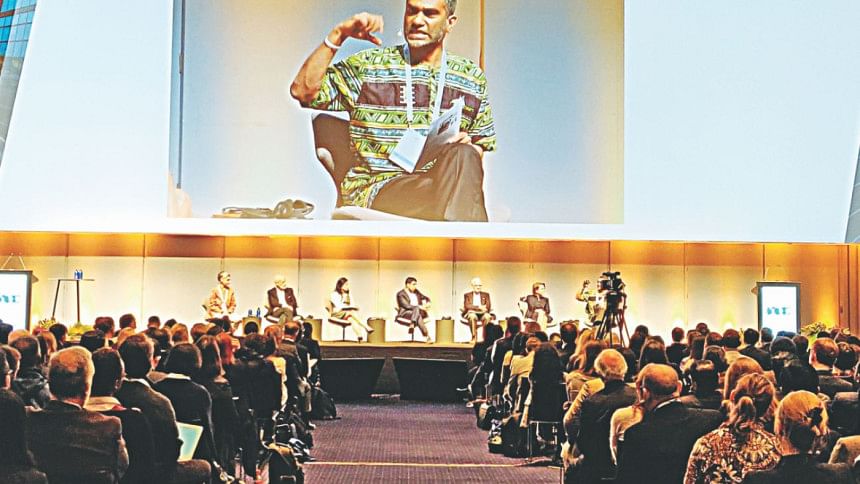 The world is seeing a rise of authoritarianism—in the form of populist regimes—threatening all those who defend social justice across countries and continents. Against this backdrop, the International Anti-Corruption Conference (IACC) 2018 called on governments to protect civil society and its role in exposing and challenging corruption, and to engage the public.
The 18th instalment of the conference was held in Copenhagen, Denmark from October 22 to 24. The conference was hosted by the Danish Government represented by the Danish Ministry of Foreign Affairs, and organised by the IACC Council and Transparency International, with the participation of Transparency International Denmark.
The theme of this year's conference was: "Together for development, peace and security: now is the time to act". Over the course of three days, more than 1,800 people from 144 countries gathered to evaluate the global fight against corruption at more than 50 workshops and six plenary sessions.
Delia Ferreira Rubio, Chair of Transparency International, summed up the current state of affairs at the closing plenary on October 24. "We are facing increasing threats to civil society space, freedom of speech, right to association, and increasing violence against activists and journalists. This has to stop," she said.
The Copenhagen Declaration outlined where the world stands and what more needs to be done: "We are unanimous in our commitment to collaborate, build coalitions and unite so we can act together to end impunity for the corrupt. We recognise that the policies, the laws and conventions to stop corruption exist. Countries and the business community must effectively implement their existing anti-corruption obligations, and must provide the resources needed to enforce anti-corruption laws and allow institutions to operate independently. Now is the time to act."
Speaking about how to effectively engage the public, particularly the youth, Huguette Labelle, Chair of the IACC Council, said, "We need to mobilise citizens and communities at a much higher scale and speed than we have previously. Young people must not fall prey to terrorism and populist authoritarianism. They must be empowered and constructively engaged in the anti-corruption movement."
For this participant, the most engaging and memorable session was "Breaking the Global Corruption Web", on October 23. The panel discussed how dirty money, environmental crime, terrorism and organised crime are connected and boosted by corruption. Panelist Kumi Naidoo, Secretary General–Designate, Amnesty International and a patron of Future SA which advocates for an end to corruption in South Africa, gave an impassioned speech, saying, "The financial system is an essential part of the global web of corruption." He spoke on how everyone is complicit—from corrupt third world governments to first world corporatocracy.
While the workshops and plenary sessions provided a treasure-trove of information on corruption, corrupt practices and tools to combat this menace, this writer felt a marked lack of insight into corruption specific to the South Asian region. Does this mean South Asia is corruption-free? The focus seemed to be on Africa and South America.
On the opening day (October 22), over 45 national governments, businesses and organisations endorsed a new joint statement aiming to prevent corruption. Eighteen governments (Afghanistan, Argentina, Australia, Burkina Faso, Denmark, Finland, France, Ghana, Indonesia, Ireland, Kenya, Norway, South Korea, Sweden, Tunisia, Ukraine, UK, USA) and nine international and multilateral organisations issued their own commitments to advancing anti-corruption efforts.
The signatories pledged to take action in key areas including returning the proceeds of corruption to their rightful owners, ending secrecy over company ownership, clamping down on money laundering and tax evasion, promoting integrity in state owned enterprises, and improving implementation of existing conventions such as the United Nations Convention against Corruption and frameworks such as the Sustainable Development Goals.
The joint statement, logically, reiterated that combating corruption is a shared responsibility of both developed and developing countries, which demands coordinated cross-border collaboration.
Transparency International will be monitoring each of the signatories' respective contribution to implementing the joint statement in a new online platform and report series.
Lars Løkke Rasmussen, Prime Minister of Denmark, had this to say about the importance of nations being able to trust their own institutions to win the fight against corruption, at the opening ceremony of the conference: "A country that cannot trust the integrity of its institutions is a country in trouble."
Sultana Afroz, Additional Secretary, Economic Relations Division (ERD) of the Ministry of Finance, Bangladesh and Wing Chief, Nordic and Coordination, who was attending the conference said, "This colossal arrangement most certainly deserves appreciation. It's a commendable initiative but there's a surprising lack of information and case studies specific to the South Asian region; perhaps it's unintentional."
"I also think this experience could have been beneficial for the Anti-Corruption Commission (Bangladesh). IACC could have invited this relevant organisation of Bangladesh. The Government of Bangladesh is working tirelessly towards bringing an end to corruption and has made significant progress. We need to focus on judicial institutions first, and then collaborate with the civil society. We have to mobilise our people—educate them and put them in forefront of this fight against corruption," she added.
This year's Anti-Corruption Awards went to the late Maltese journalist Daphne Caruana Galizia and Spanish whistleblower and campaigner Ana Garrido Ramos. The awards were presented at a ceremony on October 22.
Through her reporting, Daphne Caruana Galizia exposed corruption scandals involving influential politicians and others in Malta and abroad. In 2009, Ana Garrido Ramos delivered a 300-page dossier to a Spanish trade union containing evidence of corrupt practices within the Boadilla Town Hall, her former place of employment.
Receiving the award, Galizia's son Matthew said, "Nothing will ever compensate for the journalist, let alone the person. But this award reminds us that hope remains ours to keep and a large part of the world is hoping with us."
Ana Garrido Ramos said: "Unfortunately, in Spain, the system ruins the life of the corruption complainant. On the other hand, the corrupt are usually rewarded with promotions and perks. But citizens cannot sit idly by waiting for the world to change; each of us must be part of that transformation."
The next International Anti-Corruption Conference will be held in 2020 in Seoul, South Korea. The conference will explore the crucial contribution of the fight against corruption to ensuring peace and security.
Karim Waheed is the Editor of City Desk, The Daily Star.